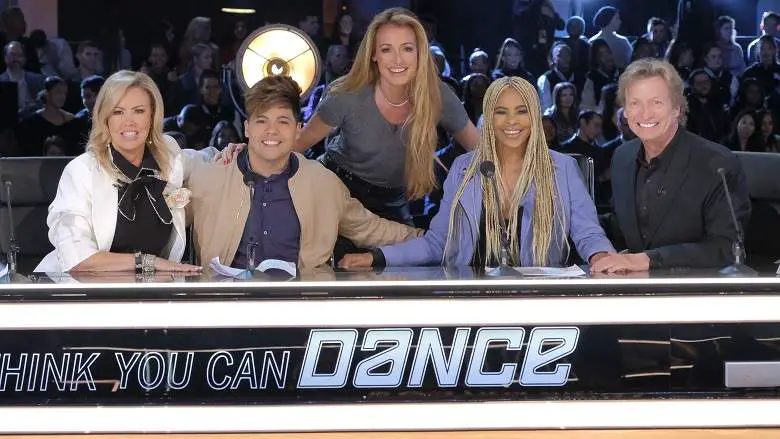 Hey All!
Well, the Academy is over and we have our top twenty contestants. But they can't celebrate for long. Only ten will actually make the live shows. Tonight, we focus on the ladies.
Each girl will be teamed with an all-star to learn a routine outside their style from a choreographer. They must then perform in front of the judges. After all ten have done so, the final cut will be made and we will have our top five girls competing for this season's title.
Mariah Russell (dancing salsa with Jonathan) – choreo by Oksana
A really strong way to start. For someone untrained in ballroom, Mariah excelled in selling the dance and she and Jonathan made it look good. Some of those lifts were really hard but they made them look effortless. I am quite impressed by how well she adapted to that.
Mary calls the lifts stunning. She says Mariah had some real authentic moves. Dom commends her on being fearless. Laurie says that was the fire she was looking for. Nigel tells her to be proud of herself for a job well done.
https://www.youtube.com/watch?v=GV3W6vMYwO4
Melany Mercedes (dancing hip-hop with Fik-Shun) – choreo by Randi & Hef
It was…okay. I wasn't over the moon about the choreography to be honest. I don't think it really gave Melany much in terms of showing her what she can do in a hio-hop routine. And of course, my eyes were pretty glued to Fik-Shun the entire time. She did everything asked but it just didn't reach that elevated level for me.
Dom thought it was good for her but he wants her to be more grounded in the movements. Laurie thinks she was missing something. Nigel agrees. Mary is not mad at what she did and feels as though she took a step up. Nigel feels it was all on one level.
https://www.youtube.com/watch?v=xBRDwr0IFb8
Ashley Sanchez (dancing contemporary with Lex) – choreo by Jaci
Ashley got really lucky. Not only did she get Lex but the chance to do an emotional routine that will resonate as well. And she nailed it. There was nothing overly complicated about it- but she did everything and looked in the moment with it. I was especially surprised considering this is the same girl who barely got by the Academy after the contemporary round.
Nigel didn't see enough emotion. Dom agrees and felt no emotional attachment. Laurie felt a breakthrough and believes that is the first step. Mary is proud of her though for how far she's come. I feel like the judges were a bit harsh here. Nigel also added she had no strength in her arms. Yikes.
https://www.youtube.com/watch?v=Ww18LoTOzfE
Anna Linstruth (dancing jazz with Marko) – choreo by Ray
Some shaky moments throughout and to be honest, it took me out of it a few times. Perhaps a lack of practice on that. That being said, it was a fun routine which gave Anna the chance to show off and that was nice to see. I have seen her do better actually but I think the most impressive thing with her is that she sells it one hundred percent and even if the steps aren't on point from beginning to end, you never doubt the commitment.
Mary felt like she nailed it. Dom feels as though she made her own. Laurie tells her not to walk like a truck driver sometimes. And Nigel was happy that she pulled it out.
https://www.youtube.com/watch?v=6zyDYJB80Rk
Madison Jordan (dancing cha-cha-cha with Kiki) – choreo by Emma & Sasha
Hmm. I'm…confused? Maybe the high expectations got me but I was underwhelmed by that. First, it felt like the music and steps were just a tad slow for a cha-cha. Second, I felt like Madison was unsure at times. It got better about halfway through to the end but I was expecting so much more. I want to put all the blame on song choice and all but some of it has to go to the dancer and I wasn't thrilled with this.
Nigel though the low walk was weak but felt the rest was strong. Mary disagrees and thought she was present every second of the routine. Dom feels she just needs to continue doing what she's doing. Laurie loved seeing the confidence and called it a wonderful performance.
https://www.youtube.com/watch?v=ULKAPnUU-Qc
Sofia Ghavami (dancing jazz with Marko) – choreo by Spencer
Well, I actually enjoyed that more than the earlier jazz piece and felt Sofia was doing what I wish Anna had. By Nigel's expression during the dance, he is so going to disagree with me. LOL. But for real, I loved the choreography here even if it was simplistic. I thought Sofia nailed it with her expressions and steps and it felt like she was really giving it her all. I have a feeling some harsh critiques are incoming….
Mary thought the routine was good and loved the Puerto Rican fire. Dom felt the routine was flat and he wasn't blown away. Laurie feels it was tough and it showed her how capable she is. Nigel wanted more attitude but feels Sofia did what was asked of her.
https://www.youtube.com/watch?v=MFEvuqlsL2s
Sumi Oshima – (dancing contemporary with Lex) – choreo by Talia
DAMN. Well, the show just started for me. That was the performance of the night (at least so far). Just a stunning piece danced beautifully. Sumi really nailed every part of that and she needs to give a big kiss to both Lex and Talia because the pair of them just showcased her amazingly and pretty much guaranteed her a spot in the top five girls.
Laurie calls it unexpected. She doesn't want Sumi dancing in her head too much. Nigel felt the emotion was gone and it was just a number of steps. Mary thinks she has a lot of work to do. Nigel calls it a difficult decision and they need to look back on other stuff she has done.
https://www.youtube.com/watch?v=FwhXYcMnktY
WOW. I am floored by that. I couldn't disagree more with the judges but hey, that's why I am here blogging and they are paid the big bucks to judge. I can still stick my tongue out at em, though. :P
Nazz Sldryan – (dancing hip-hop with Fik-Shun) – choreo by Luther
SO GOOD. Okay, very impressed. She was down and dirty, she was funky, she was all in with style and rhythm. So, so good. That pairing was fire for sure. I didn't see one moment of hesitation or one moment of Nazz being unsure. She was just on point with that. Kudos to Luther for the fun choreography as well.
Laurie loved the confidence and sass. Nigel loved it and thought it was tremendous. Mary felt she was starring in that number with Fik-Shun. Dom says congratulations and well done. Mary said Luther put soul in the bowl, whatever that means.
https://www.youtube.com/watch?v=x4aqcCIeoBU
Sophie Pittman – (dancing cha-cha-cha with Kiki) – choreo by Sharna
Thank you Sharna for the music and choreography that felt like a cha-cha-cha. It wasn't perfectly danced and a few of those lifts looked like a struggle but I thought Sophie did an adequate job. The side by side with Kiki was especially well done and I appreciated that she took a hell of a lot of control over the routine and really made us look at her. Solid job.
Nigel says at times it looked uncomfortable and wasn't strong for him. Mary says she saw her think too much and she needs to fake it till you make it. Dom agrees as does Laurie. All the judges are being critical, especially that Sophie didn't connect with them during.
https://www.youtube.com/watch?v=MFEvuqlsL2s
Stephanie Sosa – (dancing contemporary with Robert – choreo by Mandy
Well, any guesses who the producers definitely want on the live shows? I mean….an emotional contemporary dance done with ROBERT choreographed by Mandy? Stephanie hit the jackpot. And she did it well. I thought it was done well but not amazing. I am cringing a bit right now because I feel like the judges are about to overpraise that and I wish they wouldn't. It wasn't anything over the top wonderful and we saw better tonight even though it was good.
Dom felt the most powerful moments were the quiet ones. He wants more energy out of the ends of her limbs. Laurie wants more surrender. Nigel calls her stunning. Mary wants her to dig deeper and open up more but calls her a star.
https://www.youtube.com/watch?v=TAJsV1czsj4
Color me impressed. They didn't overpraise and gave some good critiques. The announcement of the top five is next up after the break…
The Top Five Girls Are…
Mariah
Stephanie
Anna
Sophie
Madison
My snap judgments-
Some weird choices there. Sophie being in is very odd. Her routine was fine and all but when you think Nazz got cut, it makes her inclusion all the more head scratching. Nazz was robbed, plain and simple. That was the biggest WTF of the night. Sumi being out is a miss for me too because I think she could have done really well with the audience voting during the live shows. She is someone I remember all the time.
Of course Stephanie was in after that pairing and routine. I am still waiting for her to blow me away. Mariah and Anna making it are fine though like Stephanie, I reserve the right to wait until they really bring it for me. I have to say, I am not overly pleased by the who made it and who didn't but am willing to see how things progress when the live shows begin. I am eager to see who these girls get partnered with. Which brings me to…
Next week- same setup but the boys take center stage to earn their place in the live shows. Thanks for watching with me tonight and see y'all in a week's time. :D