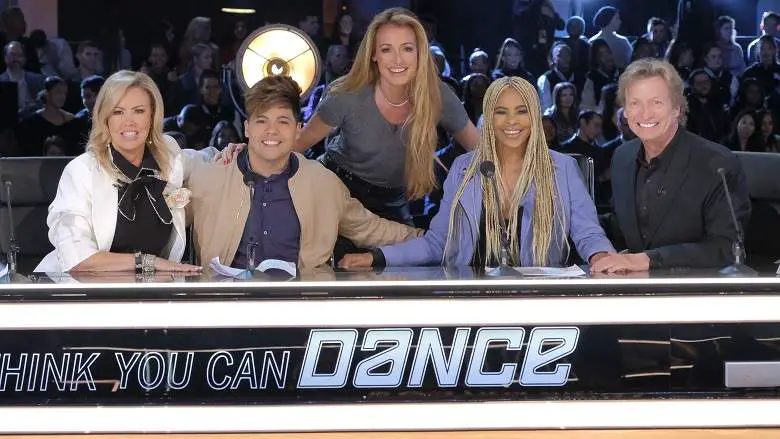 Happy Monday everyone!
Time for episode three in our Summer 2019 edition of So You Think You Can Dance. More auditions come your way tonight from Los Angeles. Three out of four yes votes and the contestant is Academy bound! Once again, our newest judges Dom & Laurie join Nigel & Mary for all the fun. Take it away Cat…
First up tonight is Bailey "Bailrok" Munoz, a B-boy from Las Vegas. He was born very premature and was in the hospital for a while. He was also teased about his height. Wow. This kid has speed. He might be one of the quickest moving B-boy I have ever seen. Love the unexpected song choice too which fit with the way he was dancing. None of those moves were anything we haven't seen a dozen times or more on this show but he has a personality and a charm about him and I'm interested in seeing how he potentially handles other styles. Laurie thought the footwork was fancy and clean with good transitions. Dom says he had amazing moments. Mary notes he let out so much energy. Nigel says the minute he came out, he was likable. All the judges say yes and Bailrok is heading to the Academy!
https://www.youtube.com/watch?v=RzdHQUd3k8U
Up next is Luke Romanzi. His dad owns a bagel shop in Brooklyn New York. His dad wants him to take over the bagel store one day but of course, Luke wants to dance. He tried out for Julliard but didn't make the cut. I can tell why he may have not gotten in. His dancing is gorgeous and technically perfect. And he has so much athleticism. But I felt absolutely nothing. He needs to learn that dance is also about telling a story and making us feel. He is one of those contestants who might be too trained and too technical. We need to see something more behind those incredible moves. Nigel says he has great control but he wants him to control his hands more. Laurie calls him brilliant but notes he wants to know what he is fighting. Dom says Julliard messed up. Mary says he gave a lesson in control but she wants to see joy and passion. All the judges say yes and Luke is going to the Academy!
https://www.youtube.com/watch?v=EED6vcKdme4
Moving forward tonight, we have Victoria Neukom, Dustin Payne, and Jay Jackson. If the names are familiar to you, that's because all three are back from last season. And all three did enough to return to the Academy once again. In other words, this was heavily edited into a montage.
Also back again for redemption are salsa dancing siblings Jordynn Lurie and Elan Lurie. They were eliminated last season after round one at the Academy when a trick went way wrong. So fun. They are fast and furious with their salsa and they did the trick correct this go around. However, she is MUCH better than he is. Or at the very least, this routine showed her off better than it did him. He was very supporting and I even saw him behind the music a bit in spots. She was a star here. Together though, it was a fiery routine from start to finish. Dom says the tricks were outstanding. The entire family is in the audience. Nigel invites their 80 year old grandfather up on stage to dance with Jordynn. LOL. Adorable. He dances with both. Nigel calls Jordynn a born performer. He gives Elan props for almost keeping up with her. Laurie felt the tricks were soulful and original. Mary says it was better than last year. And she gets up to scream for the hot tamale train. Of course the both of them are going to the Academy!
https://www.youtube.com/watch?v=hcS0P6XHlFw
As we continue tonight, we have Maria Babineau. She is a hip-hop/robotics dancer in Canada. She is studying neuroscience and biology. Talented girl with cool tricks but I'm not feeling her for this show. That was all fluff with no substance. I bet she is amazing on the street entertaining and at parties but a dance competition show where she will eventually need to learn a waltz? I don't see it. But she's fun/cool to watch. Laurie calls her a glitch in the matrix. Dom asks if she is aware of what just happened? He is shocked and it was unexpected. Mary calls it the biggest shock of the season so far. Nigel isn't sure if it is strong enough in the competition. Laurie gives her a yes. Dom says no. Mary gives her a yes. And Nigel follows that up with a no. No Academy for Maria.
https://www.youtube.com/watch?v=Mjiw8IwWQtw
Sophie Pittman is up next, a contemporary dancer from Tennessee. She is from a very small town and has a great GPA. But she isn't going to College. She wants to move to LA and follow her dreams of being a dancer. She is very close to her sister. Her little sister is her best friend. See, now this was the exact opposite of what we saw earlier from Luke. While Sophie wasn't technically perfect and she could use some polish, she brought something else to the routine, told a story, and I felt something. She has the ability to bring emotion and even in that short routine, you could see her musicality in spades. Good job. Laurie loved the transitions. She wants one more level and thinks it could come with working with choreographers. Dom thinks she had zero attachment to the piece. Wow. I couldn't disagree more. Mary believes there is a star inside of her but she wasn't thrilled with it. Nigel found that there wasn't enough technique. Damn. They are being tough on her. Laurie says yes. Dom says no. Mary says yes because she wants to see more. And Nigel? Nigel says yes to give her a chance to have a journey. Sophie heads to the Academy! I really disagree with the judges there but there you have it. :)
https://www.youtube.com/watch?v=ZZHWfS70_7Y
As we continue tonight, let's meet Frank "Ghost" Crisp, Jr. I refuse to call him ghost. He is a self taught street dancer. He has worked with the Harlem Globetrotters. He was the mascot for two seasons and then promoted. He loves what he does. OOO. He is very loud. But quite funny. Good sense of humor about himself. Fun routine. He is quite the comedian when dancing. Very charismatic. In a way, he reminds me of Twitch. And yes, of course that's a compliment. I hope he can adjust well to other styles because this is the type of contestant who does really well on this show. Dom calls him the definition of dance. Laurie says well done. Mary tells him he was born to dance. Nigel tells him not to call himself ghost because he is the real thing. He is going to the Academy!
https://www.youtube.com/watch?v=4hljux52nx8
Completing the show tonight is Lauren Luteran. She was diagnosed with cystic fibrosis when she was five months old. It is a lung condition but can affect other body organs. The average life span for someone with CF is the 30's. Dance helps her and she has been dancing for fourteen years. Her parents talk about how much of an inspiration she is. Her mom talks about how she may not outlive her parents. Aww. :( She has hope though. She's a strong dancer with good intention. There's nothing extraordinary about her besides her backstory, which gives her whole audition more of a jolt.Let's be honest- without her illness, her steps would be considered just decent for another female contemporary dancer. But she is a living miracle and even the cynic in me has to give her props. Mary says she has so much courage and hopes there is a cure soon. Nigel says there was good movement and elevation in that but he doesn't believe she is as strong as some of the other contemporary girls. Larie wants to see her do more movement and name checks Martha Graham. Dom believes she is stronger than most people in life. He commends her for that. And gives her a yes. As does Mary. As does Nigel. And of course Laurie. Lauren is heading to the Academy!
https://www.youtube.com/watch?v=BN8WDE4kvGg
And that's all she wrote for tonight. Next week should be the last audition episode I do believe before we head to the Academy for the next round of the competition. I hope you guys enjoyed tonight's episode and I'll see y'all in one week's time to do it all over again. Until then, stay safe and bless you all. :D