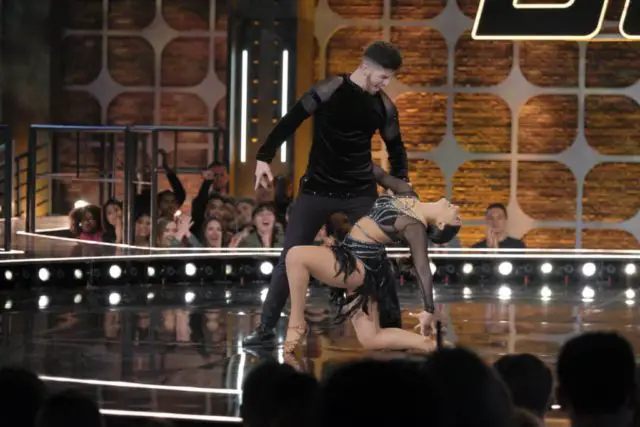 The season sixteen auditions continue tonight from Los Angeles with host Cat and judges Nigel, Laurie, Dom, and Mary. Remember, three yes votes are needed to make it through to the Academy with no choreography round as a backup. You are either in or out! Let's see who gets that golden ticket tonight.
First up tonight is Sumi Oshima. She couldn't go to regular high school because she was causing trouble- stealing and fighting. Her parents divorced when she was young and she fell in with a bad crowd. She's got some great moves in what she does- a whole lot of popping, animation, locking, etc… Another dancer that needs to prove she has the goods to tackle other styles. But that was quite good with some great musicality. Laurie tells her she needs to take all the fight and put it into every style. Dom was blown away. He can't believe the control. Mary did not anticipate that. Nigel calls Sumi a thief- she has stolen their hearts. All four judges give her a yes of course and she is heading to the Academy!
https://www.youtube.com/watch?v=JSr8ePnrrDQ
Next up is Caroline De La Rocha. Her mom and grandparents have always been very supportive but her dad doesn't want her on the show. Mary shares a similar father/daughter relationship She's a strong and athletic contemporary dancer but I'm not personally seeing anything amazing here that we haven't seen tons of times before. Perhaps a diamond in the rough but starting out, it is very "been there, done that." Mary says she has a lot of fight in the dancing. Some good but she notes the transitions aren't that great. Nigel says she dancing uncontrolled. Laurie disagrees and believes Caroline is here to fight. Dom agrees with Laurie but also agrees that the execution was shaky. He is on both sides of the fence. Mary gives her a yes as she wants to see more. Nigel is a no. Laurie is a yes. And Dom is a yes. So, Caroline has made it to the Academy!
https://www.youtube.com/watch?v=vnBHccDIEYQ
As we return from commercial, we meet Samuel Sweetser. He is a married B-Boy with two kids. His whole family dances. His wife is a Polynesian dancer. He wants to leave a legacy behind for his children. Nigel invites his son on stage. LOL. Adorable kid. Perhaps a contestant in fifteen years? His moves are too cute.
https://www.youtube.com/watch?v=HpQp5LPWcc4
But now his father takes the stage alone to show off his skills. Again, like the first girl tonight, very good at what he does. Some cool moves with his shirt and he has good musicality and swagger. But what else? Nigel fears when he does a Cha-Cha or Samba, it will look wrong. Laurie says nothing is like an authentic B-boy stance. Dom gives him props for having his own B-boy moves. And Mary calls him an amazing entertainer. With four yes votes from the judges, he is heading to the Academy!
https://www.youtube.com/watch?v=JyJ7Jb3hXk0
Gianna Newborg is up next. She hangs out with her mom a lot and they work together. Her mom describes them as "besties." She is a contemporary dancer. She believes acting in dance is important so the solo she is doing tonight is about being kidnapped. I give her some immediate points for doing something different. Not a lot of people who audition in contemporary prepare a story. Her dancing is pretty damn good too. A lot of flailing around but she has this raw magnetism when she dances. It is almost dangerous to watch- as if she is going to be on the cusp of messing up or falling. Definitely an intriguing one. Mary calls the performance superb- theatrical and a dynamo. Nigel says she connected with him. Laurie feels as though she raised the bar even more. And Dom thanks her for taking a chance on her ideas and being different. The judges give her a yes and we have another Academy dancer.
https://www.youtube.com/watch?v=ZVuOtcmzsOs
Quick montage time of good contemporary dancers including Tra Wilson, Howard Johnson, and Abigail Hau. All are going to the Academy!
Up next are ballroom dancers Nazz Sldryan and Stefen Yeritsyan. This is the first time they are officially dancing together though they grew up in the same studio and sometimes danced against one another. He is an Armenian soap opera actor. Cat tries to get them to admit that they dated previously. They are good ballroom dancers. I would caution both that they need to watch the lifts and transitions. You could tell when they are coming and it looks too planned as opposed to being organic and natural. They have good chemistry and with some decent choreography, could really light up the floor. Dom was entertained from beginning to end. Laurie loves the connection based on friendship. Nigel agrees on the connection but wants to see more back lift from Nazz. Mary gives Stefen props on his masculine dancing. She gets up to give them both one of her vintage screams though it was a little diluted compared to Mary's usual bombastic scream. They are both heading to the Academy!
https://www.youtube.com/watch?v=JQpnxU72KSQ
We continue tonight with "Korra" Obidi Dean. Her real name is about thirty letters long. She is actually from a Royal Nigerian family. Oh. She's a legit princess. Her family wanted her to go into business but that's not for her. She is married and he even paid her bride pride. Yep, that is real. Oh wait, she is pregnant. SHE IS PREGNANT. A duet coming up. Oh. Nice belly dancing. This African inspired routine is cool to watch. So how exactly does this work if she makes it to the Academy? By the time we hit the live shows, she will be very pregnant. Laurie calls her a world changer and a systems breaker. Dom is just happy she didn't start break dancing. Mary calls her one fierce woman. Nigel enjoyed it but says no to the Academy. Laurie also says no. As do Dom and Mary. Oh well. I wonder if the no votes had more to do with her pregnancy than the dancing. So, for Korra, it is a no.
https://www.youtube.com/watch?v=MkYk5LCwizs
Now, a montage of dancers who weren't quite good enough and get a no vote from the judges. No names are shared with us. Just a few tears. Aww.
We conclude this evening with Kaeli Ware and Brandon Talbot. They are a contemporary ballet duo. They have been dancing together since they were kids. They wanted to audition together because it provides a safe spot for them. So damn pretty. Mixing ballet with contemporary is so difficult. The pair remind me of two previous contestants (who actually won the show when we had two winners per season named Chehon and Eliana). They aren't as good as they are at first glance but the potential is definitely there. Very exquisite dancers indeed. Nigel tells Brandon he has a great center and it looked magnificent. Laurie calls it two tornadoes circling and coming together. Dom couldn't choose- his eyes were going back and forth. Mary says they were magnificent together. Of course, both are going straight to the Academy!
https://www.youtube.com/watch?v=ODlAcTP8WpM
That's it for episode two. I thought the talent overall tonight was better in the second half of the show but pretty much on par with last week's premiere. The judges continue to show good chemistry with one another as well. We have more auditions next week as the season rolls on. Join me won't ya? :) Thanks for watching tonight and have a fabulous week.