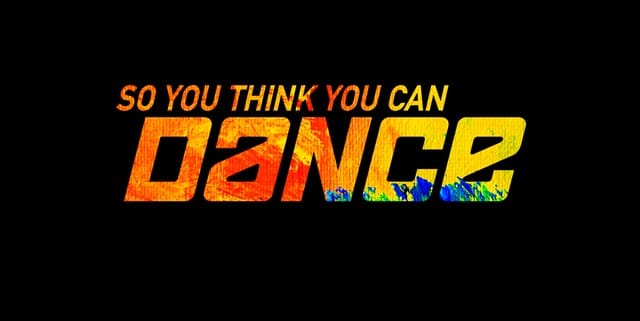 Welcome back to the Academy. Tonight, the remaining contestants will go through contemporary with Travis Wall and jazz with Mandy Moore before the judges narrow down the field to ten girls and ten guys. Will your favorite make the cut? Let's see!
Forty one dancers remain at this point. Cat introduces Travis and congratulate the contestants on making it halfway though the Academy. Travis doesn't want robots. He wants to give them an outline and then he wants them to add their own flavor to the routine and stand out. After 90 minutes, it is time to perform.
In group one are ballroom dancers Dillon and Allen. Cole Mills (also ballroom) is in this group. All three seem to take to contemporary well. Cole is especially good. Nigel notes Dillon was outperformed and he is let go. Travis compliments Cole and of course he is safe. Finally, Allen. Nigel was a bit disappointed because he feels Cole out-shined Allen. The two of them though are safe and will be dancing tomorrow. Nigel tells Allen he needs more from him.
And now, a bit of a montage where we see many dancers doing a fabulous job with Travis' contemporary and getting lots of praise from the judges. Many dancers make it through. Tessa is in the next featured group. Also in the group are Sydney and Hannahlei. Tessa is definitely back in her element. All three do a nice job. Nigel tells Sydney that she stood out. Hannahlei is also complimented by the judges. Tessa however, is told she is having a hard time picking up choreography. They note her solo was amazing. They give her another shot to step it up tomorrow. The other girls are of course safe.
And now, a montage of some difficult judge comments- noting some of the dancers weaknesses. Melany (salsa dancer), B-boy Brandon are sent home. In the next featured group, ballet dancer David Greenberg, and two tappers (Eddie and Evan) are performing. Evan impressed Mary a lot. Vanessa too. He is safe. Nigel asks both David and Eddie to come down. David and Eddie are both given some harsh words. Both of them are eliminated. Aww. Poor Eddie. So excited and happy to be here but I think we all knew that he wasn't long for the show considering his limitations in things beyond tap.
In the final group to be featured, we see Bridget, Emily, and Gennesy. All are contemporary dancers. Emily is informed by Nigel that he enjoyed her performance more than anyone else. She is safe and Travis would love to work with her on the show. Gennesy is told that it seemed like she gave up at some point. Vanessa gives her a pep talk. But she has another shot tomorrow. Finally, Bridget. Nigel says that Bridget lost him today and Travis says it was sloppy while Mary didn't connect with it. And she is eliminated. Damn, that's a tough one.
https://www.youtube.com/watch?v=vpzGpjdQF6A
Thirty three dancers are left and Mandy Moore arrives for jazz. It will be a huge group production number. It is going to be a mesh of all the dancing styles before everyone dancing together. Some of the dancers note how hard it is to do such an epic routine with so many people. And of course, they are all exhausted. Mandy works with the tappers on their portion. In addition to learning it, they must also choreograph a piece of the routine themselves. Mandy continues and works with the jazz people. The hip-hop group practices as does the contemporary and ballroom people. Cat checks in with the groups because of course, the one thing they need right now is questions from the host. I love Cat but let them practice girl!
Time for the huge group routine. This is hot. Every dance style gets a chance to shine. And I love the seamless way each portion comes into play. By the end, everyone is dancing together. That was a really solid routine for sure. Nigel wants to take them group by group for the results. The contestants are nervous. The judges are talking but of course, we the audience don't know who they are talking about.
https://www.youtube.com/watch?v=l7jsgsaoJkI
Nicole (ballroom) is eliminated. Cole and Allen (ballroom) are both safe at the moment. The three ballroom girls are all safe and Mary notes she doesn't want to lose any of them. Two of the tappers also move forward. A few other dancers are given the go ahead by the judges in a quick montage of results. OH. Here is Tessa again. Mandy was frustrated with her. Tessa doesn't know what to say. And she is eliminated. Remember, she is the one who the judges said had the best solo routine on day one. And now, she is done. Victoria, Alexis, Gaevin, Jay (the drag performer) are all eliminated from the competition.
Twenty seven dancers are left on day four. They will do a final solo before the judges determine the top twenty. Jay Jay is up first. Yet another strong solo filled with emotion and athleticism. Jay Jay is a stand out on this show in terms of the contemporary/jazz boys (and maybe all the boys) and I can't see him not making the show. We only get to see about three seconds of other solos unfortunately. Allen (ballroom) is featured. Haha. Love the song choice and the personality. Oh, the shirt comes off. Allen is going for broke. DAMN. Nigel calls it desperate. He isn't happy with that solo at all. Allen knows he blew it. He will never do that solo again he says.
Dustin Payne is next to be a featured. He tells a great story with his dancing- very connected to the music and lots of cool moves. His hands are phenomenal. They are his secret weapon. The solos are officially over. The judges have got to make some hard decisions. Jay Jay is in the top twenty of course. Genessy makes it in by the skin of her death after some tough words from Vanessa. Magda, Jensen, Stephanie Sosa, Dayna, Sydney, Brianna, Chelsea Hough, Emily, Hannahlei round out the top 10 girls.
https://www.youtube.com/watch?v=MHg_WTnGgL0
Meanwhile, Cole Mills, Justin, Slavik, Peyton, Dustin, Evan, Kyle, Darius all make the top ten guys. Some of the contestants are in tears as they hear that they will not be moving forward. Allen is out now. Mary says he blew it. He is given another shot as he makes it into the top twenty. He is the final boy to join the previously announced nine guys.
The panel tells the dancers that it is NOT OVER. TWIST. TWIST. Only ten will be going through to the live shows. That's right. Next week, each dancer will be paired with an all-star and choreographer to perform in duets outside of their styles. The girls take the stage next week as we narrow them down from ten to five and the guys the following week.
Damn, these twenty dancers through they had the live shows but half of them are still in for some heartbreak. I'll see you all next Monday night. :D