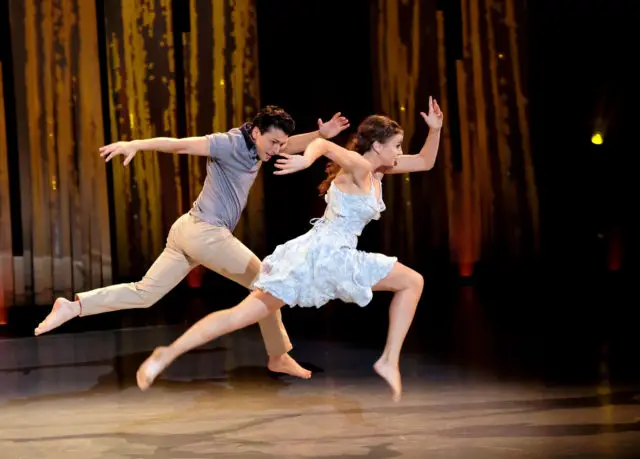 We're back! Join me here tonight for the live blog!
Opening: You Should Be Dancing
The Top 10 and the All-Stars dance a very groovy 70's disco number. Very different, and even if I forget it ever happened, very cool. I like seeing different things. – Click to Watch Performance VIDEO
Who's going home based on last weeks votes? I predicted that it would be Sydney based on last week. I went with her because ballroom dancers seem to struggle, and Paul doesn't quite have the fanbase needed to keep a dancer with little screentime on air. That and their dance was definitely among the least memorable.
Val Chmerkovsky and Mandy Moore choreographed the opener. Everyone dances twice tonight. 1 solo and 1 duet with their All-Star.
Our judges are still Nigel, Mary, and Vanessa. No guests or any funny business yet.

1) Mark and Comfort- Jazz by Ray Leeper- Hater
Mark is very excited to be here. Comfort talks to him about their connection. The dance is based on a couple that really wants to be together, but probably shouldn't be together. They start out with just two chairs to work with. If I'm being honest, this dance was good, but I felt way more from Comfort than Mark. I felt like she was more of the focus, and I couldn't stop watching her. She was fantastic, but Mark wasn't really on her level. He needs a more dynamic personality if he's going to match Comfort. He danced it fine, I just think her personality pulled her forward more. She's a star. Vanessa thought it was steamy and hot. She thinks they're kinetic, and have a fire and energy. She thought it was nice to see Mark with more intensity. Mary says she couldn't keep her eyes off Mark, with his intensity and intention. She says it was raw and uninhibited. No hate here, just love. Nigel says Comfort gets stronger every season, and is dancing brilliantly. Nigel says that considering his style, Mark impressed him with his sharpness and focus. – Click to Watch Performance & Solo VIDEO
Don't forget to supervote for Mark.
2) Koine- Solo- Home
Thank you. I feel like so many contemporary solos look virtually the same. Koine chose to do a lot on the floor, and make it a very different contemporary piece. I haven't seen the other nine solos, but I guarantee this will rank in the top at the end of the night. She showed her uniqueness tonight.
3) Logan- The Radical Self
Logan took a page from Koine and did another non-traditional contemporary solo. I somehow feel like I still don't know who he is as a dancer, as much as I learned from Koine's.
4) Lex and Gaby- Argentine Tango with Leonardo and Miriam- Red and Black
Again, I feel like this is one of those dances that really showcases the girl. Lex doesn't do any really heavy dancing. Most of it is just partnering Gaby and keeping her from falling. She looks incredible, and his intensity works well in this. He did take the note and is very close to Gaby. In the short spurts where he gets to dance, he does a good job. However, I can't help but think that Gaby just overshadowed him in the long run. Mary says it's going to be a hot sexy night, but wanted the steam up higher. There were some spectacular moments. She needed more sensuality through the whole routine. Nigel says the focus was really good, and says he's looking forward to Lex's solo in his own style. Vanessa says it's too hot to handle. She says he's shining and to keep doing his thing. – Click to Watch Performance & Solo VIDEO
You can supervote for Lex!
5) Taylor- Tragedy
Last week's surprising fodder breakthrough, Taylor, has the chance to show her technique. This felt pretty typical contemporary, and other than me being able to say "she can dance", I didn't feel like I learned more about Taylor.
6) Kiki and Jenna- Hip Hop with Luther- Caroline
Kiki's doing Hip Hop. Uh oh. He could barely do hip hop at academy. Kiki hopes he can tap into his inner freak. I appreciate that Kiki tried, and was able to finish the routine, but he's not very good in this. He's committed to his character, sure, but it's not loose enough, and it looks awkward. Even against Jenna, who isn't an amazing hip hopper either, he still looked weak. But, at least he got through it. Nigel says the Lord listened to Luther's prayer. Nigel says Kiki was so bad during hip hop at the Academy that he was surprised Kiki survived that round. HE says Kiki showed them why he deserved to stay tonight. Vanessa says it was lit and they completely crushed it. Mary isn't worried anymore and calls this a game changer for Kiki. I guess we're grading on a curve? Man, they must REALLY love Kiki.
Don't forget to supervote for Kiki! – Click to Watch Performance & Solo VIDEO
7) Kaylee- Dragon
I love her solos. I love that they really look like a blend of styles. I'm not gonna lie, I supervoted for Kaylee last week. In case you want to know where I stand.
8) Sydney and Paul- Contemporary by Jaci Royal- The Letting Go
Sydney is playing a character who wants to pursue her dreams, and has to leave her boyfriend behind, which turns out is actually Sydney's true life story. She had to leave someone behind when she moved to LA to pursue dancing. OK. So. I predicted Sydney would go home, and I have to remind myself about last week, because I would NOT vote her off after this. I think she redeemed herself here, if she stays, and this was the best routine (so far) tonight. The most evenly matched between contestant and All-Star. Paul didn't overshadow her, he complimented her. Gorgeous. Vanessa says it was really beautiful, and loved seeing Sydney in this style. There were moments of stillness and silence that were really strong. Mary says it was sweet and tender, and Sydney had a freedom about her. Lots of great transitions and connections. Nigel loved the lift, and says he felt the emotion.
You can supervote for Sydney! – Click to Watch Performance & Solo VIDEO
9) Robert- Look At Me Now
Manic. I normally enjoy hip hop solos, but I honestly hated this one. My least favorite solo of the night. If that was the first time I had seen him dancing, I'm not sure I would have sent him to the Academy… or honestly even choreo. Not enough actual dancing.
10) Dassy- Battling Goes To Downtown?
Now that's how you hip hop. Thank you. Thank you Dassy. Good job.
11) Logan and Allision- Jazz by Brian Freedman
Logan and Allison finally get to dance together. The dance is a blind date in the future, and they are also kinda blinded in the dance. Brian says Logan is a choreographer's dream. Chairs, table, napkins. Very unique costumes. Logan is really great for this dance. He just embraces the weirdness of the dance and commits to it. I didn't think Allison overshadowed him. Another evenly matched team. Mary doesn't think there's anything Logan can't do, and says he's a gifted young man. Mary loved it. She pegs the floor sweep as a stunning moment. Nigel says Logan is capable of anything. He loved the diving roll into the side split. Vanessa says Logan gave her so many moments of WOW. His ability to do everything and anything under the sun is unparalleled. – Click to Watch Performance & Solo VIDEO
You can supervote for Logan!
Nigel made good on his promise to Blessing. She's bringing her Step Team to the SYTYCD stage. So even though she didn't go through in the competition, she's here now anyway. Blessing's team is featured in the movie Step. They're joined mid-dance by the All-Stars who had to learn this step routine. That was pretty awesome. I'm not gonna lie.
12) Lex- Rollin
I know he likes to freestyle his solos, but he really should start planning them more. The other dancers are pulling out bigger tricks. That was just OK for me.
13) Kaylee and Cyrus- Hip Hop by Pharside and Phoenix-I'm Better
They talk about how last week's feedback hurt a bit, but they're planning on coming back this week. Kaylee is excited to be in Cyrus's style. Cyrus has blue hair now. He's a great teammate. As far as the dance, it was OK. I thought Cyrus and Kaylee were great, and they had some great moments, but I didn't love the choreography. Nigel says they put Kaylee through because she was unique and original. Nigel thought her solo was fantastic. He thought there were unique moves that made her look fantastic. Vanessa says that was fire, and they brought the heat. She couldn't keep her eyes off Kaylee. Mary was scared last week for her, but that was wiped out this week. She says they're a dynamic couple. – Click to Watch Performance & Solo VIDEO
Don't forget to supervote for Kaylee!
14) Taylor and Robert- Broadway by Al Blackstone- The Man That Got Away
Robert says there's a lot of pressure coming out of last week. Taylor says she feels like she let go of a piece of her. Al calls it classic Fred and Ginger. There's a street lamp, because of course there is. Well, it has classic Fred and Ginger moments, and a flair to it, but at times it feels still like a contemporary routine with just a Fred and Ginger spice added to it. I don't think either Robert or Taylor quite had the personality to lift this somewhat dull routine. I love Broadway routines, but there was something missing from this. Vanessa thought it was gorgeous. She reminisces about being a kid watching music theatre for the first time. Mary didn't want the routine to end. It transported her to another era. She thinks Taylor is a star. Nigel talks about producing On The Town on Broadway. He says they were excellent last week and excellent this week. He calls them the couple to beat. Really? – Click to Watch Performance & Solo VIDEO
You can supervote for Taylor!
15) Sydney- Swish Swish
Ballroom solos are hard. I'm always willing to grade on a curve. That was OK.
16) Koine and Marko- African Jazz by Shaun Cheeseman- Speaking In Tongues II
Koine laughs at the idea of her and Marko being a couple. This dance is the mysterious life of an insect. They are one insect, so they are very close. This should be really interesting. What a very strange, oddly rewarding routine. Incredible moments of movement here. They really had to have a strong partnership for this. The oddest song choice, the weirdest routine, and possibly… my favorite of the night? That was batshit crazy at times, and I loved it. Nigel commends the intricacy of the movement and how well it was danced. Nigel goes on a rant about music and dance uniting the world. Vanessa loved it. She says Koine was amazing, and says it was animalistic. So fierce, so dynamic. Mary says it was out of control. She loved the costumes, and says it was one of her favorite routines of the night. – Click to Watch Performance & Solo VIDEO
You can supervote for Koine!
17) Mark- Is It A Crime
Some cool moves. Better than Robert, but not as good as Dassy.
18) Robert and Jasmine- Contemporary by Stacey Tookey- Otherside
Robert is grateful to be in the top 10. Robert plays a guy who is broken down, and escapes to a hotel where he meets Jasmine, who helps lift him up. Robert says he feels the emotion of the piece. I don't quite feel the story Stacey described. It almost seems like Jasmine was the broken one, and Robert is there to help her. Jasmine can do anything. She's incredible. Honestly, Robert did a really great job here too, I just thought Jasmine was on another level. He redeemed his solo for me. Nigel congratulates Stacey on her routine. Nigel says Robert needs to find that deep hurt inside, because he didn't feel it from Robert. Vanessa says her heart hurts, so Robert must have done something to her. She says its great seeing him doing contemporary. Mary says she felt it too. She says the technique could have been better, but she felt the connection, and he was there for Jasmine on every lift. – Click to Watch Performance & Solo VIDEO
Don't forget to supervote for Robert!
19) Kiki- The Drummer
If I'm being honest, I thought Kiki's ballroom solo was stronger than Sydney's. But both had a struggle.
20) Dassy and Fik-Shun- Bollywood with Nicol- Radha Nachegi
Our first Bollywood of the season. Dassy wants to do sexy. She wants to show America how sexy she is. Obviously, both are out of their styles. But they're a very entertaining couple. This is a high energy routine that matches their personalities. I think they're both killing it. I'm actually surprised at how well Dassy picked this routine up, and maintained her personality. I think she might be a contender. Seriously. Vanessa says it was so fun. She loves Bollywood. She loved seeing Dassy do that, and says it looked like she was doing it her entire life. Mary says whatever the fumble was, they picked it up like a true pro. She calls it a visual feast, and a walk in the park for Dassy. Amazing. Nigel thought the costumes were incredible. Great routine. – Click to Watch Performance & Solo VIDEO
You can supervote for Dassy!
The top 10 and the All-Stars now come on stage for some results.
The bottom three are: Logan, Sydney, and Robert.
Wow. Logan?
The judges have to decide who is going home. Well, with that said, Sydney is safe. I'm predicting "Bye Robert."
Now for the decision.
Nigel says he's shocked at the bottom 3, but he says the dancers are so great they'll always be shocked. He says Logan showed them tonight what he's capable of, so he's safe. Down to Sydney and Robert. Nigel didn't think Sydney was strong enough last week, but was good this week. Nigel thought Robert was good last week, but not this week. Nigel says they are not unanimous tonight, but that Robert is leaving tonight.
ELIMINATED: Robert (and Jasmine)
Wow. Jasmine couldn't save Robert from elimination. Sydney lives to dance another week. – Click to Watch Elimination VIDEO
We get a montage of Robert's time on the show.
So that's it for this week. Join me again next week for more dance! MORE DANCE!
Who was your favorite tonight? Least favorite? Who do you think is going home next week?
My predictions for the bottom 3 next week: Kiki, Taylor, and Sydney. (Yeah, I'm not sure Sydney can escape the bottom three yet). I think Logan will pull himself out, but I'm not sure both of them will.