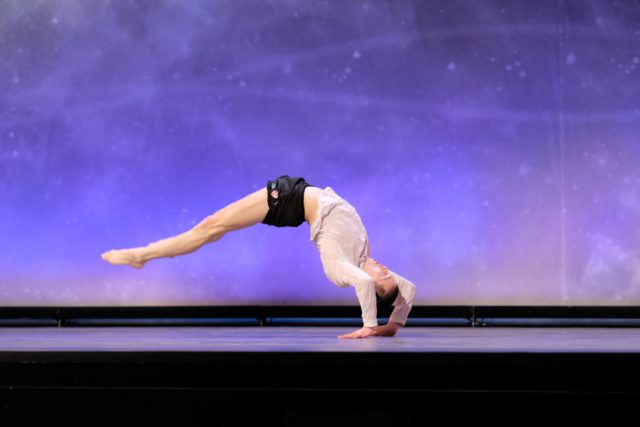 We're back after a week hiatus for more SO YOU THINK YOU CAN DANCE! It's the final audition episode. Join me!
We're still in NYC. And our judges are still Nigel, Mary, and Vanessa Hudgens.
"This final group of dancers refuses to be overlooked."
Alright Cat. Bring it.
1) Magda and Kiki- Ballroom
Magda is originally from Poland, but is now from Jersey. So is Kiki. Kiki says they made the routine 4 days ago, and originally Kiki wasn't interested in auditioning, but he is now. Just dance partners. Magda answers a lot of Kiki's questions. It's cute. It looks great. Good technique. It feels like a pretty average ballroom audition choreo wise. No big tricks or stunts. Nothing that really stands out, except they're technically perfect. No feedback from the judges. They're straight through. Mary comments after that she'd like to dance a Paso Doble with Kiki. – Click to Watch Performance VIDEO
2) Ballroom Montage: Claudia and Jorge, Jaryd, Allen
One couple, two male dancers (whose female partners weren't named, or didn't go through?) make it through. All looked good, in their brief flashes.
3) Zachary Downer- Contemporary
Zachary auditioned 2 years ago and made it to the Green Mile, and left motivated and inspired. I bet he's glad they went back to allowing adults to audition. Very strong movements. Very good lines. It's not all contemporary, there's definitely some African thrown in here too. Very good. Standing O from the judges and the audience. Mary says it was amazing, and puts him on the hot tamale train. She says he commands so much attention, and can't see him not making it this time. Vanessa calls him fierce, and talks about the shapes he created. She calls him a bird, with strength and grace, and says he worked very hard. Nigel calls it Alvin Ailey, and loved how he mixed contemporary with African dance. He's straight through to the Academy! – Click to Watch Performance VIDEO
4) Ramita- Contemporary and Indian Dance
She's mixing Contemporary and classical Indian dance. She says she's trained in other styles too. she will KILL the Bollywood routines this year. her solo is unique and exactly what she promised. It feels like a perfect blend of two cultures, and it shows her uniqueness in this competition. Nigel found it very interesting and uplifting. Mary says it is joyful, and calls her beautiful. Vanessa wants her hands, but says at times she became unaware about her face. Mary says Yes to Choreo. Vanessa says Yes to Choreo. Wow. Just Choreo? – Click to Watch Performance VIDEO
5) Peter Maggione- No Dance Style
Started dancing six months ago. He's a good looking guy. He's an awful dancer. He has a few "tricks", but honestly, he's a terrible dancer. his stunts aren't even that good. He's a No. – Click to Watch Performance VIDEO
6) Arielle Disciascio – Contemporary
Started dancing when she was 4. Her Mom is her rock. Her mom was diagnosed with Breast Cancer. Her mom is currently cancer free. Arielle's solo is good. She has great legs and lines with them. I think she needed better choreo, and to be honest, it almost seemed like they swapped her song because it didn't seem to match the song. Nigel says she has a great look. Mary says everything was so spot on and perfect. Vanessa says she was so animated the whole time. Mary votes Academy. Nigel votes Choreo. Vanessa votes Academy. She's straight through to the Academy. – Click to Watch Performance VIDEO
7) Montage Of Returning Hip Hoppers: Chris Andrews, Chase "CTUT", Jason Kidd
Chris made Green Mile on Season 12. Chase came from Season 11, and Jason was Season 12. All three are straight through to the Academy.
8) Romainson Romain- Lyrical Hip Hop
He auditioned for Season 12. He's 29 now. It's his last chance. His cousin died last year in a factory accident. His cousin was the one who took him to his last audition. He dedicates his audition to his cousin. It's a grab bag of everything, showing us what he can do. Vanessa wants to see more, and says she can feel the weight of life on him. Nigel wants to see that weight move too. Mary can see that he wants it so bad, and it's his last chance. Gotta dance, gotta live, gotta bring the joy back. Mary votes choreo, and wants to see him shine. Nigel says choreo. Vanessa says yes to choreo too. – Click to Watch Performance VIDEO
9) Marc "Fullout' Royale- No Style
A big guy goes up on stage and has fun. He dances "professionally". Really? where? Three No's. He's so out of breath. – Click to Watch Performance VIDEO
10) Claire Rathbun- Ballet
She's been dancing since she was three. She's not an introvert. It's almost a hybrid of ballet and contemporary. She's very good though, at least in the mixture. The judges want more. Vanessa says her technique is incredible. She thinks she has a lot of talent in her. Mary says she has grace and elegance they haven't seen today, and her core is strong. Nigel could have used even more personality in some areas. mary says yes. Vanessa says "Go to the Academy!" She's straight through. – Click to Watch Performance VIDEO
11) Lex Ishimoto- Improv Hip Hop
He's Japanese, but speaks perfect English too. His sister is a dancer, and inspired him to start dancing. He says he can do other styles. He says this is a childhood dream. That double swipe was DOPE. He definitely earned his closing spot. There are some pretty terrific tricks here. Standing O from the judges and the audience. Vanessa says it was SO GOOD, and he was so strong. He did the impossible today. Nigel says he's going to be a star. Lex is with Travis Wall's company right now. Oh, well, DUH. Mary begs for the double swipe again. he does it. She says he's in the 10th dimension, and she loves him, and he's on the hot tamale train. He's straight through to the Academy, duh. – Click to Watch Performance VIDEO
12) Choreo Round: Romainson and Ramita
Romainson wasn't great, but I could see he really tried to get the moves and bring out the joy. He's safe and through to the Academy. Ramita also goes through with less fanfare, as do 20 other dancers.
Next week is DANCE ACADEMY! I'm so excited.
Who was your favorite audition tonight? Sound off in the comments below!