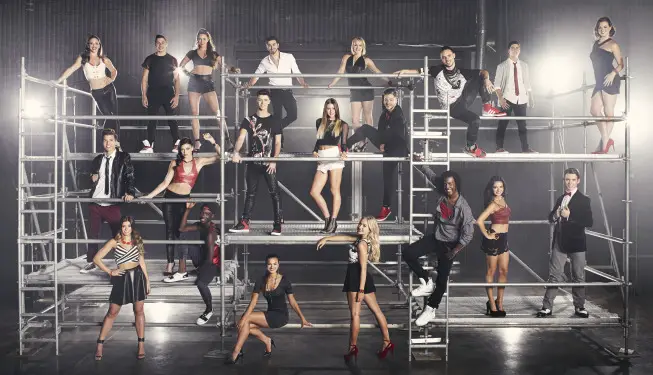 Meet your So You Think You Can Dance 11 Top 20 finalists! Includes PHOTOS and social media deets! Next Wednesday, each of the Top 20 finalists pair up with another dancer in their own style (that's something new!) to take the stage and dance live for YOUR votes.
Read more from FOX below:
"SO YOU THINK YOU CAN DANCE" TOP 20 FINALISTS REVEALED
FINALISTS COMPETE ON FIRST LIVE PERFORMANCE SHOW WEDNESDAY, JULY 2, ON FOX
Tonight, after thousands of auditions by the best dancers around the nation, and the grueling, week-long callbacks round, the Top 20 finalists on Season 11 of SO YOU THINK YOU CAN DANCE were revealed.
This season's Top 20 finalists are: Girls: Tanisha Belnap, Carly Blaney, Jourdan Epstein, Brooklyn Fullmer, Emily James, Jacque LeWarne, Malene Ostergaard, Jessica Richens, Valerie Rockey and Bridget Whitman; Boys: Rudy Abreu, Casey Askew, Teddy Coffey, Emilio Dosal, Zack Everhart, Jr., Nick Garcia, Stanley Glover, Marcquet Hill, Serge Onik and Ricky Ubeda. The announcement was made Wednesday night by resident judges Nigel Lythgoe and Mary Murphy and special guest judges Adam Shankman, Stephen "tWitch" Boss, Tara Lipinski and Irina Dvorovenko. Also announced tonight were the four winning dance crews that will be performing live on the SO YOU THINK YOU CAN DANCE stage on an upcoming show: Academy of Villains, Wanted Ashiqz, Control Freakz and Chloe Arnold's Syncopated Ladies.
Next week, the real competition begins LIVE Wednesday, July 2 (8:00-10:00 PM ET live/PT tape-delayed), when each of the Top 20 finalists will dance with another of the finalists specializing in the same style. The pairs will work with world-renowned choreographers to create a dance routine showcasing their genre. After the performances, viewers will have the opportunity to SuperVote for their favorite dancers via the official website, fox.com/dance, the FOXNow App and the official Facebook page, facebook.com/SoYouThinkYouCanDance.
Click on the Photos to Enlarge!
Below are the SO YOU THINK YOU CAN DANCE Top 10 female finalists:
Tanisha Belnap Age: 20
Hometown: Payson, UT
Dance Specialty: Ballroom
Facebook: facebook.com/Dance11Tanisha
Twitter: @tanishabelnap
Instagram: @tanishkaa
Carly Blaney Age: 20
Hometown: Wyckoff, NJ
Dance Specialty: Contemporary
Facebook: facebook.com/Dance11Carly
Twitter: @Dance11Carly
Instagram: @dance11carly
Jourdan Epstein Age: 24
Hometown: Plymouth, MN
Dance Specialty: Ballet
Facebook: facebook.com/Dance11Jourdan
Twitter: @jourdance11
Instagram: @jourdance11
Brooklyn Fullmer Age: 18
Hometown: Provo, UT
Dance Specialty: Latin Ballroom
Facebook: facebook.com/Dance11Brooklyn
Twitter: @Bfullms
Instagram: @dance11brooklyn
Emily James Age: 21
Hometown: North Kingstown, RI
Dance Specialty: Contemporary
Facebook: facebook.com/Dance11Emily
Twitter: @DanceEmily11
Instagram: @danceemily11
Jacque LeWarne Age: 18
Hometown: Clive, IA
Dance Specialty: Ballet
Facebook: facebook.com/Dance11Jacque
Twitter: @JacqueLeWarne
Instagram: @jacquelewarne
Malene Ostergaard Age: 25
Hometown: Aarhus, Denmark
Dance Specialty: Ballroom
Facebook: facebook.com/Dance11Malene
Twitter: @OfficialMaleneO
Instagram: @officialmalene
Jessica Richens Age: 18
Hometown: Yorba Linda, CA
Dance Specialty: Jazz
Facebook: facebook.com/Dance11Jessica
Twitter: @jessicarichens
Instagram: @jessicarichens
Valerie Rockey Age: 20
Hometown: Indianapolis, IN
Dance Specialty: Tap
Facebook: facebook.com/Dance11Valerie
Twitter: @ValerieRockey
Instagram: @valerierockey
Bridget Whitman Age: 20
Hometown: Tempe, AZ
Dance Specialty: Contemporary
Facebook: facebook.com/Dance11Bridget
Twitter: @BridgetWhitman
Instagram: @bridgetwhitman11
Below are the SO YOU THINK YOU CAN DANCE Top 10 male finalists:
Rudy Abreu Age: 19
Hometown: Miami, FL
Dance Specialty: Contemporary
Facebook: facebook.com/Dance11Rudy
Twitter: @Dance11Rudy
Instagram: @dance11rudy
Casey Askew Age: 19
Hometown: Seattle, WA
Dance Specialty: Contemporary
Facebook: facebook.com/Dance11Casey
Twitter: @caseyaskeww
Instagram: @caseyaskeww
Teddy Coffey Age: 19
Hometown: Rochester, NY
Dance Specialty: Hip Hop
Facebook: facebook.com/Dance11Teddy
Twitter: @TeddyCoffey
Instagram: @teddycoffey
Emilio Dosal Age: 23
Hometown: Houston, TX
Dance Specialty: Popping
Facebook: facebook.com/Dance11Emilio
Twitter: @IaMEmiliodosal
Instagram: @iamemiliodosal
Zack Everhart, Jr. Age: 20
Hometown: Kennesaw, GA
Dance Specialty: Tap
Facebook: facebook.com/Dance11Zachary
Twitter: @zackeverhart47
Instagram: @zackeverhart47
Nick Garcia Age: 18
Hometown: Miami, FL
Dance Specialty: Latin Ballroom
Facebook: facebook.com/Dance11Nick
Twitter: @ImNickGarcia
Instagram: @imnickgarcia
Stanley Glover Age: 19
Hometown: Chicago, IL
Dance Specialty: Contemporary
Facebook: facebook.com/Dance11Stanley
Twitter: @dance11stanley
Instagram: @dance11stanley
Marcquet Hill Age: 18
Hometown: South Jordan, UT
Dance Specialty: Latin Ballroom
Facebook: facebook.com/Dance11Marcquet
Twitter: @Marcquet13
Instagram: @marcquet13
Serge Onik Age: 26
Hometown: Upper Saddle River, NJ
Dance Specialty: Latin Ballroom
Facebook: facebook.com/Dance11Serge
Twitter: @sergeonik
Instagram: @sergeonik
Ricky Ubeda Age: 18
Hometown: Miami, FL
Dance Specialty: Contemporary
Facebook: facebook.com/Dance11Ricky
Twitter: @RickyUbeda11
Instagram: @rickyubeda11