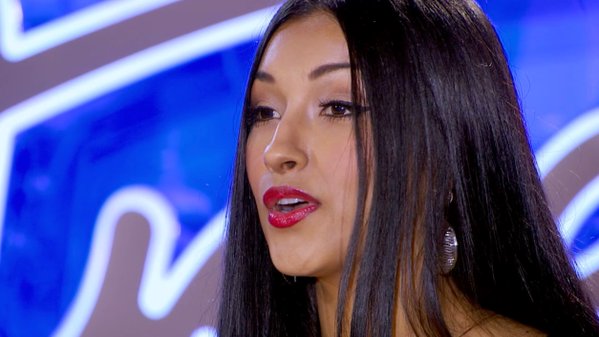 Stephany Negrete American Idol 2016 Season 15 Contestant
Stephany Negrete is a 21-year-old singer from San Diego California, who says that she doesn't remember a time when she wasn't singing. Never having formal training, Stephany taught herself how to sing by taking in and modeling her voice after singers she grew up listening to, like Beyonce and Celine Dion. Based on her covers on Youtube, Stephany enjoys the music of Sam Smith, Amy Winehouse and Adele.In addition to a short stint on American Idol season 11 where she was cut in Hollywood Week, Stephany also was a contestant on "Tengo Talente, Mucho Talente." Although she did not win, from the videos it appears that Stephany was a finalist and did advance a bit into the competition. Aside from television shows, Stephany was a member of the girl group Eleve, where on the website she is described as possessing a "soulful and showy yet edgy voice."
Click to see the FULL LIST of American Idol 15 Top 24 Contestants!
American Idol 15 Top 24 Video Sneak Peek
Over this past summer Stephany auditioned for the farewell season of American Idol. At her celebrity judges audition she sang Who's Loving You, by The Jackson Five and earned her golden ticket to Hollywood. There, The Idol Pad reports, Stephany survived eliminations and advanced to the Showcase Round, where she performed Girl On Fire, by Alicia Keys. Receiving a standing ovation for this performance from Jennifer Lopez, Stephany was then admitted into the top 24.
Instruments Stephany Plays: Unknown
Links:
Overall Thoughts: I have a lot of thoughts about Stephany, so bear with me for a second. When I write these opinion pieces, one of the things I really think about is if I was these contestant's coach, how could I make them advance based on my knowledge with past contestant's runs. Sometimes, I don't have much to say as I can tell they will sail through, but with someone like Stephany, who has already been rejected by many idol viewers, I think there is still plenty of time to right her ship. I love analyzing and hypothesizing about the run of a contestant that many take for fodder, because if they do manage to turn their ship, those are the Idol moments that make the show for me.
I think I'm rambling a little, so let me just move on to what I would suggest for Stephany. Right now, what is not working for her and turning people off is that many people are seeing her as a little over-baked and to pageant-like. On the other side, what is working is Stephany has a beautiful look and a fantastic voice that just needs to be reigned in a little. At the rate she is going, Stephany is clear fodder, especially when the lives shows hit and La'Porsha is unleashed. Stephany won't be able to compare with her, which will be the reason that she leaves in the first week if she doesn't try a different angle.
The number one piece of advice I have for Stephany is to be human and real, as right now everything just seems overdone and not really relatable. Whatever she does, when that first live show airs, she can not come across pageant-like, because if she does the judges will call her out for it and that will be the end of her run. So the first step is to tone down the dress and I would actually almost recommend it if she came out in jeans and a tee-shirt, because then it would seem more raw and real, like we were getting the real deal. The next step is to dig deep and go for the heartstrings and leave behind the vocal acrobatics. Pick a song that will show restraint so that you come across as relatable to the viewers, because right now if you try to go for the big diva song La'Porsha will blow you away. Just my advice. I'm still hoping for the best for Stephany.
Song Suggestions:
Breathe (2 AM), by Anna Nalick
Impossible, by Shontelle
Take A Bow, by Rihanna
Stephany Negrete sang Who's Loving You," by the Jackson 5 at her San Francisco audition. Click to check out her FULL AUDITION
More American Idol Performances:
Showcase Round – Girl on Fire by Alicia Keys – Click to Watch VIDEO