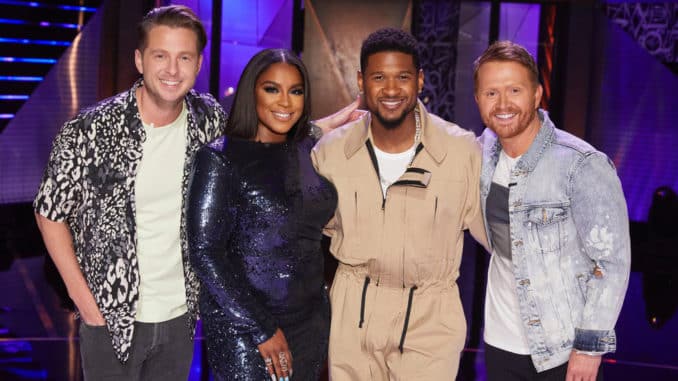 Songland season 2 FINALE episode airs tonight on NBC featuring R&B star and the former The Voice coach Usher.
In the episode, songwriters will pitch their compositions to Usher and the panel. Afterward, songwriter/producers Ryan Tedder, Shane McAnally and Ester Dean and the songwriters will produce a version of the song to present to the guest artist. Usher will choose one song to record and release.
Everything you need to know about tonight's episode featuring Usher:
Songland: David Wade Pitches Clubby 'Horse 'N Carriage' to Usher (Video)
Songland Spoilers: Usher Episode 10 – Meet the Songwriters!
Usher is a multi-platinum, eight-time Grammy and American Music Award-winning R&B artist. He also coached The Voice contestants on seasons 4 and 6. Additionally, he served as a mentor on seasons 8 and 17.  Versatility makes a great song, he says. "You have to take people on a journey."
The Artists Pitch their Songs
Miranda Glory – Salty –  She attended the Professional Performing Arts school in NYC and earned a degree at Berklee in 2016. The song is about the freedom felt when an ex comes back at a point when you just don't care anymore. The song seems a tad mellow for Usher. Especially considering the subject matter, it needs a little bit more umph. Ester states the obvious–the song is a "girl song." She says "girls speak differently than guys." Usher agrees "Look who's the salty one now…I don't know if I would say that." Ryan would keep the first half of the record, but write a completely new hook. Usher begins to rewrite the song on the spot.
Ryan Cam – Staying Over – Northern Virginia native, currently living in New York City, is a hip-hop artist and songwriter. The song he is pitching is about a last ditch effort to save a long distance relationship. Vibe wise, this sounds more like something Usher would record. However, the song has a meandering quality. His interpretation is bland. Ryan is NOT a good singer. Usher will probably change the melody and add some swag if he picks it. The group has trouble nailing down the hook. The part that sticks out for the group is a bunch of "Oh oh ohs" so they work to add lyrics. That's the hook!
Usher notes that he worked with Ester early in her career, and since then, the two have become "dear friends." 
David Wade – Horse 'N Carriage – David has already penned tunes for Ariana Grande, Nicki Minaj, P Diddy, Nipsey Hussle and more. According to his bio, David has co-written over 5  No. 1 records both in the US and worldwide. He grew up in foster care. His "step brother" introduced him to music. The song he's pitching represents the "sunny emotions" one has at the beginning of a relationship. The song has a catchy melody, but it's a little monotonous. Shane thinks the lyrics need to be more universal. Usher thinks he can simplify it. It's too wordy, he says.
Fatherdude – Billions – New York City based artist blends pop, electronic, R&B and rock, according to his bio. The song is about the probability of connecting to the right person. Ha. His goofy name is a nod to the hilarious TV show Mystery Science Theater 3000. I can't get mad at that. He's the best singer so far. The song has a bit of a retro feel with a gospel tinge. This song really cuts through. Shane wants to move parts around. Ryan plays with the melody.
Usher makes his choice
Miranda Glory, Ryan Cam and David Wade move on to the Producers Round. Fatherdude is eliminated. Usher feels that "Billions" doesn't represent where he's headed musically.  Usher is sure Fatherdude could have a career, nevertheless.  I'm a little disappointed. I thought "Billions" was the best out of the three songs. 
Usher's reality tv experience showed as he tried to fake out a couple of the contestants–Miranda and David in particular. You could see them steeling themselves for elimination, until Usher dropped the good news on them.
Producer sessions
Ryan Tedder produces Miranda Glory – Ryan and Miranda get to work "reapproaching" the lyrics, which Miranda wrote from a female point of view. Ryan plans to change the verse melody and chorus, but the underlying "feel" will remain the same. 
Shane McAnally produces David Wade – Shane's plan is to edit the song and take the best parts, in addition to changing the melody to take advantage of Usher's falsetto. Shane believes the song needs a few things a listener can repeat and dance to. Usher's idea is to give the song a "world" vibe. 
Ester Dean produces Ryan Cam –  The plan is to work on lyrics, story structure and production to make it more rooted in R&B and hip hop. Ryan brings a set of new lyrics. Ester compliments him, "You're really really good at melody, but you really have to dig and beat your lyrics."  Ester added urban drums and high hats to make it feel like Usher. She also took a line from the verse and made it the song's hook. 
The Artists present their newly produced songs
David Wade – Personal – Shane eliminated the original title "Horse 'N Carriage" to add a line about marriage. Elements of the original song repeat and repeat and repeat. Maybe too much. The falsetto hook is nice, though. Usher says he feels all the improvements.
Miranda Glory – No Cap (Missing You) – Ryan joins Miranda to present the song. Basically, Ryan flipped the song around so the protagonist is trying to get the girl back. He ditched the "salty" concept, completely transforming the lyrics into a plea for his girl to come back to him. Ryan wasn't kidding. Only the underlying chords remain. But it does sound like something Usher would sing.
Ryan Cam – California – Ester sharpened the song's structure. The melody is similar, but the song has an edge it didn't before, even with Ryan's blandish vocals. Usher calls the song "super cool." It could be on the radio right now, he says.
RESULTS
Usher gives the trio a pep talk before he reveals his choice. Usher picks "California" by Ryan Cam. And I thought his original song was one of the weakest. But Ester did her magic and it all worked out. Usher and Ester seem really tight, so it makes sense that he would choose the song she produced.
Usher notes that the original song was "sparse" but that left it wide open for Ester to "sprinkle the right seasonings over it" to "liven it up and give it rhythm."  Usher feels that "vibe" is everything when it comes to R&B. 
Tyga adds a rap break to the final recording.
https://www.youtube.com/watch?v=CWNjeHizbgw
So that's it for season 2 of Songland. The show's ratings have been solid, even without a lead in. Expect it to return to NBC for a third season. The competition has become one of my favorites. It's a smart look at how hit songs are made, and it's endlessly fascinating. I love that the show keeps music front and center. Songland is a no gimmick zone, and I hope it stays that way.