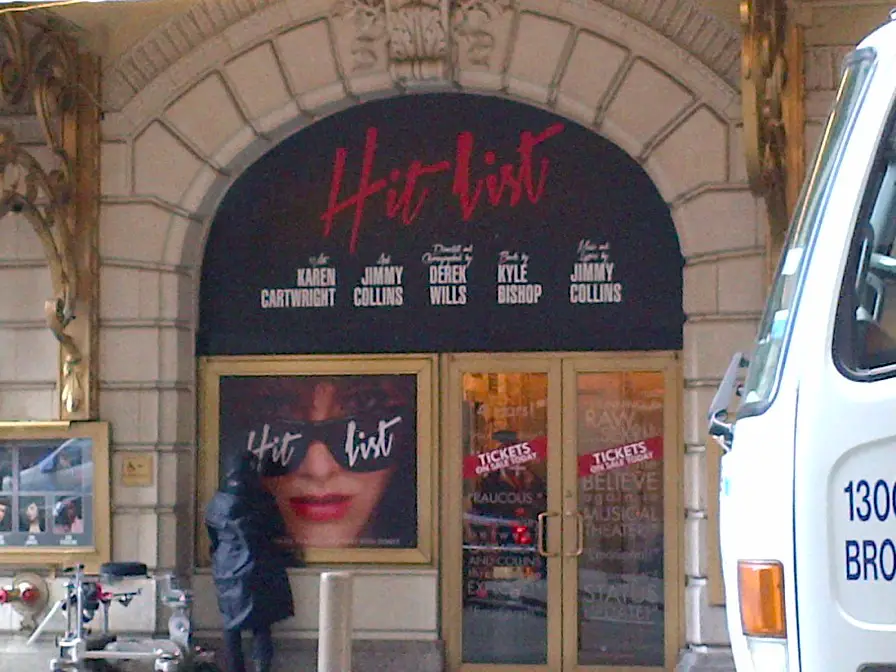 Oh. So I got slipped a couple of fun photos from the Smash 2 set in New York City! This is totally a spoiler so don't look if you don't want to know.
There has been talk of another musical coming to fruition at some point in the season. For those of you who have watched the 1st hour of the premiere, you know that Karen (Katharine McPhee) meets aspiring performer/songwriter Jimmy Collins (Jeremy Jordan) and a few sparks fly.  Jimmy and his partner, Kyle Bishop (Andy Mientus). Have written a musical, Hit List be that work in progress Kyle mentions to Karen at the bar as she listens to Jimmy sing.
How do Derek (Jack Davenport), who is directing,  and Karen wind up involved with another musical? Well, we find out in the first hour of the premiere that the feds were tipped off about Eileen's (Angelica Huston) shady financing, and Bombshell is put on indefinite hold.
Or maybe this theater facade is part of some elaborate fantasy sequence! We'll see when the new season begins on February 5.
BIG THANKS go out to Alexis and Connie for the photos!
Watch a clip. Karen listens to Jimmy play one of his original songs.