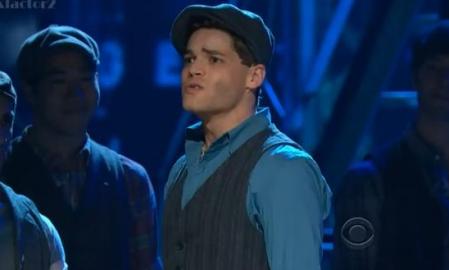 Rising Broadway star, Jeremy Jordan has been cast as a series regular in Smash. Jeremy will play "a very sexy (and straight) Brooklyn-born singer with a self-destructive streak." according to TV Line which broke the news.
His character is one of three roles being added under new showrunner Josh Safran. Two other roles, Joe, who is in his early to mid-20s and is "gay, very cute, incredibly open and optimistic." and Courtney, an African-American chorus gal in her mid- to late-20s–a big-voiced diva who is "incredibly attractive and confident, but also open-minded and non-judgmental."
The new cast members come on the heels of a shakeup that saw 3 series regulars, Jaime Cepero (Ellis), Raza Jaffrey (Dev) and Brian D'Arcy James (Frank) get the axe.
Check out Jeremy and the company of Newsies performing at Sunday's Tony Awards. Jeremy earned a Tony nom for his role. He'll continue to appear in Newsies while he films Smash.
http://youtu.be/U3vtPAFA6sY