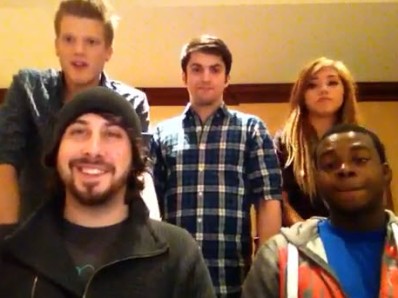 People who didn't watch the NBC singing competition, The Sing-Off? (And there were a lot of you)  Here's what you missed. Some pretty damn good sangin'
Listen to the winning A cappella group, Pentatonix, cover the Maroon 5 hit, "Moves Like Jagger".
Scott Hoying, Mitch Grassi and Kirstie Maldonado harmonized together as high school pals in Arlington TX (the trio standing in the back.
When they decided to audition for The Sing-Off, they found Avi Kaplan, bass extraordinaire, and beatboxer, Kevin Olusola to round up their group.  On the show, their win was a no-brainer. The quintet impressed with their precise vocals and innovative vocal arrangements.
Even if you aren't a fan of the Maroon 5 hit, check this out.  The performance was decided per request by the group's Facebook fans.  After the song decision was made, the group arranged it in an hour and a half.  Pentatonix kick some major vocal ass.  I can't wait for their album.