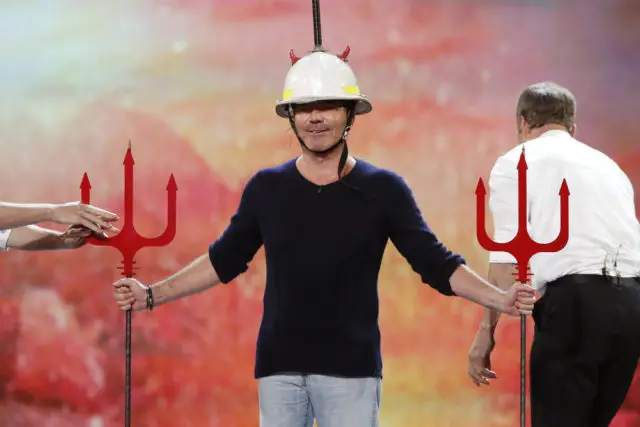 "Televisions #1 summer series saw a big ratings uptick," says an NBC press release announcing Simon Cowell's new three year deal to judge America's Got Talent. "Now Cowell keeps the momentum going by staying on board through 2019."
Oh boy. Three more years of Simon on AGT. Along with his stint as judge on X Factor UK, which airs on the US cable channel, AXIS, Simon has managed to work his way back onto American television after FOX cancelled his series, X Factor USA in 2013.
Read NBC's press release below:
Simon Cowell, the creator of the worldwide phenomenon Got Talent format and one of the most instrumental figures in television over the past two decades, has signed on for three years through 2019 as a judge on NBC's summer sensation America's Got Talent."
Cowell, who served as a judge on the series for the first time this past season, will once again be joined by Mel B, Heidi Klum and Howie Mandel when season 12 launches in summer 2017. Nick Cannon also returns as host.
"It was terrific to see Simon in his judge's chair this past season, bringing his unique expertise and enthusiasm to the show, night after night," said Paul Telegdy, President, Alternative and Reality Group, NBC Entertainment. "His brilliance has made 'AGT' the industry leader that it is today and his ability to evaluate and spot talent is unmatched, so we couldn't be happier to have him seated at the judge's table for the next three years."
"America's Got Talent is a fantastic and – most importantly – fun show both to work on and to watch," said Cowell.  "NBC have been brilliant partners and the entire team who make this show are one of the best in the world. I've loved this past season and look forward to discovering more great talent together in the years to come."
"Simon really understands how to spot talent, but he also knows how to have fun" said Trish Kinane, FremantleMedia North America President of Entertainment Programming and AGT Executive Producer.  "We are delighted that he will be with us for the next 3 seasons, helping find the very best talent America has to offer."
Cowell, who continues his role as executive producer of America's Got Talent, is a music executive, TV producer and star of some of the highest-rated television shows in the world. His discerning eye for talent and candid remarks have transformed popular culture and made him a household name across the globe, influencing TV and music for more than a decade.
The Got Talent format officially holds the Guinness Book of World Records title for highest number of adaptations, making it the "Worlds Most Successful Reality TV Format." America's Got Talent airs in 186 countries around the globe.
In the just-concluded 11th season, 12-year-old singer and ukulele player Grace VanderWaal was voted the winner and earned $1 million. VanderWaal, who will headline inside the PH Showroom at Planet Hollywood Resort & Casino in Las Vegas on Oct. 27-30, won over viewers with her incredible musical performances and talent that outshone thousands of acts, including finalists Jon Dorenbos, Sofie Dossi, Tape Face, The Clairvoyants, Viktor Kee, Laura Bretan, Sal Valentinetti, Brian Justin Crum and Linkin Bridge.
Auditions for Season 12 are now open. Please click on agtauditions.com for more details.
America's Got Talent is co-produced and co-owned by Simon Cowell/Syco Entertainment and FremantleMedia North America. Simon Cowell, Sam Donnelly, Jason Raff, Trish Kinane and Richard Wallace are the executive producers.