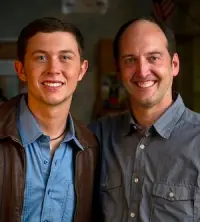 Uh oh. Season 10
American Idol
winner
Scotty McCreery
is being sued by his former manager
Todd Cassetty,
for failure to make payment for services rendered. The
Nashville Post
reports:
Cassetty Entertainment, run by music industry veteran Todd Cassetty, signed McCreery as its first artist in October 2012. But Cassetty claims he was "strung along for months" as McCreery failed to officially memorialize the management agreement. The parties parted ways in April.

According to the lawsuit, Cassetty claims that McCreery, 19, offered to pay him 15 percent of all gross revenues. But McCreery's mother, Judy, stepped in and offered only two percent, the lawsuit claims.

Cassetty started managing McCreery after he was released from XIX Entertainment, the company he was contractually obligated to work after winning American Idol. Judy McCreery told Cassetty in an October 2012 email that Cassetty was "unofficially official" their new manager, according to the suit.

Cassetty started managing Scotty McCreery then but an official management agreement was never memorialized. The suit claims that the McCreerys kept assuring Cassetty that he would be paid at the "industry standard" of 15-20 percent of gross revenues. The lawsuit calls those claims "fraudulent and deceptive."

Cassetty is asking for a money judgment including actual, consequential and punitive damages. Don Passman, a Los Angeles-based attorney representing McCreery, declined to comment on the case Monday afternoon.
Cassetty announced the launch of Cassetty Entertainment, an artist management enterprise in October 2012, with Scotty as his 1st and only client. The announcement, as published by Music Row, included a quote from Scotty himself:
Todd Cassetty today announced the launch of Cassetty Entertainment, an artist management enterprise which has signed Scotty McCreery.

Cassetty is stepping away from his day-to-day roles with Hi-Fi Fusion and Todd Cassetty Welding Service but the online and video marketing companies will continue operation. Additional details regarding Hi-Fi Fusion will be forthcoming.

For the past 18 months, Cassetty has been working with McCreery on multiple projects from television shows to promotional campaigns to music videos. Says McCreery, "Todd has been involved in my career since I first came to Nashville after American Idol, and our great working relationship made the management scenario a no-brainer."
Scotty even tweeted on October 30, 2012:
Pumped to have @ToddCassetty as my new manager. We're gonna be thinking outside the box and taking my career to the next level!
Looking at Cassetty's Twitter account, his timeline was full of Scotty tweets from October 30, 2012 to March 25, 2013, during which time Scotty was promoting his Christmas album, Christmas With Scotty McCreery, began his first headlining tour (the Weekend Roadtrip tour), and launched ScotTV, his weekly webisodes.
Weird situation, and no doubt the McCreery family will have responses to Cassetty's allegations. Sounds like Cassetty started working with Scotty despite a disagreement with his mother over his management fee, and they were never able to come to a resolution. A shame on all sides that it didn't work out after so much optimism and excitement out of the gate. Meanwhile, Scotty will probably want to get his current management situation sorted out before he releases his sophomore studio album.
UPDATED: We just received a statement from Scotty's publicist
There is no truth to these allegations. I have offered to pay Todd more than once, but he wanted an unreasonable amount for only five months of work. Anyone who knows me knows how I conduct myself, so I am not worried they will believe any of this. This is just an attempt to embarrass me and my family. The facts will come out when we have our day in court.