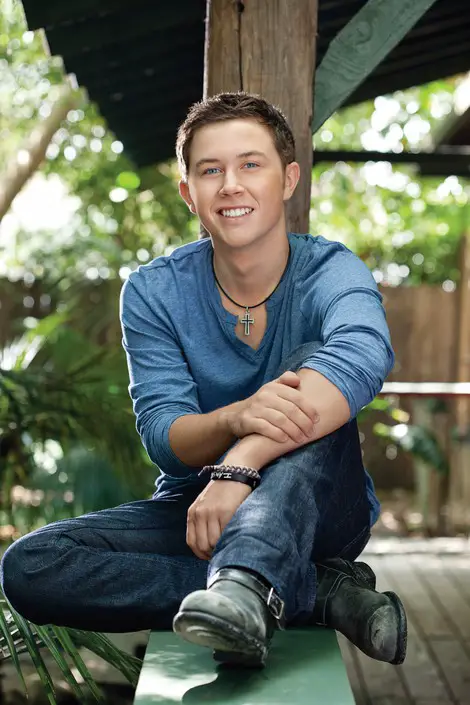 Scotty McCreery spoke with the Taste of Country blog a few days ago, and in the lengthy interview he talks about a possible video for his new single, "The Trouble With Girls, " reveals the name of a song from his upcoming album, Clear as Day, and why he plans to go back to high school this year and much much more. Read it HERE.
He's not 100% sure there's going to be a video for his new single, "The Trouble with Girls", but if there is, he expects it to be more than just a performance video, "I think it'd be a lot more story-like other than like a performance like we did with 'I Love You This Big.' But I mean, I don't know. We'll get the treatment soon, and the directors will tell me what they're thinkin' and we'll run with it. But in my eyes, it'll probably be more of a story."
Scotty spills a new song title, "There's one song called 'Water Tower Town.' This was a song that reminds me of my hometown. The water tower in my hometown was right across the train tracks from the baseball field that I grew up playing at when I was younger, so I grew up passing the water tower every day. It talks about Friday night football and sweet tea and fireflies – all things that relate to Garner, North Carolina. When I heard it I was just smiling ear to ear. That's one of the songs that I'm excited about putting out and seeing the reaction to, and I know my hometown will be all over that song and probably playing it at football games and stuff. That's definitely one of my favorites on the album."
"Water Tower Town"  is co-written by Cole Swindell/Tammi Kidd/Lynn Hutton. Tammi Kidd co-wrote Leann Rimes "Probably Wouldn't Be This Way, " and Lynn Hutton co-wrote a  tune called "Jack Daniels" on Eric Church's current album. Cole Swindell is Luke Bryan's former merchandise manager! Cole Swindell tweeted just a few days ago:
Got to hear my @ScottyMcCreery cut tonight! He sang his butt off on it! nice work man! #October4th
Scotty is headed back to Garner High for his senior year. "Yeah, I'll probably be there 50/50 for the year, but yeah, we're lookin' to get back pretty soon actually. We've got some days off coming up here, so I'm not gonna not go to school! I'm gonna be there, and be normal. I'm not gonna be walking around school with an 'American Idol' T-shirt."
Good for Scotty! Hope he can make that work.   He's planning on attending Homecoming, and whatever else his schedule allows.
There are some important days … I mean, I'm a high school football fan! I'm not ashamed to say it!" says Scotty, " So if I wanna go to a game, I'll say, "Look, can we do this on Thursday or Saturday and not miss Friday?" We're trying to work around me being a kid, you know. I know I have certain obligations. I know I have places I need to be and sing and show up, but I'm gonna try to be as normal of a kid as possible. I'm not trying to just throw away my childhood."
I love that Scotty and his parents are trying to make his teen years as normal as possible. As it should be.
Fun Fact: Scotty played "Birdie" in a Garner High production of Bye Bye Birdie. Heh.
Additional Reporting: Windmills