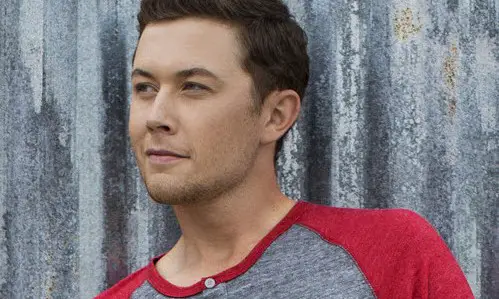 Scotty McCreery recently told Billboard Magazine that after Top 10 success with singles like "Feelin' It," and the title track, "See You Tonight" from his 2013 album, the country singer is looking to hit even higher milestones.
"We've had top 10 success, but I'm itching for that No. 1," the American Idol season 10 winner said. "Hopefully 'Southern Belle' will be that song, and we've got other songs behind it that can also fill that slot for No. 1, so we'll see. For 21, this is where I'm at and what I am."
"Southern Belle," the North Carolina native's first single from his next album, "encompasses the goal of my music which is throwing the traditional parts in there that I love, but also keeping it edgy and modern," he told Billboard.
Scotty McCreery Drops New Song "Southern Belle" (Audio)
Hard at work on his 3rd studio album, the singer updates his progress. He's cut 10 songs and has co-written 5.  "There is a song called 'Five More Minutes,' which is a favorite song," he said. "I wrote it with Frank Rogers and Monty Criswell. It goes through life [from] that kid that mom's yelling at for supper but he wants to play for five more minutes to that kid who has a girlfriend and is scared to kiss her and just wants five more minutes. It goes through life all the way 'til the end of life and just wishing you had five more minutes to do this or that or say this or that."
Details on more tracks include "In Between":  "Me, Frank, Jonathan Singleton, and Jessi Alexander wrote that song and it was a great time," he said. "That to me is an anthem for who I am. I'm not this holier than thou guy, but I'm not this party guy either. I'm kind of stuck somewhere in between, which I think a lot of folks out there in the world are. They don't identify with either of the far right or far left, just kind of right there in between and living life the best they can. That's what that song says and I'm really pumped about it."
On the end of the show that launched Scotty's career, American Idol, he said, "It's bittersweet for me. It's cool to have its farewell season and I'll be a part of it in different ways, especially the finale."  (As an aside: Ryan Seacrest has hinted that production is already reaching out to alum judges and contestants to take part in American Idol's 15th and last season. Add Scotty to the list of contestants who have hinted as well…)
Scotty goes on to describe the impact Idol had on pop culture, namechecking a few country alums. "That show has brought a lot to pop culture," he said. "It was a pretty dominant factor in pop culture for the last 15 years. It produced artists like myself, Carrie Underwood, Kelly Clarkson, Kellie Pickler. In country music alone, Idol really helped out in that aspect and produced some stars. I'm just glad to be a part of what the show was about for the past 15 years. It'll be sad to see it go. It definitely was a huge part of my life. It was a big platform for me, and I'm really grateful and thankful for it. It will be missed. It's pretty cool to be a part of it."
These days, Scotty is feeling good about life and his place in the music industry. "I definitely feel like I've grown and I definitely feel more confident," he said. "I've still got stuff to learn. You're always learning in life, and at 21 that's no exception. I've got a long ways to go. I feel like the stuff we've written has really been a good example of what I'm doing, who I am, what I'm about, and I'm writing with Nashville's best. I'm lucky to be able to say that."
Currently, Scotty is wrapping up a tour, opening for Rascal Flatts. "They are great guys with a great crew," he says. "We've been treated first class the whole time and we've had a blast. It's been great exposure for a guy like me who's still trying to reach those fans."
Read more at Billboard.com