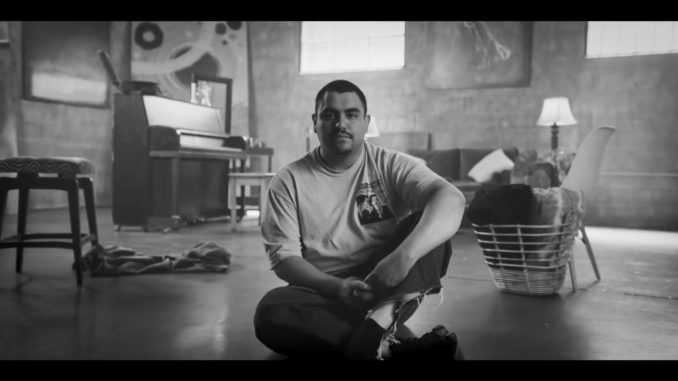 Alejandro Aranda aka Scarypoolparty has just dropped his new music video for the sweeping, bittersweet yet romantic song "Room Full of Cards." In the clip, the American Idol season 17 runner-up brings classical flourishes to his piano playing as he croons "Hold me in your arms and don't let go" in scenes that switch from vintage black & white to muted, moody color.
The composition comes from Alejandro's four song EP Los Angeles, released in March. The singer-songwriter spent much of the past year in reflection, and considered the time alone a chance to strip away the noise and figure out who he really is. The candid new material found Alejandro facing down anxiety, isolation, and disillusionment. Recorded alone at home during the COVID-19 pandemic, the songs are the product of a Alejandro's solitary time, creating raw, introspective and honest songs. The singer drew on everything from pop and hip-hop to R&B and classical music.
Alejandro Aranda's New Music Video Explores the Dark Side of 'Paradise'
Alejandro Aranda (Scarypoolparty) Drops New Song "Home" Music Video
When Los Angeles dropped, Alejandro also announced 'The Acoustic Tour', a 16-show solo acoustic tour set for this June. Throughout 2020 Alejandro performed a series of live streams for the likes of Billboard, BeeApp, Inside Lands and MelodyVR, plus streams for LA venues The Roxy, The Wiltern and Hotel Cafe. The tour kicks off June 4 in Tempe, AZ. Additionally, Alejandro rescheduled his UK/Ireland tour interrupted by the pandemic, for 2022. Check out all of the singer's tour dates HERE.
Watch Alejandro Aranda aka Scarypoolparty's new "Room Full of Cards" music video below.