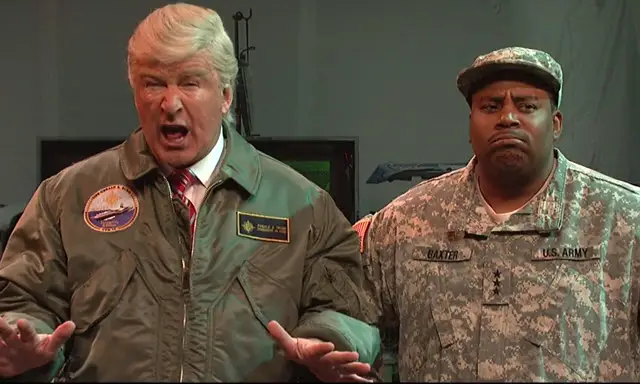 This week's Saturday Night Live featured five timer Scarlett Johansson as host and musical guest Lorde. Plus, Alec Baldwin returned as Donald Trump. Overall, with the exception of a couple of skits, it was an A+ edition of SNL.
In the cold open, President Donald Trump (Alec Baldwin) addresses members of the military (Kenan Thompson, Kyle Mooney, Aidy Bryant, Leslie Jones, Sasheer Zamata, Beck Bennett, Alex Moffat, Kate McKinnon) during an alien invasion. The scenario is played for laughs, but it's sobering to think the behavior here is probably pretty much what we'd get from Trump in a real catastrophe. Yikes.
Scarlett Johannson is given the "5 time SNL" host celebration treatment. She has proven to be a very good comedic actress in her previous SNL stints. This week was no exception.
I laughed so hard during the silly, juvenile "Zoo Pornographer" skit featuring Scarlett Johansson, Kenan Thompson, Cecily Strong, Bobby Moynihan, and Mikey Day.
It's Ivanka Trump's new fragrance…Complicit. Indeed. Maybe Kellyanne Conway will promote it next week on Fox and Friends.
During Weekend Update, Senator Al Franken (Alex Moffat) and Attorney General Jeff Sessions (Kate McKinnon) revisit Sessions' confirmation hearing. Moffat's Franken impression is really good. Hoping the good Senator drops by his old stomping ground in the near feature. In any case, McKinnon is always brilliant.
Also in Weekend Update: Pete Davidson shares his first impressions of members of the Trump administration, including Stephen Miller, Jason Chaffetz and Paul Ryan. Notable, because it's the comics first appearance since finishing rehab. As takedowns go, the bit is sharp. Sobriety looks good on you, dude.