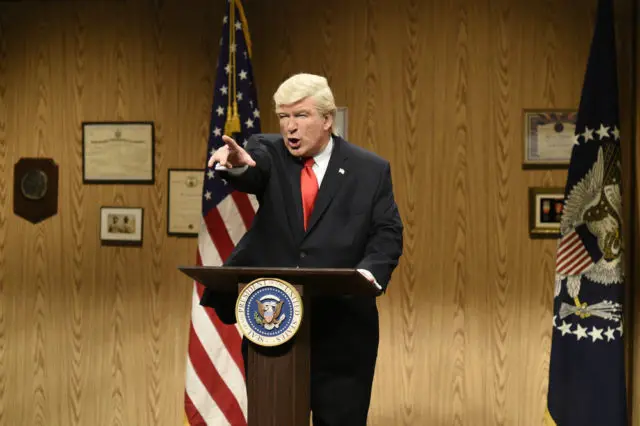 This week's Saturday Night Live (4/8) once again featured Alec Baldwin in the cold open playing Donald Trump. This time, the president meets his biggest fans. And despite promising to completely destroy the safety net that saves their lives…wait for it…they continue to support him! Oh, stans.
In another segment, Baldwin pulls a Patty Duke, impersonating both FOX host Bill O'Reilly and Trump. It's two bros totally celebrating Sexual Harassment Awareness Month. Just kidding!
Additionally, the dominant pop culture news this week involved a bizzaro Pepsi ad that depicted Kendall Jenner as the Great White Hope of the Black Lives Matter movement. WHAT THEE HELL. In a digital short, Beck Bennett plays the writer/director of the commercial sharing his concept with friends and family ahead of the shoot. As you might imagine, it does not go well.
Lastly, check out a clip from Weekend Update tackling two big news items from the week, including Donald Trump sending 59 missiles to disable a Syrian airfield and Neil Gorsuch being confirmed to the Supreme Court.
The episode also featured comedian Louis CK as host, and musical guests The Chainsmokers.
Enjoy!
Trump's People
The O'Reilly Factor with Donald Trump
Pepsi Commercial
Weekend Update on Donald Trump's Syria Missile Strike