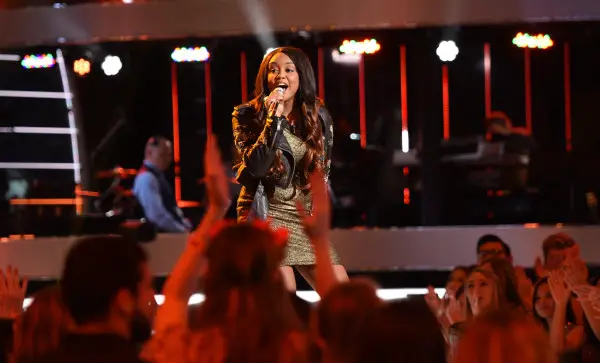 American Idol 14 finalist, Sarina-Joi Crowe, spoke with reporters this afternoon about her elimination from the show last night and many other topics, including what it was like to work with Scott Borchetta, what she would have sung next week, and finding the perseverance to keep going.
Was Sarina shocked that she got the lowest votes? "I wasn't shocked. I wasn't exactly happy with Wednesday's performance. I knew it wasn't my best. I won't say it was a bad performance. I have nerves to thank for that, because I was called first and I was kind of in a state of shock. I don't regret anything. I kinda woke up with the feeling that I could be in the bottom and so I prepared for that."
When she sang for the Save, did she have hope that the judges would use it on her? Or did she treat it like her last time on stage? "It was mixed emotions. A part of me wanted them to save me, but a part of me knew the reality of the situation. The reality was that it was the first episode of the season. Despite Jennifer's comments [She said previously that Sarina was the strongest female singer] I know that this is a very talented group of kids. I was kind of half and half.  I [sang] for the save, but also [wanted to give] one last really good impression for America so they [could] have something positive to remember me by, not a sad ballad. Something fun."
Did the band come in a key higher for her Love Runs Out performance on Wednesday? "I think honestly, I was in a state of shock because I was first. I was very very nervous and when the band kicked in I think I kind of jumped in feet first. I picked it up as best as I could towards the middle. It was what it was. I had to do Love Runs Out [because of the theme] and I did the best I could with it. For the most part, I had so much energy throughout the song, it was just a matter of me sharing how excited I was about making the Top 12. It might have overpowered the song. It was a weak performance, but I'm proud of it. I don't regret anything."
Does she think the new format is throwing some contestants off their game? "I think it's a matter of how you deal with it. It is very nerve wracking to sit there and not really know if you're going to get to sing or not. When you do get your name called, you can be frazzled by it. I wasn't sure if I was going to make it through after my second week in Detroit. When I was the first person to be called, my mind was in a million different places. I wasn't expecting it at all. I had to make do with what I had in that short amount of time. I don't think it's throwing people off. I just think it's a matter of dealing with it and getting to a place where you can be calm throughout the entire episode.
How does being eliminated off the show affect her determination to make it as an artist? "It actually motivates me even more. At the end of the day, I know everybody wants to go all the way on Idol, and that is ultimately the goal. If you can go from the number 100 to 60 to 48 to 12, every single time you come on the show and those are your stats, then it's a pretty good sign of what kind of career you're going to have. You're always going to go a little further. You're always going to get a little better. I'm OK with that, because it just means that I still got time to grow and do great things."
When you are singing a love song do you have anyone in mind to make the delivery of your song convincing? If not, how do you make it believable? "There's nobody in mind, because I am so single it should be illegal! I try to use past relationships as an example, or I just try to jump into the shoes of somebody that I think feels that way. For instance, me and [band leader] Rickey Minor talked a lot about "You Really Got a Hold on Me" and the yearning, and the need in the song. I channeled it as best as I could. It's kind of like a bi-polar thing 'I don't like you but I love you.'  I really got fascinated by that concept. It was just a matter of me finding a situation–whether it be a past relationship, or maybe like a movie situation, or a friend that had told me a story once. I always try to find something I can connect to and push it out as best as I can."
How did she feel auditioning four times before she made it. Does she have any advice for would be auditioners? "I felt like you should never give up. It's the one thing I want to make known across the nation. If you don't take anything from my story, it's that when somebody tells you no, you can't really take that. You have to go back and figure out what you're going to do next and try it again. Everybody is going to tell you no at some point. You're going to get a billion nos, but it's that one yes that's going to make a difference. Keep pressing. If you're going to audition for stuff, if you're going to do TV shows, if you're going to do plays or movies or anything, keep doing it. Keep going out there and hitting it hard, even if it doesn't happen for you right away. The best thing that's going to happen, is you're going to get tough skin. When you do get that yes, it's going to rocket you to a place where you're going to be so excited , You're going to give 150%, because you want it so much more after getting the nos. It's just a matter of perseverance. I just want everybody to have that and get that from my story."
Is she planning on staying in Los Angeles? Is she headed back home? "I'm going to do some travelling. I'm in LA for a couple of days, and then I'm going to go home and thank my wonderful hometown, because they have been incredibly supportive of me. They have rallied together and pushed so hard for me. I owe them some time. I'm going to go back on the road and visit some people and do some gigs. My career is very much on the move at this point."
What was she planning on singing next week for Movie Night? "I was planning on singing 'The Way We Were' by Barbra Streisand. It would have been a much sadder Save song."
What are her post Idol plans? Has she thought about next steps? "I'm going to take advantage of exposure on Idol. I have been lucky to have a loyal, loyal fanbase that's been following me for so long on this show, and I want to give back to them. I really want to record an EP and put it out there for people to hear and maybe tour and meet some of the people that rallied for me and pushed me through every week. I want to do everything. I really want to move to LA and really start going around the circuit with things. I know that I can do it, because now I've proven to myself that if you never give up, things are going to happen. I want to keep spreading that message and showing people that this is not the end of me. Ever. It wasn't the end of me last year, and it's not going to be the end of me this year."
What kind of album would she like to make? "I'd love to make a pop/soul album–like the stuff that Jessie J. does, that Demi Lovato does, Kelly Clarkson–with the rock/soul and the pop. All of that is me. It's so totally me. I have wanted to do that for awhile. I feel like I really solidified that on Idol. From the minute I did Mama Knows Best, I said, 'Wow. This is the music I want to make. I want to make this kind of music forever.'"
What has the show taught Sarina about the music industry that she didn't know before? "One valuable thing that I will take from the show for the rest of my life is that when you have a gut feeling about something and your gut is telling you something, you need to follow your gut no matter what. No matter what people tell you, no matter who's in your ear, if you want to do something, do it. At end of the day, you're the only person who has to get up there and sing. You're the only person being judged by America. You're the only person that's putting yourself out there. If a million people are chattering away at you about what you need to do–they're not out there doing it. You are. Who is going to be disappointed in the end if it doesn't work out? You or them? Keep to yourself doing you, trust your instincts, and all is going to end up well."
Where does she get her inner strength to persevere? "Mostly from my mom. She's always been very big about following our hearts and doing what we want to do and not letting anybody else stop us. I come from a small town–a town where people just graduate high school, and then they get a job and stay there. From the minute that I was 12 years old I was 'That's not going to be me. I'm not going to do that. I'm not going to stay here forever. I'm going to do big things.' And my mom was like 'Yeah, you are.' She's always told me 'If you want something bad enough, you gotta keep going for it. You can't let one no make you stop forever. You have to keep doing it, no matter how many times you get your feelings hurt or how many times you're disappointed. Going forward will eventually pay off. ' I just built up a tough skin because of that. And I built up this strength to keep doing it no matter what. I know that it's going to get me far in life."
Did the judges give her any valuable advice? "The most valuable advice I obtained from the judges is to be myself and to listen to what's going on around me. [But] mostly to be confident. Even if you're nervous, if you go on stage and you're confident, people will look at you in a different way and it will do wonders for your performance quality. I'm very ecstatic to have taken that with me."
What has she learned about herself in this whole process, "I learned that I am very motherly, apparently! According to the other contestants, I'm extremely motherly, and I care a lot about other people. I always say if American Idol was a beauty pageant, I would have won Miss Congeniality, apparently, because I was trying to help everyone a lot. I learned that I opened my heart more than I thought I would. I came back to the show with very little friendship from the years previous, besides Savion, and so I didn't know how to gauge the different people. I ended up falling in love with 48 contestants, that went to 24 that went to 16 that went to 12 and I opened my heart to them. I didn't really know that I could do that so quickly with people that I didn't know. It was sad to say goodbye to them, because they are such a huge part of what I am. They've all impacted me so deeply."
On Neon Lights. How did she choose it? "Neon Lights was originally my song for Get the Party Started. Had I been called, I would have performed Neon Lights for America's votes. Since I was in the bottom, that ended up having to be my Save song. It's just what the circumstances brought. For me, I didn't know I would be singing for the Save. In my head, Neon Lights was what I was going to perform. When it got down to the point where I had to sing it, I wasn't really thinking about 'Oh I have to give this huge vocal performance so I can be saved' because in my heart, I kind of knew my time was up. So what I did, was I said, 'You know what? I'm gonna give a great performance and I'm going to have a good time, and I'm going to enjoy it for myself. And if they save me, great. But if not, I'm going to go out feeling good.' At the end of the day, I'm the only person who has to be on stage. I can't leave feeling bad. It's going to affect me, so I had to do what was best for me."
On the advice that Scott Borchetta gave her, "Scott Borchetta is amazing. He's an amazing, smart guy and he complimented me on my power as a singer, and my emotions as an artist and how I connected everything that I sing. He told me that I just needed to work on solidifying myself as an artist even more–zoning in on what I want to do and sticking with it, and honing it. I really needed to work on my ear getting better. He told me I was already good, but I could be better. That's great criticism to get. He was awesome. He was very hands-on. He always had good things to say about the arrangements of the songs, what he wanted to hear from me. I was really thrilled to work with him."
Did she ever consider trying out for The Voice or X Factor? "Absolutely. I did consider other shows. American Idol was incredibly good to me my first season. The people that work for American Idol are incredibly hands on, and they really care about the contestants. They really want to see people do well. They don't want to see anybody do badly. Even the people that don't make it to Top 10, or don't make it to Top 12, they want to see those people do well. That type of care is the reason why I wanted to come back so much. I wanted to show them 'Hey I deserve this too.' They've always been super supportive of me coming back. I've never been told that they were tired of seeing me. That meant a lot to me."
Does she have any words of advice for those still left in the competition? "I would tell them to keep their heads up and to not let anybody change them. All 11 of them are so incredibly diverse and so incredibly talented. If you guys think this is going to be an easy year for eliminations, you're mistaken. It's going to be hard every single week. Those kids are ridiculous, all of them. They're amazing. Stay focused, stay close. They're going to understand this. Nobody else will but, 'to do the thing." They'll know what I mean by that."
Will she be watching Idol? "Absolutely. I'll be watching every single week. I'll be watching, because more than anything, those are my friends. I know everybody gets this idea that we're all competitive, and we want to beat each other, but we're not. We're like a family. We're brothers and sisters. Apparently, I was the mother of the den. I was OK with that. I wanted everyone to succeed. There were times when we helped each other on our performances. We sat down and helped each other learn lyrics, or learn keys, or run scales, or warm up. This is so much more than people realize. I will be watching every single week right down to the finale. I'm so happy for all of them."
What was her performance high point of the season? Which song defined her as an artist? "Mama Knows Best hands down. I've wanted to sing Mama Knows Best for so long. It's been my dream. I said no matter, what, I want to do Mama Knows Best and get a chance to do it and say 'I finally accomplished what I needed to accomplish.' Love Runs Out doesn't define me, and won't ever define me. In two weeks nobody will care about Love Runs Out. But Mama Knows Best will live on forever in my heart. That's what's most important to me."
Curtain Call: Sarina-Joi Crowe
https://youtu.be/J5f3EvzEMMA