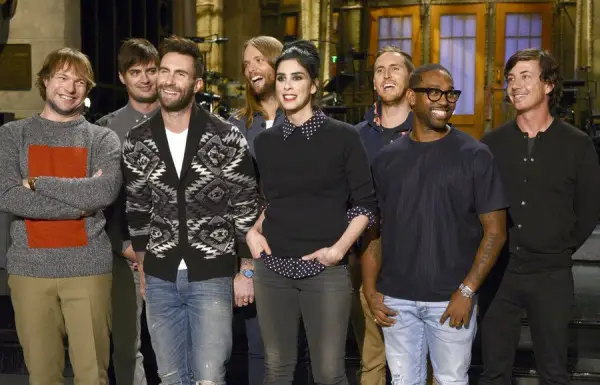 Sarah Silverman Skits Saturday Night Live
Actress and comedian, Sarah Silverman, was a featured player on Saturday Night Live for a brief period back in the 90s. Tonight (10/4/14) she returned to the SNL stage to play host. Adam Levine and Maroon 5 were the musical guests.
This week's cold opening was MUCH better than last week's. Jay Pharoah as Obama, on 60 minutes, hilariously explains the social media strategy of the terrorist group, ISIS. Don't miss the tweets.

SNL – Cold Open – 60 Minutes Obama Interview by IdolxMuzic
Sarah Silverman's Opening Monologue
A little more rehearsal might have helped Sarah out. At times she seemed to be having trouble reading the cue cards.  My favorite bit in her opening monologue was when she took questions from the 90s version of herself.  Otherwise, her tame opening only elicited a few chuckles from me.

Sarah Silverman – Monologue – SNL 10-4-14 by IdolxMuzic
The Fault in Our Stars 2
It's The Fault in Our Stars 2 – The Ebola in Our Everything.  Sarah Silverman and Taran Killam are pretty hilarious in this send up of the popular movie.

The Fault In Our Stars 2 – Sarah Silverman – SNL by IdolxMuzic
Joan Rivers Tribute
It was fitting to wait until Sarah hosted SNL to run the Joan Rivers tribute. Sarah plays Joan, who MCs her first roast in heaven.

Sarah Silverman – Heaven – SNL 10-4-14 by IdolxMuzic
Weekend Update
Weekend Update may actually eventually find it's stride. Colin Jost and Michael Che have better chemistry this week. And Michael had a couple of breakout moments. Now I'm thinking Cecily and Michael would have made a pretty good team.

Weekend Update – SNL 10-4-14 by IdolxMuzic
Sarah Silverman Admits that She Cheated
Sarah Silverman plays a woman who admits that she cheated on her boyfriend–before he pops up in the backseat with a ring,  ready to propose. Adam Levine plays himself, hired to serenade the couple with a rendition of "She Will Be Loved." Hilarity is supposed to ensue, I'm assuming. Pizza Hut is mentioned so many times, there's got to be a product placement deal tied to this skit. Which is maybe why it's disjointed and unfunny.

Sarah Silverman – Confesses She Cheated (Adam… by IdolxMuzic