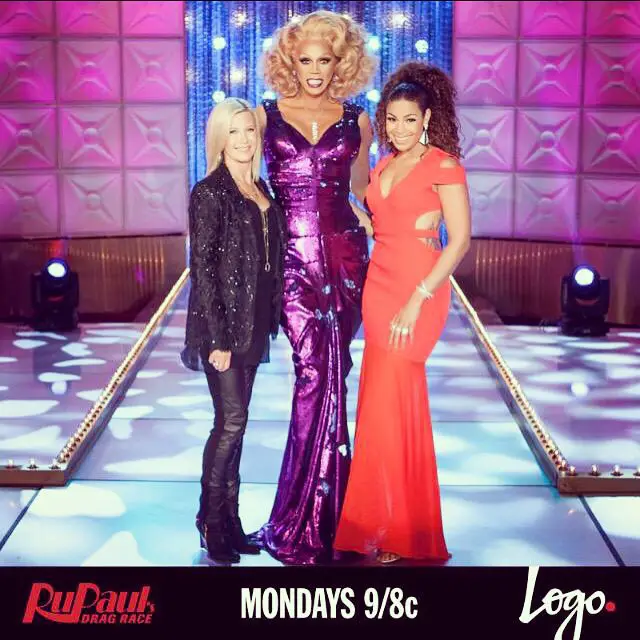 RuPaul's Drag Race – Season 7 – Episode 2
We start with the queens rushing into the Werk Room like they just got offstage. From last week's Untucked, we know that they actually had to wait, huddled silent in the back, while Tempest packed the five suitcases of drag she brought and gave her tearful goodbyes.
No wonder they're so relieved to get out of their nude illusion drag! And to start yakking. Kandy Ho wipes Tempest's words off the mirror and declares she wasn't wrecked by having to lip-synch. "I knew I could beat her," she sniffs.
Violet is congratulated on her win. She responds by saying she hates Michelle Visage. The others are shocked that anyone could hate the sharp-tongued Michelle. "Of course Michelle Visage is going to judge her, " Ginger informs us. "It's her job."
Miss Fame was a strong runner-up. "I'm not sitting here mad about it," she seethes to Violet.
Speaking of mad about it? Sasha is afraid that Pearl is upset about Sasha calling her the weakest link. Pearl does feel a little betrayed, because Sasha had been cool with her before. But they whatever, whatever at each other and then go take off their wigs. By the way, Pearl's assessment of Sasha? "John Goodman in a wig."
The dolls seem more chipper in the morning. Ginger skips in, arm and arm with Katya and Jaidynn.  Miss Fame and Trixie are all cuddly with each other — even though Miss Fame is married in real life. Maybe it's a little like being in Drag Queen prison, and you just make do with what you've got?
The video has RuPaul making airline puns. Are they going to do "Snakes on a Plane?" How can you even drag up that title when it's so dragtastic already? We'll find out soon enough, but first there's a mini-challenge. Which is, as RuPaul describes it, is to give face while getting blown by the pit crew. That is, while having a leaf blower aimed at your face.
The guest mini-judge is Moby, superstar music producer, vegan, and animal rights supporter. Nothing to do with airlines, or leaf blowers. So, he seems like a random choice. Maybe he's a super fan and it's like Lance Bass becoming an astronaut.
Anyway, the whole challenge is just an excuse to show the queen's faces doing really bizarre things. It's like they were run through a weird video app. But, I will say that Ginger's winning faces are pretty good — and her fifteen minute make-up is amazing. It looks like she spent hours on it. Trixie is the other winner.
As winners, they become team captains. Trixie picks first and ends up with all the pretty, tall, skinny white girls. Ginger calls them "Aryan Airlines." Ginger goes for diversity and ends up with Jasmine, Kennedy, Jaidynn, Kasha and Sasha, and, last week's loser Kandy Ho.
The maxi-challenge is for each team to create a lip-synched, danced pre-flight airplane safety video. Well, they don't video it, but they are obviously going for a variation on Todrick Hall's Virgin America Safety video:
https://www.youtube.com/watch?v=DtyfiPIHsIg
RuPaul has even engaged Jamal Sims, one of the choreographers on the shoot, to stage the performances. However, these performances will also include spoken-word lip-synching. And screaming. Lots of screaming.
The teams get to work. Violet immediately starts acting up, but Trixie has a theater background and knows how to shut down divas. On Ginger's team, Sasha wants the star-making scat part of the song. But Ginger gives that to Kasha instead. Sasha pouts — and I wonder how self-unaware Sasha must be to think Ginger would give her the star role. Maybe Sasha is a really big fish in the Iowa drag scene? Because, with everyone else in that group, Sasha is lucky just to be allowed onstage.
Team Trixie is first to meet with Jamal Sims. The main problems seem to be Pearl and Miss Fame, who cannot dance. Jamal is bemused by Miss Fame's lack of rhythm and musicality. "Her hips do not move like a woman's hips," he remarks. There is also a small skirmish between Violet (eager to show off her tiny waist), and Pearl over some bit of business.
Team Ginger's main problem is Ginger and Jaidynn are too mousy with the dancing. "You need to get out of your heads," Jamal tells them. Jaidynn is worried because she had a knee injury, while Ginger is simply uncomfortable dancing. But, "uncomfortable" is not as big a problem as "cannot dance at all," so I think Team Ginger is ahead at this point.
In the Werk Room, Ginger asks Team Trixie how they're feeling. It turns into a fight between Miss Fame and Jasmine over the familiar issue of Look vs. Performance. Ginger confesses that she wasn't trying to start a fight.
We get a little moment between Trixie, Violet, and Miss Fame, as they share photos. Miss Fame has family pictures. We learn that Miss Fame's mother was too messed up to take for her. She was raised by her grandparents, but then her grandfather was murdered. That's one of the most dramatic backstories ever on the show, but it doesn't feel contrived or producer-driven the way some stories come off on RPDR. Violet drops her the bitch character she's been adopting and sincerely hugs Miss Fame.
It's time for the big show! RuPaul enters in a violet gown with a large diamond pendant. Michelle Visage is wearing a stewardess outfit in pink. Jordin Sparks (Idol connection!) is wearing RuPaul's gown from last week, only in red. Olivia Newton-John has something she picked up at Nordstroms.
Team Trixie is first up. They all look great, they do the choreography well, and they are reasonably in sync. The only bad part is that Katya muffs her spoken-word monogue. Badly. Trixie gets laughs from the judges in everything she does. But I will say that it looks like they're doing what someone else has created for them. I'm not seeing a lot of creativity on the stage. Just reasonably well-executed movement.
Team Ginger's performance has a lot more sass, pop, and sex to it. That's partly because their song and choreography is more sexy. And partly because they have Jasmine and Kennedy tearing up the stage. Ginger may have been tentative in rehearsal, but she's selling it in front of the audience. Kasha is great during her scat solo. And Kandy and Jaidynn are willing to go as far as they need to do while sexing up the automatic pilot. The only dud is Sasha, who looks clumsy, especially when trying to do basic hairography. RuPaul laughs and claps through the whole thing.
There's an abbreviated runway with the theme of "Jet Set Eleganza." Trixie wears a futuristic spaceflight attendant outfit, with an airplane fascinator. Violet has a gorgeous leopard print jumpsuit with matching flight case. Pearl is wearing a pantsuit and all her jewelry. Sasha has Lady Bunny hair and a nothing dress. Ginger is wearing a goddess toga like it's Season 5. She later explains that she's Elizabeth Taylor getting on her private jet.
After saying "buh-bye" to the safe queens, we're left with Kasha, Violet, and Ginger for the top girls. The bottom three are Miss Fame, Sasha, and Katya. The judges all tag Violet and Ginger as stars. Kasha is commended for nailing her solo, but Michelle positively hates her "lawyer's wife going to dinner" traveling outfit. "Did you know she borrowed it from me?" Olivia Newton-John asks sweetly.
Miss Fame is told that she's got beautiful covered. Now she needs to loosen up. Miss Fame tries to do so, but it's a bit sad. Maybe when she's had a little more practice, it'll work. Katya's traveling outfit is actually really cute. But she messed up so badly in the performance, she's on the chopping block with Sasha, who totally failed both performance and runway. Olivia Newton-John has won the celebrity judge lip-synch spot.
Alas, Jordin! If only you'd been opposite Christina Ricci or Julie Hagerty, they might have chosen "Battlefield" or "This Is My Now." But it's "Twist of Fate." It's obvious that Katya is winning the battle. She does a drop split, a backbend, and a slow split. And her hair stays perfectly in place. Sasha kind of waves her arms around. And loses a boob. It's a no-brainer.
Sasha is very disappointed to be leaving. After all, she was queen who had "cracked the code" to winning RuPaul's Drag Race. Unfortunately, she missed the four key elements to winning: Charisma, Uniqueness, Nerve, and Talent. She is, however, the first Iowan queen to make the show. That's something to be proud of.
Untucked
The safe queens rush back to the lounge area. Pearl takes the time to give a little face to the camera as she passes. Thatta girl. Trixie wonders which team won. Jasmine and Kennedy are quick to let her know that it was them. "You were the opening act," Jasmine says. "We were the act." Pearl agrees. She calls her team the "white girls," adding, "it was very that."
Trixie explains she picked people that she thought were funny, but found out later that no one had acting or dance experience. She says that she would have picked people Ginger picked, but she kept missing out. Yeah, that doesn't really explain it, Trixie. You picked first.
They all agree that Katya is in the bottom. Trixie lets them know that even Katya, currently onstage being critiqued, agrees. Team Ginger is sure that Sasha is also in the bottom.
There's a bit of skirmish between Jasmine and Trixie, because Jasmine doesn't get Trixie's clown aesthetic.
Trixie asks everyone who they think are the hottest boys. Jaidynn picks Pearl. Kennedy remarks on how Fame and Trixie are "too close." She also thinks Miss Fame talks too much. Trixie agrees.
The unsafe queens arrive. Sasha is bummed. Miss Fame is discovering, to her chagrin, that looks are not enough in this competition. Ginger got complemented, but Michelle dumped on her runway look.
Ginger accuses Team Trixie of talking trash about her team's runway looks. All the Team Trixie girls deny it. Ginger confesses that she can't remember who said it, because they all look alike. Ha!
Ginger pulls Pearl aside to complement her runway look, which is fabulous, on point, and probably a bit too much. But Ginger is getting Pearl now. She didn't at first. She admits to Pearl that she probably judges people unfairly when she meets them.
Katya gets a little crazy-eyed as she practices the live-saving lip-synch. Max gives Sasha a little pep talk. It's very sweet.
We see Sasha dismissed by RuPaul. She leaves to tepid applause. I don't think that's because the queens dislike her or don't respect her. I think it's because it's early in the season and they don't all know each other yet.
We see her pack, shoulders drooping. She waves good-bye from the van as it takes her back to Iowa.
Bonus Videos:
I wanted to include a couple bonuses this week. The first is Whatcha Packin'," the Michelle Visage exit interview with Sasha Belle.
The second is RuPaul's Drag Race Fashion Photo RuView. It's Raja and Raven tooting or booting the looks from the previous week's episode.