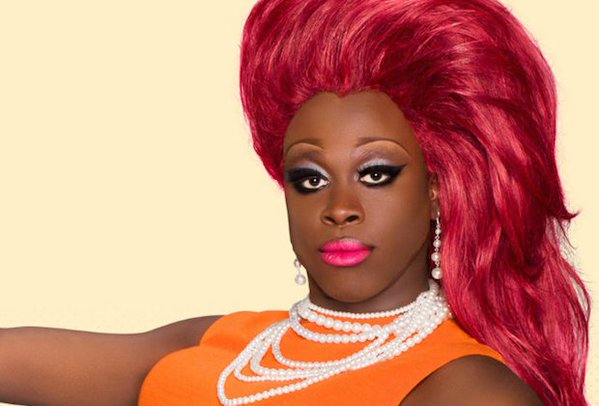 RuPaul's Drag Race Season 8 Episode 10 – Season Finale
We start with all the past Drag Superstars onstage, including Bianca Del Rio this time. RuPaul stands at the center, a goddess in a sheer black gown and pink feather boa. In the audience are many past dragsters, including Alyssa Edwards and Manila Luzon. Manila is wearing her "classic" pineapple dress. The judges applaud from their private balcony.
RuPaul quiets the audience, saying, "Wait, someone is missing." She borrows Raja's phone to call the clown from Episode 1. He comes onstage to stand by Bianca. "I love your make-up," Bianca tells him.
The parade of contestants starts. Dax is wearing the hair fantasy look that Shangela wanted to create. Laila has a huge eye painted on the middle of her dress. Cynthia Lee Fontaine is a fabulous Dr. Seuss character. Everything about her gown is heart-shaped, including a cut-out panel of her butt.
Naysha is pretty in red and does her flight attendant movements from her first disastrous lip-sync. Acid Betty is outdoing all the other queens ever with her crustacean couture. Robbie is classic Oscar night realness. Thorgy has taken Roxxxy Andrews' licorice dress, cut it up, and made it into a wig. Derrick looks like Courtney Act, which is a big improvement on Britney.
Chi Chi is high pageant, with Marilyn Monroe hair, eyes painted for the backseats, and a black dress with her trademark twist-fringe. Bob enters, purse first, in an elegant white linen gown with a built-in cape and contrasting pattern. Kim Chi
looks like an upside-down flower with white leaves jutting out from her shoulders, and the petals forming her skirt. Naomi could be a Star Trek (the original series) princess, with her flowing green robe and copper colored hair.
RuPaul appears, in a silver dress. She looks out at the audience and announces, "Everyone is wearing it well tonight!" This was taped right after Drag Con, and it seems like half of the audience is dressed up in crazy costumes. The camera keeps showing shots of Rumer Willis. I guess she's the designated celebrity fan this year.
This being an election year, RuPaul goes on to state, "We can make America gay again!" She promises everyone that, in this theater, "You can use any damn bathroom you want. Except mine, of course."
She introduces Michelle, Ross, and Carson, who seem to be exiled to the balcony. They will offer critiques after the upcoming lip-sync performances. But since the critiques are neither helpful nor funny, I'm not bothering to repeat them.
As the show goes to commercial, a chorus of shirtless dancers (this year known as the "Gay for Play" dancers) death drop. The commercial is for "RuPaul's Drag Race: The Rusical," which is, alas, not the next Broadway extravaganza, but a CD of songs associated with the show, like ones from "Shade: The Rusical," or "Sugar Babies" from Season 5's Glitter Ball.
Bob the Drag Queen does the first lip-sync performance to the original song, "I Don't Like to Show Off." She's dressed like a ghetto girl, in a football jersey, hot pants, and tons of bling. The dancers are construction workers (shirtless construction workers). There's lots of kicking and twerking. Plus a rap section. Bob ends with an hilariously lame death drop.
Then we see highlights from Bob's journey, focusing on her Snatch Game and Ruco's Empire performances. It ends with Bob declaring herself "A queen for the people."
RuPaul interviews Bob, asking how it felt when the other queens started rooting for her to go home. Bob replies that it felt good. She must have been doing something right. Shangela asks the fan twitter question: "Does your humor come from a dark place in your life?" Bob answers that he's had the same struggles that most gay men face, but advises people to focus on the positive and let that flourish.
Bob gets two video messages. The first is from Carol Channing, who loved her Snatch Game impression. Bob starts fanning her eyes to keep from crying, but the second message, from his mother, makes it impossible. "You got me," Bob admits to RuPaul.
Bob says that winning the money isn't as important as being able to reach other people with the "America's Next Drag Superstar" title. Finally, Bob whips out a clutch and gives it to RuPaul so that she can join the Purse First movement.
The second performance is Kim Chi, "lisp"-syncing to "Fat, Fem, & Asian." She wears a huge hoop skirt, and a padded top so that her silhouette is even larger than usual. Her dress is big enough to hide all six back-up dancers, who appear and disappear behind her in a very clever, effective way. For all the show made fun of Kim Chi's awkwardness, she's very graceful here, floating over the stage like a bit of dandelion fluff. Her lip-sync is really tight. In both English and Korean.
RuPaul's first question for Kim Chi is "when was the last time you fell over?" Kim Chi laughs and admits that it was today. She tripped over her skirt and fell over the craft services table. Kim reveals that she gave her first challenge prize ($3,000 dollars) to her mother — who works at a Korean restaurant. RuPaul, of course, asks if Kim Chi's mother is aware that Kim competed on the show. Kim Chi replies that her mother is so anti-American culture that she still doesn't know — and probably never will. RuPaul proposes that they go on a road trip after the show, so that RuPaul can tell her personally. Kim seems into it.
Fan question time. The Pit Crew reads the question, which is, "Which member of the Pit Crew would you most want to lose your virginity to?" Kim Chi replies, Well, I'm not trying to catch anything, so I'm going to say none of them." The audience gives that a standing ovation.
Kim Chi's video message is from Kim Jong-Il, who says, "You better work. Or I'll put you into a labor camp." It's actually Margaret Cho, and she praises Kim Chi, calling her a good dancer.
Kim Chi says that winning the title would make her no longer broke — and she would be able to order guacamole on her burritos. But, seriously, it would mean that she had achieved her dream. Her advice to others is to be creative, be original, and eventually it will all come true.
"Read my lisp," RuPaul says. "We love you."
The final performance is Naomi, lip-syncing to "Legs." This one of those numbers where the diva is surrounded by fawning men. She takes off a robe, revealing her long legs, then struts around, pushing the men away and such. It's very good, but basically what you'd expect.
Her show highlights include Ross praising her Wizard of Oz look, Naomi crying about her mother, and her political ad.
RuPaul asks Naomi where her fashion sense comes from. Naomi laughs that her family wasn't exactly fashion forward. She got it from reading fashion magazines. They discuss her disappointing early challenges, and Naomi admits that it took falling into the bottom two to really step up.
There's video message of support from Lena Headey (from Game of Thrones). Lena tells Naomi to "Cersei that walk." Then Gina Gunn asks the fan question: How did it fell when Naomi Campbell checked you online." Naomi was delighted (how else would she feel?).
Naomi tells RuPaul that winning the title would be a stamp of approval and the biggest goal ever in her life.
RuPaul points out Naomi's mother, June, in the audience. June says she never bought fashion magazines, but that she did buy Naomi's wigs and shoes. She raised 12 children. RuPaul applauds her for that, and then brings out four or five of them to hug Naomi onstage.
While the Top Three change into the final, final looks, RuPaul interviews the other queens. Dax and Laila are still haunted by their elimination song, "I Will Survive." Dax hears the song everywhere. RuPaul suggests they both record a song, "I Didn't Survive" to cash in on their infamy.
RuPaul shows a cute picture from 2012, showing pre-teen Laila in drag with RuPaul during a "non-presidental campaign" stop. Laila says she's gone from performing in bowling alleys to "everywhere." RuPaul smugly decides that Dax and Laila are not just surviving, but thriving.
Cynthia Lee Fontaine informs the audience is that she is a survivor of stage 1 liver cancer (which was diagnosed after the competition was filmed). She says that Acid Betty immediately called her up, flew to her side, and supported her during her treatment. "We are cuckoo for your couch," RuPaul tells her.
RuPaul's big question for Naysha is whether or not her ass is real. Naysha waffles a little, but says that she's had silicone enhancements. She also admits that, had she been there for the Madonna challenge, she would have been wearing a kimono. Acid Betty gets a video message from Nancy Grace, saying Betty was "robbed" in the Snatch Game challenge.
Robbie Turner tells a cute story, explaining why her drag is so vintage. As a child, they weren't allowed to watch contemporary movies in their home. So, Robbie was shocked to find out that Judy Garland was dead. Robbie's best moment in the show was having Debbie Harry wish her happy birthday — and winning that week's challenge.
Thorgy explains that she loves the argue with Bob, which other people mistake for them hating each other. RuPaul asks Thorgy about her "Thorchestra" idea, and Thorgy rattles on about Rufus Wainwright playing piano… it sounds fun. RuPaul asks Thorgy to play the violin, and Thorgy obliges with a beautiful arpeggio.
Derrick is asked if she has any regrets about being so shady on the show. Derrick admits that she does, and that she was thrown by the criticisms she received. She explains that she's always impersonated Britney, and it was shocking to be criticized for that. She credits Naomi for teaching her to do eyebrows. RuPaul quotes a Christina Aguilera song, then whines that she's run out of Britney references.
Chi Chi DeVayne is the final interview. She gets a video message from Jennifer Holliday, who raves about Chi Chi's "And I Am Telling You" lip-sync. Chi Chi had to quit two jobs to do the show, but is now a full-time drag queen. She thanks RuPaul from the bottom of her heart, and RuPaul says it was an honor to have her.
It's time to award Miss Congeniality. Katya appears, rolling under the backdrop curtain. She's barefoot and wearing your crazy bohemian aunt's clothing. She hands RuPaul a bottle of water (referring to the joke from last season's finale), and reads the winner. It's Cynthia Lee Fontaine! And it's $5,000 from Fiat.
Now it's time to award the crown — but first, there's a quick parade of the past champions. BeBe Zahara Benet looks like an African queen. Tyra looks polished but kind of basic in her green zip-up robe. Raja shades all the Madonna kimono wearers by revealing her perfect "Express Yourself" look. Sharon Needles is also somewhat basic in a jump pants suit. Jinkx looks amazing with a Queen Elizabeth-meets-mermaid outfit. Bianca has her regular silhouette, but with an interesting blue detail on her shoulders and hips.
Then Violet appears in a huge princess gown. Her crown comes right out of her head and it's either skin or platinum blonde hair, shaped into a crown. It's pretty incredible. Plus, she's wearing large bugs on her chest and face. I don't know if they are alive or dead, real or artificial. But it looks amazing. And she's wearing this perfect ruby pendant. This is every inch the returning queen outshining her potential successors.
Who are looking great themselves. Bob has a gold dress with a boxy short skirt, with a silk sash. This is what Glinda should have looked like. Kim's dress is white and folded like origami. Naomi's is silver-gray, with a gorgeous matching fur stole.
After Violet describes her amazing year of working with top fashion people. RuPaul awards the title to…
Bob the Drag Queen!
I was rooting for Kim Chi, but I can't be mad that the winner is someone who is funny, upbeat, gracious, incredibly charismatic, and focused on activism and community. Bob is going to make a great superstar.
Bob's acceptance speech is about taking what you love about yourself, and walking into the world Purse First. She struts the runway like that, then gets mobbed by kissing queens, led by Raja and Derrick. All Hail, Queen Bob!
Thanks for taking this annual pilgrimage with me to Wonderful World of Wigland. What did you think about Bob winning?
All Stars 2 will be coming soon. Any predictions about who is competing? (It's already filmed, so neither Kim nor Naomi will be there.)
Bye for now, and see you soon!
Link to Episode (you'll need a TV provider to watch it).