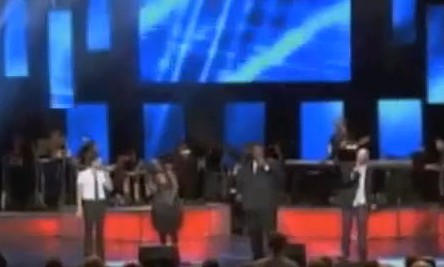 American Idol alums, Ruben Studdard (S2), Phil Stacey (S6), Danny Gokey (S8) and Mandisa (S5) joined forces last week at the 43rd annual Dove awards in a string of performances.
The Dove Awards, which airs on the Gospel Music Channel, is an annual event that celebrates the best in gospel and Christian music.
Mandisa was nominated for 3 awards: Female Vocalist, Pop/contemporary Album of the Year for What if We Were Real, and Special Event Album of the year for the Ashes to Ashes compilation.
Watch Danny and Phil duet on 'Lean on Me", Mandisa sing her CMC hit, "Stronger" and Ruben Studdard  sing lead on I" Need an Angel.
Danny Gokey and Phil Stacey – Lean on Me
http://youtu.be/3RetM_8BOK4
Mandisa – Stronger
http://youtu.be/efM_5oeTZQ4
Ruben Studdard, Mandisa, Phil Stacey, Danny Gokey – "I Need an Angel"
http://youtu.be/MESATj5gj-o