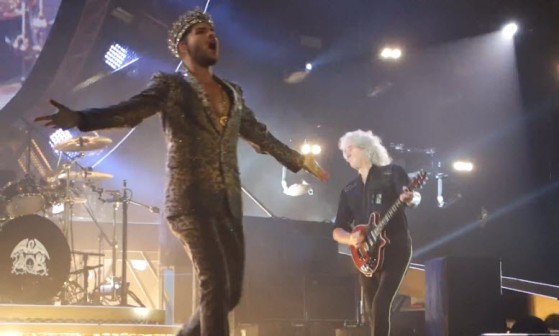 This is a little belated (as is my American Idol Live recap) but I thought I would post a few words about the Queen + Adam Lambert concert I attended at the Boston Garden last week.
WOW.  What an incredible show! From Adam's stunning vocals to the band's incredible musicianship. The concert was A+ all the way.  It was particularly awesome for me, because I haven't been to a balls to the walls ROCK show like that in a long while!  The extravaganza began with a BURST of energy, and pretty much never let up until the middle section when Adam took a break and the rest of the band played a few solos, a tribute to Freddie and an acoustic number.
The crowd was super pumped and enthusiastic. I was up front, but unfortunately, I couldn't see much once the crowd stood. In hindsight, I would have prefered a seat further back in the stands, where I could have had a wider view of the stage and a less distorted sound.  I was close to the front on the left side, and the sound was fuzzy and LOUD at times.
But what's a rock concert if you aren't getting your ear drums blasted out, eh? Heh.
I don't know much about other singers who have fronted Queen since Freddie's death, but Adam Lambert was a great choice for a number of reasons.  As a world class vocalist, he has the chops to interpret the Queen catalog in a unique and powerful way. But as a Queen fan, he brings reverence to the band's legacy. Interpretation imbued with both creativity and respect! And as a young singer, he brings energy and excitement to the project. It's a buzz that founding members, Brian May and Roger Taylor fed off of. The result was a legacy concert that did NOT come off as merely a nostalgia romp.  The tour works as a showcase for the classics, but with a 21st century twist.
Alas, I was in no position to take video, but I did grab a bunch of instagram clips, which you can check out here. Follow me while you're at it!
I did find some video on the internet.  I'll post what I found with with comments. The set list also included "Stone Cold Crazy", "Fat Bottomed Girls" (Dedicated to all you fat a**** b****** out there. Heh) and "The Show Must Go On."
Procession/Now I'm Here
The show opened with ambient noise followed by a SONIC BLAST! That got my attention, to say the least.
Another One Bites the Dust
Not one of my favorite Queen songs. It always felt a little lounge-lizardy to me. But this interpretation has a STRONG rock vibe that I appreciated.
In The Lap of the Gods
Killer Queen
Adam is so playful here, fanning himself while coquettishly lounging on an ornate chaise. When Brian takes the stage with his guitar, it's obvious there is so much affection between them. I have to say, though, I would not have wanted to be in the path of that champagne spray! Heh. Also, Adam's costumes were fabulous. Black and gold suits him.
Somebody to Love
I sang along with this at the top of my lungs. For real.
I Want it All
After "I Want it All," Adam left the stage and the rest of the band took over for a set. There was a virtual duet between Brian May and Freddie Mercury on "Love of My Life" and a few other numbers that featured video tributes to Freddie, and solos for each of the band members.
Love of My Life
39
An acoustic number featuring Brian May on vocals
Under Pressure
Adam returns to the stage with "Under Pressure." Drummer, Roger Taylor, sang the David Bowie parts!
Love Kills
This is a "new" old song. Freddie recorded the song with Giorgio Moroder for the soundtrack of "Metropolis". This version of the song is more ballad, and less techno.
Who Wants to Live Forever
The entire arena was bathed in beautiful lasers while Adam sang. A very powerful performance.
Tie Your Mother Down
Rock on mutha effers!
All Your Love Tonight/Radio GaGa
SING ALONG WITH ADAM Y'ALL
Crazy Little Thing Called Love
Fun, flirty and more ROCK than the recorded version.
Bohemian Rhapsody
Insanely dramatic, featuring a duet with Freddie. A video track took over the complicated bridge. This song has never been performed completely live. It would be impossible to replicate.  Amazing guitar work from Brian May. I mean DUDE STILL HAS IT. Incredible.
We Will Rock You/We Are the Champions
This is how it ended. With ADAM WEARING A CROWN. Fitting.