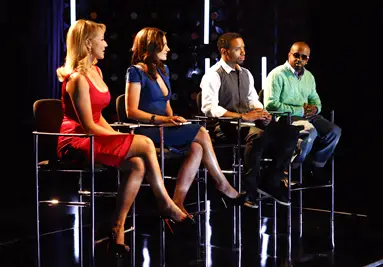 Based on the premiere, which aired tonight on Bravo, Platinum Hit, the new Kara DioGuardi reality show has some potential. The show pits 12 aspiring songwriters against each other. At stake–$100K, a publishing deal with Sony and a contract with RCA/Jive.
Some familiar faces amongst the contestants–Jackie Tohn made it to the Top 36 on American Idol Season 8 and performed in the live semi-finals. Jes Hudak made it to Hollywood Season 5. If you are a Jordin Sparks fan, you may have spotted Scotty Granger–he's Jordin's creative director.
What makes this show interesting is watching the aspiring songwriters work at their craft–sometimes successfully, and at other times-uhm, not so much. The collaborations set the stage for tension and drama, reminiscent of the American Idol Hollywood rounds. When a song doesn't work, the judges' panel asks the team members to describe who contributed what to the song. There's nothing more entertaining than watching reality show contestants throw each other under the bus.
Tonight, the show started with a challenge introduced by host/judge Jewel The contestants had 30 minutes to write a hook for a song. The 4 challenge winners got to pick their teams who went on to flesh out the tune. The four teams performed their songs in front of the judges panel: Jewel, Kara DioGuardi, Trevor Jerideau (VP, A&R, Sony Music Group) and guest judge Jermaine Dupri (Producer/songwriter  for Mariah Carey, Usher). A winning team and a losing team were chosen, with a contestant from the losing team chosen to go home.
A couple of thoughts: I was completely floored by the hook the Jewel and Kara chose for 1st place. Sonyae Elise, who does not play an instrument, came up with a truly wacked-out chorus. The resulting song was even worse. Duh. Methinks some decisions are being made here for the sake of drama!
The best hook, in my opinion, was from Nick Nittoli, second place hook winner, whom the rest of the cast take an instant dislike. Yeah, the dude is totally arrogant, but he is good. The song written by his team won the challenge, and rightfully so. The other two hook winners were Jackie Tohn in 4th place (shes got some chops!) and  Scotty Granger (the 3rd place hook winner and his team lost the challenge).  The contestant who got sent home, Nevin James wrote the (un)memorable line, "They want you to lose, they need you to fail." Bye dude!
Kara Dioguardi is edited down to her best parts, and some of her criticism is almost Simonesque in it's bluntness-"Your song was trite, confusing and uninspiring, " Kara tells Scotty's team (she's right).  I always maintained that Kara was a good judge–but did not mesh with Simon and the rest of the panel.
Did you watch Platinum Hit? What did you think?
The Hooks
http://www.youtube.com/watch?v=JPFD8ZqeMsQ
Contestants throw each other under the bus
http://www.youtube.com/watch?v=dp82-NoCOQw
The Songs
"My City" by Nick Nittoli, Jes Hudak, and Karen Waldrup. (Winning song)
"City of Dreams" by Jackie Tohn, Johnny Marnell, and Melissa Rapp (2nd place)
"Love It or Hate It" by Sonyae Elise, Blessing Offor, and Amber Ojeda (3rd place)
"No One Again" by Scotty Granger, Brian Judah, and Nevin James. (Losing song)
The Songs – You Tube
http://www.youtube.com/watch?v=W793fE06QQs
Next week:  "Dance Floor Challenge"
On The Dance Floor