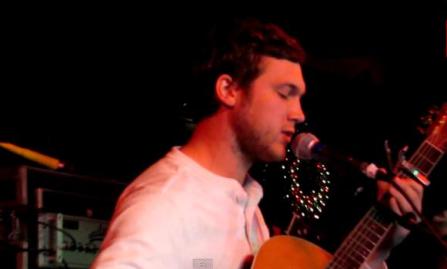 Thanks to the fine folks at MIX 104.1 in Boston, I was able to attend the 2nd night of the Not So Silent Night concert featuring American Idol winner, Phillip Phillips. Tristan Pettyman opened the show, and Neon Trees closed, with Phillip right in the middle.
I got the chance to interview Phillip before the show, so watch out for that interview soon! I could not pin down his next single, nor would he spill ANY details on the gigs with Matchbox 20. However, he had NO idea that he was the first Idol alum to make inroads on the snooty AAA radio format! I was pretty happy to be the one to break that awesome news.
Phillip preformed a 7 song set that included: Hold On, Gone Gone Goen, Take Me Away, Wicked Game, Man on the Moon, Nice and Slow, and Home.
Half way through "Man in the Moon" I got light headed and had to find a place to sit, so I did not get the last two songs on my HD camera. I was a little bummed I didn't capture Home–the band started the tune off with a slow blues jame before launching into the song. Everyone sang along, including me!
The band consisted of Errol on guitar, a dude on a percussion kit and a really fantastic cello player. The songs were jammy and even better in a live setting. The band was really tight, but loose and relaxed at the same time. Really good stuff! The concert took place at a bar called the Landsdowne Pub, situated on a street adjacent to Fenway Park that is home to many of the best Boston music clubs, including the hard rock. It was real cozy inside, perfect for a rock jam!
If you are looking for a great Hot AC radio station to stream on line, check out Mix 104.1. They've been very supportive of American Idols over the years. They were one of the first stations to put "Home" into heavy rotation. The radio station staff could not have been nicer or more accommodating. And big ups to Karson of the awesome morning team Karson and Kennedy for helping me out!
If you're into bluesy jammy music, I highly suggest checking Phillip out if he comes to your town. Who knows what will happen in the future, but based on the music he's playing now, I expect his album, The World from the Side of the Moon to have a successful era.
Hold On
Gone Gone Gone
Take Me Away
Wicked Game
Man on the Moon