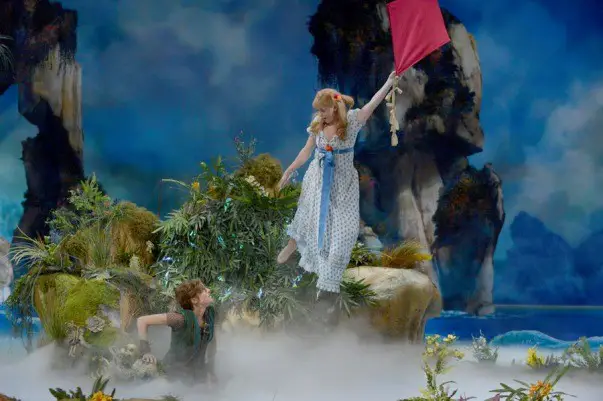 I don't know about you, but I'll be planted in front of my television tonight, watching Peter Pan Live! starring Allison Williams as Peter, Christopher Walken as Captain Hook, Christian Borle as Mr. Darling/Smee, Kelli O'Hara as Mrs. Darling, Alanna Saunders as Tiger Lily and Minnie Driver as adult Wendy.
Peter Pan Live! Videos! Watch Every Performance
Peter Pan was a perennial favorite of mine, as a kid. Nevertheless, I plan to sit back and watch without comparisons. And, as Allison Williams requested, I won't be hate watching.  Didn't hate watch last year's Sound of Music Live! with Carrie Underwood, either. It's cheese, and sometimes I enjoy indulging without irony.  However, that's me. Feel free to snark away in comments, if you wish. I won't judge.
I'll admit it. When I was a kid, I imagined myself right up there with Peter and the Darling kids, swooping and diving around the bedroom.  The flying, the fighting, the additional cast and moving parts–Peter Pan seems to be a more complicated show to pull off live. Of course, it helps that it's been done before. But that's the excitement of live TV, isn't it? ANYTHING could go wrong. And it might!
I wondered how NBC would update the show so that it wasn't offensive to native and indigenous people.   One significant change is the inclusion of a new song, "True Blood Brothers," which will be the culturally sensitive replacement for the dated and stereotype-filled "Ugg-a-Wugg."
Three more new songs, also co-written by Amanda Green, whose father Adolph helped write some of the original songs include "Vengeance," "Only Pretend" and "A Wonderful World Without Peter." A fourth song, "When I Went Home," is being brought back from the touring production of Pan.
I'll be back later with a few of my thoughts. Hopefully NBC will upload performances to YouTube as they did last year with TSOM.
***
It took me a minute to figure it out why Allison Williams didn't seem right in the part of Peter Pan. She was more fun, mischievous auntie than wide-eyed, enthusiastic boy. When it came down to it, I didn't buy her as a guy. Also, that British accent wasn't really working for her. I liked her better singing than talking.
Christopher Walken was predictably weird. I mostly really enjoyed him in the part. It was the little things that made me laugh–the way he'd turn a phrase (Favorite line: "I placed my plank on the poop."). There were little interactions–for instance, when he fist-bumped one of the pirates with his claw, that I really appreciated.  But he just was not up to the big dance numbers. The sight of him doddering around in front of a stage full of professional dancers was a little pathetic.  Also. LINES! Walken was way too reliant on the teleprompter.
What's more, Peter and Hook had NO chemistry. These two are supposedly old, old rivals with scores to settle. When they finally face off against each other, the energy should have been palpable. The climatic sword battle brought to mind me and my little sister fake fighting with butter knives when we were kids.
Christian Borle should win all of the awards. He was wonderful as both the gruff Mr. Darling and the bumbling Smee.  And to be honest, he would have made a dynamic and entertaining Hook. You know. He's already been there and done that.  Alanna Saunders played a fierce Tiger Lily.  I wanted more of her, to be honest. The new song she and Peter sang "True Blood Brothers" was a welcome addition to the production.
Props to the choreographer and the background dancers! I really enjoyed the big production numbers. The actors who played Smee's fellow bumbling pirates were hilarious. The lost boys were fun and appealing.  They were all in Newsies, right? Heh. The Darling family was well cast. Kelli O'Hara as Mrs Darling was a jewel. And Nana the dog? SO much could have gone wrong with that dog on stage. Very well trained. And hello SYTYCD alum Alex Wong! He was one of the natives.
This musical hasn't aged well.  NBC (arguably) fixed the racism, but there was no way to make Wendy any less of a nagging stereotype without, like, a major re-write. Although. Taylor Louderman did manage to infuse the character with with heart and personality. The jist of Peter Pan:  boys don't have to grow up. But the girls do. Hm. And what's with the adult Wendy promising Peter a never ending supply of girls? Heh.
I am only noticing the the darker elements of the Peter Pan story now that I'm an adult. Pan cutting off Hook's  hand and throwing it to the crocodiles!!! Hook constantly threatening to kill and torture little boys!!!  Say WHAT?  (Nope. I never read the books.)   This stuff creeped me out way more than it did when I was a kid.
The Cast of Sound of Music Weigh In:
I hope the cast & crew of #PeterPanLive feel so happy & proud right now! What an incredible thing you all were a part of tonight! Amazing!!!

— Carrie Underwood (@carrieunderwood) December 5, 2014
Ha ha Laura Benati. The person who crawled into that contraption to play the alligator also deserves all the awards. It was pointed out on twitter that the beast morphed into CGI when it was menacing hook on the plank.
SURPRISE I'M THE CROCODILE. #PeterPanLive — Laura Benanti (@LauraBenanti) December 5, 2014
Check out a gallery of photos from dress rehearsal: