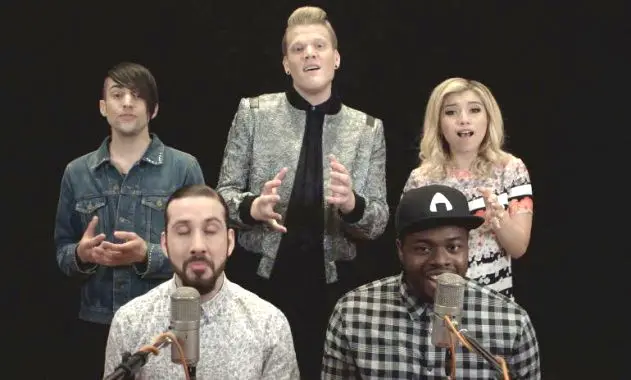 Pentatonix has released a brand new video to the quintet's 8 million + strong Youtube channel. This time, the a cappella group and The Sing-Off winners, take on the Evolution of Michael Jackson.
The tribute begins with 1969's "I Want You Back" from the late King of Pop's Jackson 5 days, and ends with the solo effort, "You Are Not Alone," recorded in 1995.
Currently, Pentatonix is working on their very first record made up of ALL ORIGINAL material. It's the natural next step in the group's own evolution, as Pentatonix rose to fame on the strength of gorgeously arranged covers of pop hits.
Also, the group has released a documentary titled, On My Way Home, which charts their rise to fame, along with childhood memories from group members, Kirstie Maldonado, Mitch Grassi, Kevin Olusola, Scott Hoying and Avi Kaplan.
AND, beginning in July, the singers will be hitting the road with Kelly Clarkson! Click to check out the schedule.
Watch Pentatonix kill it once again, as they pay homage to the late great Michael Jackson.
Evolution of Michael Jackson songs:
I Want You Back 1969
ABC 1970
I'll Be There June 1970
Ben 1971
Dancing Machine 1973
Shake Your Body (Down to the Ground) 1979
Don't Stop Till You Get Enough 1979*
Rock With You 1979*
Billie Jean 1983
Beat It 1983
Wanna Be Startin' Something 1983
Human Nature 1983
Thriller 1983
I Just Can't Stop Loving You 1987
P.Y.T. 1983
Bad 1987
The Way You Make Me Feel 1987
Man In the Mirror 1988
Dirty Diana 1988
Smooth Criminal 1988
Black or White 1991
Remember the Time 1992
Heal The World 1992
Will You Be There 1993
You Are Not Alone 1995