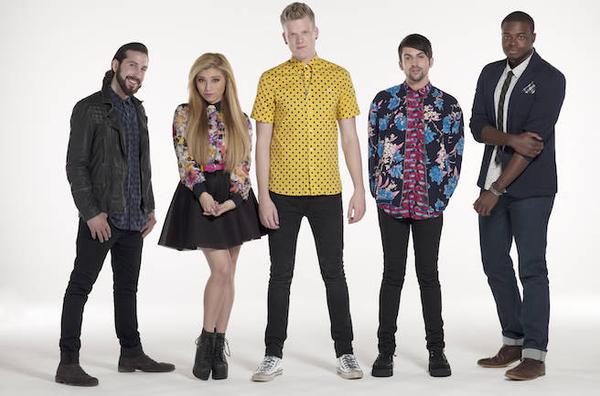 What is the next step in the evolution of a cappella singing sensations, Pentatonix? After winning the NBC competition reality show,  The Sing Off in 2011, the quintet has made a name for themselves on Youtube covering other artist's songs.
Currently on tour with pop star, Kelly Clarkson, the singers–Scott Hoying, Kirstin Maldonado, Mitch Grassi, Kevin Olusola, Avi Kaplan–premiered a new original song for fans, "Can't Sleep Love,"  at the DTE Energy Music Theater in Clarkston, MI on Sunday (July 26).
A turning point for the group came this past holiday season when the performers had a hit song with the title tune from their Christmas album, That's Christmas to Me But can Pentatonix transfer that success to the pop charts?
"Finding an a cappella hit song is like a needle in a haystack," Tom Corson, president of the group's label, RCA, recently told Rolling Stone magazine. "It hasn't been done since, like, Bobby McFerrin's 'Don't Worry Be Happy.' A true and pure a cappella record is a unicorn."
The jazzy tune, from the group's next album, reminds me of something The Manhattan Transfer, the jazz harmonizers that were popular in the 70's and 80's, might have recorded.. They were mostly backed by bands, but the harmonies are similar! Not suitable as a current pop hit, but unicorns aside…it could happen.
Watch Pentatonix perform "Can't Sleep Love" at DTE Center in Clarkston MI