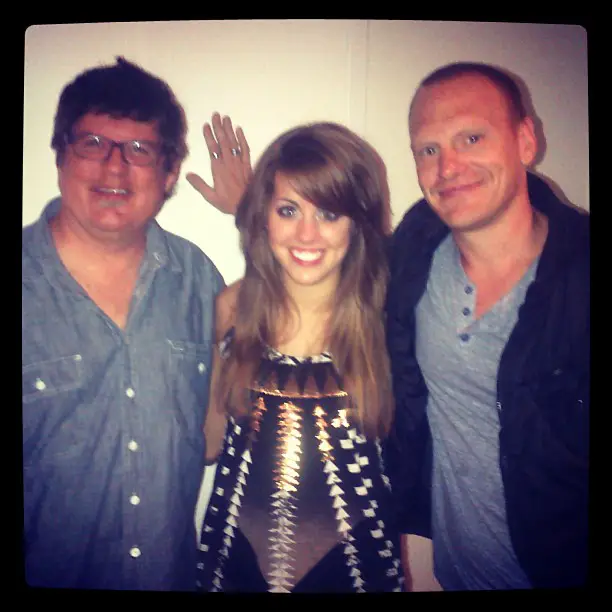 How did our American Idol finalists spend today? Well among other things, they were visited by Chad Richardson, creative director for Ole Publishing and hit songwriter Monty Powell! Richardson tweeted:
Ready for a good day at #americanidol with @forasong . #1 writer for a #1 show! @olemajorlyindie
Hmmm. @forasong is none other than Monty Powell, Keith Urban's go-to songwriting partner, who cowrote Keith's big hits "Tonight I Wanna Cry," "Days Go By," "Sweet Thing," "Kiss A Girl," and "Til Summer Comes Around," among many others. Here's a picture of Kree Harrison with Monty Powell:
Why might this be significant? 19/Interscope has connected previous finalists like Pia Toscano and Haley Reinhart to Ole writers. Pia cowrote several songs at an Ole writing camp. In fact, Haley Reinhart signed a worldwide publishing deal with Ole last February.
Could the Chad Richardson tweet mean there may be some effort to start the finalists on the road to original material early? With the early showcasing of Angela Miller's original song as well as original songs by contestants like Charlie Askew and Kez Ban, plus the fact that Kree Harrison auditioned with an original song (that wasn't shown), it sure seems like the groundwork is there for original material, cowritten by finalists, to be introduced on the show.
So what say you? Do you think adding some songwriting into the mix for the finalists would be a good development for the show? Is Ole trying to set tinfoil hatters off by only tweeting out pictures of Angela and Kree? Discuss!