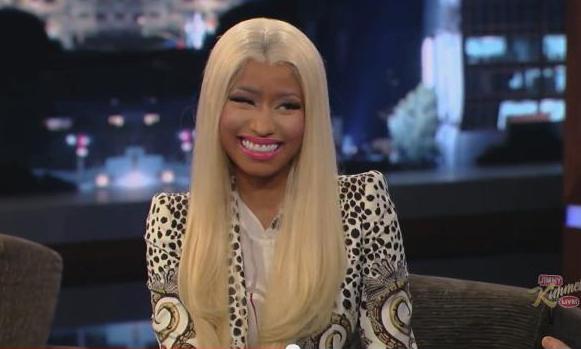 Nicki Minaj chats with Jimmy Kimmel about American Idol, feuds and her Barbz on his late night talk show. Later, she performed an outdoor concert.
Nicki Interview Part 1
Nicki talks about the argument she had with the judges over forcing Summer to pick the country genre.
http://youtu.be/fhmpOL_oSXY
Nicki Interview Part 2
About not liking your office coworkers–but for Mariah, she and her co-workers are on TV. Nicki claims that she doesn't hate Mariah, but "I don't think she likes me," she says. "She just had an issue from the beginning." Mariah adds, "We're having fun, though." When Jimmy asked who would win in a fist fight, Nicki replied that she doesn't fight with fists, but then added, 'Don't tell anybody I said that, or there will be another Barbara Walters interview."
http://youtu.be/OMXh0SPikjg
Nicki Interview Part 3
Nicki talks about the code language she has with her Barbz, and nicknaming people.
http://youtu.be/F62yrh8qiK8
Nicki Minaj Performs Va Va Voom and Freedom
http://youtu.be/IF0KSguJbQI