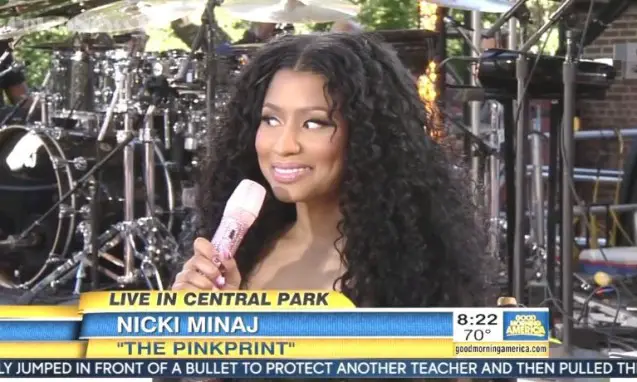 Conveniently, Nicki Minaj was scheduled for a Central Park summer concert on GMA Friday morning, which allowed her to clear up questions regarding the twitter spat she had with Taylor Swift earlier this week.
Not only did Taylor tweet Nicki an apology for missing the point of her tweet, but she conveyed her apologies to the rapper via a phone call.
"First of all, I talked to Taylor Swift yesterday on the phone," said Nicki during the interview. "She was super super sweet, and she apologized. She said, 'You know, look, I didn't understand the big picture of what you were saying, but now I get it.'"
"So, we're all good," said Nicki about the state of her friendship with the pop singer.
"It takes a big person to do what Taylor did, and everyone sometimes speaks out of turn. I've been there sometimes…it was big of her to come out and say that," Said Nicki regarding Taylor's apology. "We spoke for a long time. We were cracking up laughing on the phone. It's over, you guys."
"But I was just saying, I posted something on my Instagram and it showed the stats of other videos that have been nominated previously, and it just seemed to be a little funny business going on," said Nicki regarding the point she was trying to make about how black artists are overlooked by the music industry. "'Anaconda' had such a huge cultural impact and on top of that, we broke the Vevo record!….I do think if it was one of the pop girls they would have had many nominations for it."
On the tweet Taylor initially responded to that read, "If your video celebrates women with very slim bodies, you will be nominated for vid of the year," Nicki elaborated, "I think that we just have to have both images for girls. We can't have only one type of body being glorified in the media because it just makes girls even more insecure than we already are."
Watch the interview below.
https://youtu.be/FpW3R4MvPA8
Nicki also performed two songs from her album, Pinkprint.
Nicki Minaj performs "Feeling Myself"
https://youtu.be/PAqk5cqLNEs
Nicki Minaj performs "The Night is Still Young"
https://youtu.be/ud795DJ7Ucg