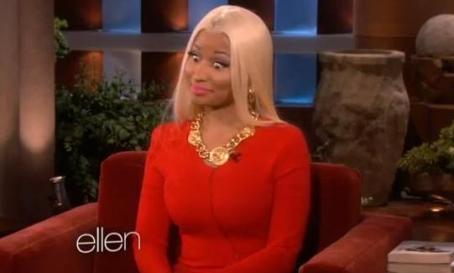 Nicki Minaj is doing the talk show rounds to promote the upcoming season of American Idol. She recently sat down for a chat with Ellen DeGeneres, and the quirky rapper did not disappoint. As a bonus, she also performed her single. 'Freedom."
Nicki was not ready for American Idol's long hours, she revealed to Ellen. Once she was at work, she hated to take breaks–even to pee.  Yes, if she had had her own way,  her fellow judges would have been forced to exercise extreme bladder control.
Of course, questions about the infamous feud she had in October with Mariah Carey came up. Nicki describes herself  and Mariah as "two big old divas."   Nicki explains that when she felt a little bit of shade from Mariah, she responded by acting even "crazier." Her feelings were hurt. She insists that the relationship has since been patched up and  she is NOT holding a grudge against the legendary singer.
Also, she's NOT looking forward to the live shows! (Note expression in the screen grab. Ahem.) "I cannot trust myself," she warns. Uh oh. "I don't want to look like a crazy psycho again." Oh. If Mariah throws shade again, she won't be able to control herself. Nigel must be beside himself with happiness.
http://youtu.be/8dXOPQ_iDZo
Who is Nicki dating? Just in case you care.
http://youtu.be/7TtNKiFySTQ
Nicki performs "Freedom"
http://youtu.be/6NMDaA17YwQ