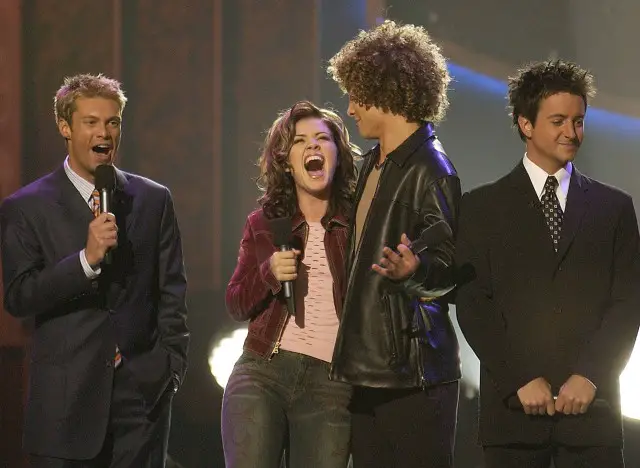 Nigel Lythgoe kicked off a new podcast on Thursday (June 25) called Idol Memories. It's a new podcast for American Idol fans. Idol Memories is a series of conversations and memories about America's iconic singing show.
Nigel executive produced American Idol season 1-7 and 10-12. You can listen to the Idol Memories podcast with Lythgoe's first guest Justin Guarini, Season 1 Runner-Up on Apple, Spotify and wherever podcasts stream. 
During the podcast, Nigel and former American Idol contestants, producers and production team members recount their favorite memories on and off-camera. He also goes one-on-one with the various judges of the show and America's favorite former American Idol winners, as they revisit some of the show's most memorable performances and more than a few of their favorite Idol memories.
"I'm thrilled to be working with Fred Bronson and Benztown in reminiscing about some of the wonderful moments I experienced on American Idol," Nigel said in a statement. "In reminding you of what happened in front of the cameras, it has brought back to me a lot of the moments you didn't see that occurred behind the cameras. I can't wait to tell you these stories – and I'm being helped in this by the judges, the contestants and fellow members of the production team."
I listened to the first episode and it was pretty entertaining, except for an unfortunate anecdote Nigel tells that describes an extremely homophobic prank he and Simon pulled on each other. Nigel uses a term that's considered a slur these days. Ugh. It's no wonder the early seasons were full of gay stereotyping. I'm surprised an editor didn't suggest he not go there. 
But anyway–the rest is a fun romp through American Idol history. I highly suggest fans check it out. Here are a few highlights:
Simon Cowell was reluctant to join the American Idol judges panel. It took a long phone call from producer Ken Warwick to persuade him. It wasn't about money. It came down to being "very nervous of failing." He didn't want to be viewed by people back in the U.K. as a "flop." Ken appealed to his "big ego." He said "America will love this sophisticated, almost aristocratic, good looking bastard. They will lap it up!"
Some folks "upstairs" didn't want to change the name to American Idol from Pop Idol, as it was called in the UK. They felt the name was too generic. Both sides compromised and called it American Idol: The Search for a Superstar. (Once the show took off, the name was shortened to "American Idol")
Nigel claims he discovered host Ryan Seacrest. Unfortunately the chemistry between Ryan and season 1 host Brian Dunkleman was bad right from the start.  Also, Nigel insisted on hiring Paula Abdul. The higher ups didn't want her at first. 
Nigel interviewed David Lee Roth for a fourth spot on the panel. But Nigel was always dead set against having more than three judges.
Nigel salivated over contestant Jim Verraros' backstory that featured him signing his performances for his deaf parents. "Oh my God we've struck gold!" thought Nigel. "Even if he sounds like a bag load of cats being thrown off the Empire State Building, please put him through!" 
Halfway through the road auditions, Paula was in Nigel's office crying over the "boys club" and how Simon didn't respect her or the contestants. She also had a meltdown over Simon Cowell in Atlanta. But once Nigel explained that she could fight back in the name of protecting the kids, her attitude changed. However, Nigel was ready to let her go before the live shows if her attitude didn't change.