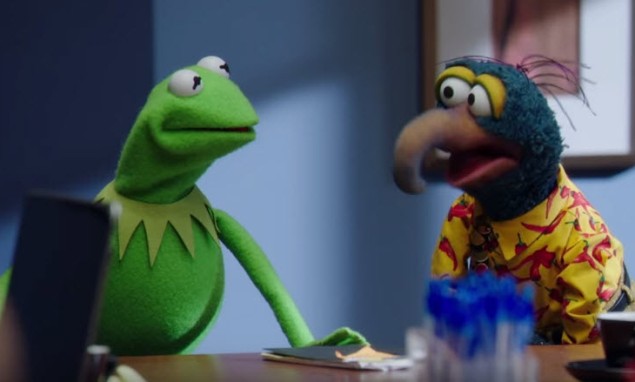 There have been so many sad breakups recently. Blake and Miranda. Reba and Narvel. Gwen and Gavin. Zayn and Perrie. But the most heartbreaking split of them all was announced on Tuesday at the Television Critics Association tour. Kermit the Frog and Miss Piggy are no more. I KNOW. IT'S THE WORST.
Promoting the upcoming ABC comedy mockumentary, The Muppets, Kermit and Miss Piggy arrived on stage separately to join executive producers Bill Prady and Bob Kushell at the press conference.
"Piggy and I have gone our separate ways romantically," said his greeness, who will nevertheless remain producer on Piggy's new show. "It can be tough to work with your ex. It can be tough to be the executive producer on your ex's late-night TV show, especially when your ex is a pig. I don't know whether any of you have ever dated pigs."
While Kermit maintained the pair would remain "professional adults," Piggy arrived singing a different tune. "One of us is certainly professional," said the diva. "You can guess who that is, I'm sure. I have no problem working with my ex, okay? It's fine. It's totally healed." She continued, "Dating moi is like flying close to the sun. It was inevitable that Kermit would drop down to the ground while I stayed in the heavens."
Burn! The only thing that's left are the obligatory he said/she said reports from sources close to "the parties." Don't let us down, US and People!
A joint statement was posted on Miss Piggy's Facebook:
After careful thought, thoughtful consideration and considerable squabbling, Kermit the Frog and moi have made the difficult decision to terminate our romantic relationship. We will continue to work together on television ("The Muppets"/Tuesdays 8pm this fall on ABC) and in all media now known or hereafter devised, in perpetuity, throughout the universe. However, our personal lives are now distinct and separate, and we will be seeing other people, pigs, frogs, et al. This is our only comment on this private matter… unless we get the right offer. Thank you for your understanding.
Here's the hilarious 10 minute pitch that convinced ABC to make a show with The Muppets. We find out that Kermit is now dating another pig–a "marketing executive" from ABC while Piggy sucks face with Topher Grace.
https://youtu.be/x2B5d-8H588