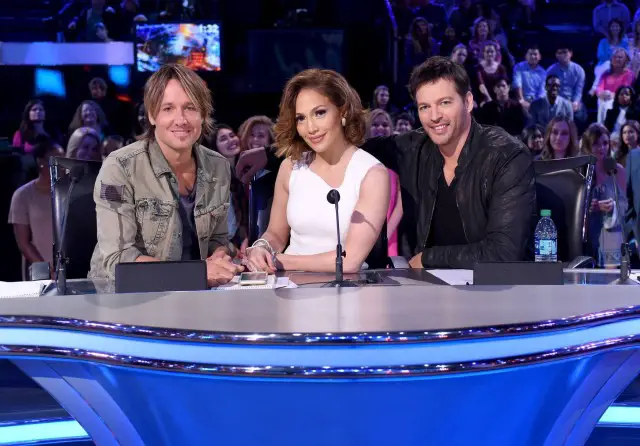 Entertainment Tonight consulted their own "sources" regarding the TMZ report that NBC and FOX are in a bidding war to reboot American Idol:
As for reports of a potential bidding war between NBC and the series' original network, Fox, for the revival, the source says, "There is probably more loyalty to Fox, but at the same time, they canceled the show while it had one of its best seasons ever."

Meanwhile, a separate source tells ET that "an [American Idol] reboot is [to be determined]."

The source, who previously worked on American Idol for several seasons, also gave this opinion on the possibility: "It's never gonna be as sexy as The Voice."
Wow. Somebody is bitter. Heh.
Meanwhile, in an interview with The Hollywood Reporter, here is what NBC reality chief, Paul Telegdy, had to say about the possibility of American Idol coming to the network:
There is talk of you kicking the tires on American Idol. Is that property of enduring appeal?

I moved to America in 2004, and Idol was at its absolute juggernaut height. We admired it and feared it. It was a game-changer. If one of those shows comes up for sale, you have to think about it. But The Voice is strong and beloved, so if we were to do Idol, we would have to have a strong reason. Talk to the people at FremantleMedia. They'll make no secret that they have ambitions to restart that show.

Are you looking for something to take the pressure off of two annual cycles of The Voice?

The Voice has been a phenomenon that nourishes this place in a big, big way. And at the same time, everyone involved in it — people that work 52 weeks a year on The Voice — have been on a treadmill, and we can't let them off. I'd love to alleviate that at some point.
Eh, lots of shows air two cycles a year. If the series is profitable, there's never talk of giving the crew a break…
And lastly, former FOX reality chief Mike Darnell was around during the American Idol era. He revealed a few tidbits about the show at a TV Academy Q&A with Love Connection host Andy Cohen. Maybe former producer Nigel Lythgoe was there as well. It's not clear (there are quotes from him in the article).
Ryan Seacrest's dad was his manager when the opportunity to host American Idol came around in 2002. He wanted Ryan to turn the opportunity down.
Somebody in New York threatened to take Simon Cowell out with a baseball bat (mad he dissed his fav?) Special security was hired.
Jennifer Lopez's managers did not want her doing Idol. Her negotiations were a "nightmare."
Mariah Carey instigated the Nicki Minaj feud "The one you think was the problem—she wasn't the problem."
Darnell jumped off a sinking ship: "I had seen Idol coming down for three years…I could feel it. It was the Titanic," Darnell said. "Once it was starting to sink, it was going [fast]. It was a cash bonanza for the network, and then all of a sudden it was collapsing. My job became to fix Idol, and there was no fixing Idol, because Idol wasn't broken; it was old."