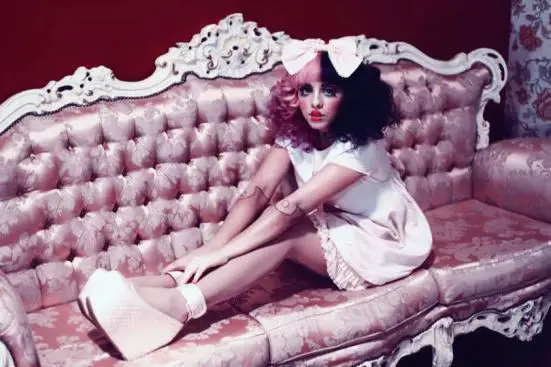 Melanie Martinez, who competed on Team Adam Levine, in season 3 of The Voice, has signed a major label deal. She's set to release an EP on May 20 via Atlantic Records. The singer recently revealed the news to her fans on Facebook.
To my Amazing Supporters! I'm humbly happy to announce that I officially joined the Atlantic Records family! They believe in me as an Artist, my music, my vision and I'm honored to have them on my team. Check out the beginning of my 2014 US tour dates in June and my "DollHouse EP" will arrive on May 20th! Click on my Tour Dates or events to see if I'm coming near you in June. We did this together! I Love You Guys! I'm excited to see you guys on the road again! God Bless you guys!
Melanie recently released a very weird video for her single "Dollhouse" that re-affirms the unique and quirky image she had during her run on The Voice. In fact, it revealed that she's more out there than any of us imagined. In the best way, of course.
Here are the dates for Melanie's upcoming tour.
Jun 04 World Cafe Live Philadelphia, PA
Jun 05 FM Backstage Norfolk, VA
Jun 07 The Lab Asheville, NC
Jun 09 The High Watt Nashville, TN
Jun 10 Vinyl Atlanta, GA
Jun 12 Cat's Cradle Carrboro, NC
Jun 14 The Southern Charlottesville, VA
Jun 15 Soundstage Baltimore, MD
Jun 16 Jammin' Java Vienna, VA
Jun 18 Port City Music Hall Portland, ME
Jun 19 The Middle East Boston, MA
Jun 21 The Met Providence, RI
Jun 24 Marlin Room at Webster Hall New York, NY