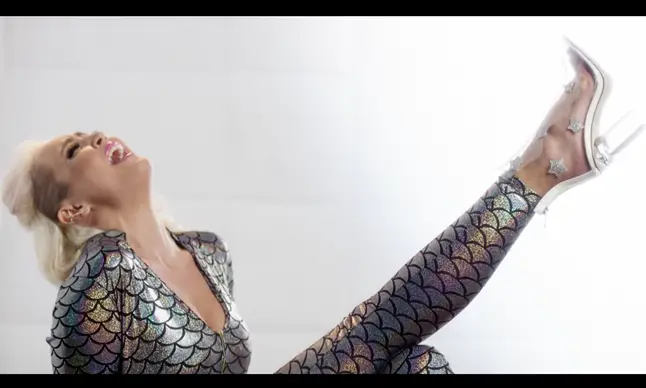 Meghan Lindsey's new music video for her latest single, "Exes and Friends" features an odd lineup. First there is internet star, "Doug the Pug." The canine makes a brief appearance at the beginning of the clip.
Additionally, co-starring as Meghan's on-again-off-again lover, is notorious The Bachelor star Juan Pablo Galavis. You might remember Galavis as the Bachelor who angered show producers and fans when he refused to say "I love you" to his fiance. He also caused a stir after making homophobic remarks.
The Voice 8 runner-up, however, insists Galavis has gotten a bad rap. The singer told Billboard magazine:
Of her co-stars, Linsey says, "Doug the Pug also lives in Nashville, and he is a friend of our dog," so when the video came around, she asked if Doug would mind making a fleeting appearance as a party dog, "because he's got, like, 100,000 times more followers than I do," she laughs. (For the record, the ratio isn't quite that extreme, but the pug does have 5.2 million Facebook likes and 2.2 million Instagram followers.)

Linsey had no such prior acquaintance with Juan Pablo, the former Venezuelan soccer star who lives in Miami, but even though she wasn't a regular Bachelor viewer, she knew enough about him through tabloid-type coverage to bring his name up in conversation with a friend, who turned out to be a pal of his manager. A Skype chat and casting call ensued. "I think he kind of got a bad rap on the show, but I was pleasantly surprised at how nice he was, and chivalrous, and a good human," Linsey says.
Also from the Billboard interview: Meghan, who recently lost 30 pounds, will be seen in Nutrisystem commercials next year. She auditioned for a Broadway show and is currently taking acting lessons. The "Exes and Friends" video was released on "Giving Tuesday" in order to benefit shelter dogs.
Watch Meghan Linsey's new "Exes and Friends" video featuring Juan Pablo Galavis.