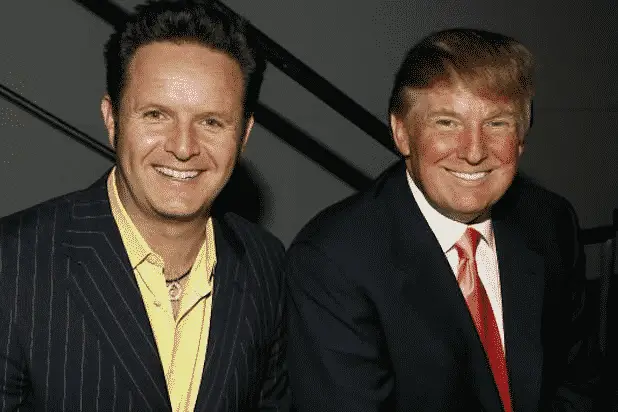 What the actual heck? The Voice executive producer, Mark Burnett has kept it on the downlow, but reportedly he's still pals with Donald Trump. According to a report in The Daily Beast, they talk on the phone occasionally and have kicked around reality show ideas for when Trump leaves the White House. What?
Is Voice Producer Mark Burnett Responsible for Donald Trump Presidency?
The Beast reports that Trump, the most powerful man on earth, misses hosting The Apprentice and The Celebrity Apprentice–NBC reality shows Burnett produced and Trump hosted.  Reportedly, Trump has "waxed nostalgic" about how he created, in his estimation "the greatest thing reality television has ever seen."
So…they have…ideas.
According to three people with knowledge of the situation and another source close to Trump, Apprentice creator Mark Burnett and the president have sporadically kept in touch, mostly over the phone, since Trump won the election. The pair remain friends, these sources say, and have discussed reviving their creative partnership, pitching each other details on potential TV projects to be filmed after the Trump presidency.

One of the ideas kicked around by Burnett and the president was shooting a new version of the Trump-branded Apprentice, tentatively titled The Apprentice: White House, and to produce it shortly after the president leaves office. This time, however, the TV program would be explicitly politics-themed and take full advantage of Trump's status as a former president of the United States and a newfound Republican kingmaker.

"There have been several discussions between Burnett and Trump about The Apprentice: White House," a person with knowledge of the situation told The Daily Beast. "It is something Burnett thinks could be a money-spinner and Trump is very keen on doing."
Uh. Ok. I think it's more likely that once he leaves the White House, Trump will brand his own conservative TV channel to compete with FOX News. But who knows. I want to think that if these conversations actually took place, Burnett was just humoring Trump. Ending up on the bitter side of a Trump tweet is a thing Burnett would try to avoid, probably.