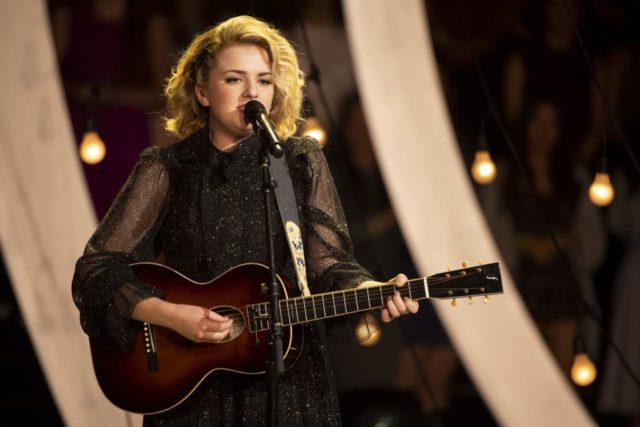 Maddie Poppe is in the middle of the American Idol Live tour with her fellow Top 6 contestants and season 8 winner Kris Allen. It's the singer's first major tour after winning the crown in May, and as such, the learning curve has included a few frustrations along the way.
On the show, Maddie was free to choose her clothing and hairstyles. She also picked her own songs, including favorite covers like "The Rainbow Connection" and even some original music. But the tour experience, with its "very strict rules" has been somewhat of a challenge.
Those rules she told the Des Moines Register in a recent interview include not being able to "step somewhere without someone yelling at you" or "do anything that you haven't been told that you have to do."
It's tough stuff for an aritst whose fans are drawn to her quirky, independent style. The tour oversite that make her feel like "this is not me" has been "overwhelming and stresful," she told the Register.
"I think it's just part of paying your dues, but hopefully one day I will be able to call my own shots and say, 'I don't want to do this,'" she said. There have been things that have been "testing of who I really am, but I think I've handled it fine."
Describing the tour schedule as "grueling" Maddie shared what a typical day is like–They sleep until about noon, do interviews at 2 p.m., soundcheck at 4 p.m., start a show at 7 p.m., get on the bus by 10 p.m. and hang out until 3 or 4 in the morning.
Once the tour ends in mid-September, Maddie will begin preparing to release her next single. It's a song she recorded Los Angeles a few weeks ago and is scheduled to come out in October.
Unfortunately, the tour hasn't left Maddie with much time for songwriting.
"I can't remember the last time I sat down and had an idea for a song or even wanted to write a song, which is sad but it's just like we are doing this constantly," she said. "You don't get any alone time ever."
"I just haven't really had any inspiration. I'm just kind of going through the motions right now."
But, the singer insisted, her post Idol experience so far has not been all bad.
She loves hanging out with her fellow Idols. "Every night, we're laughing so hard," she told the Register about the "super inside jokes" the singers tell each other that "wouldn't be funny to anyone else."
And she likes the bus: "It's comfy and dark."
Plus, she's touring with her boyfriend, runner-up Caleb Lee Hutchinson. They spend so much time together, she compares their relationship to an old married couple.
"I don't think I could do it without him," she said. "He is my home away from home, (so) it's nice having each other."
Considering that her life has been a whirlwind since Hollywood week in January, hopefully she'll get a bit of down time after the tour wraps up in order to recharge and refresh.
"It just happened so much faster than it usually does for other people," she told the Register about her sudden celebrity, "My life just changed overnight. It wasn't gradual at all."
Zero to 100 is basically what life after a singing show becomes. Or it does for winners who have teams behind them invested in their success. The thing is, her life is probably not going to become less hectic. And as far as calling her own shots? Working with a major label requires learning how to compromise.  The experience will be invaluable, for sure, but also eye opening…