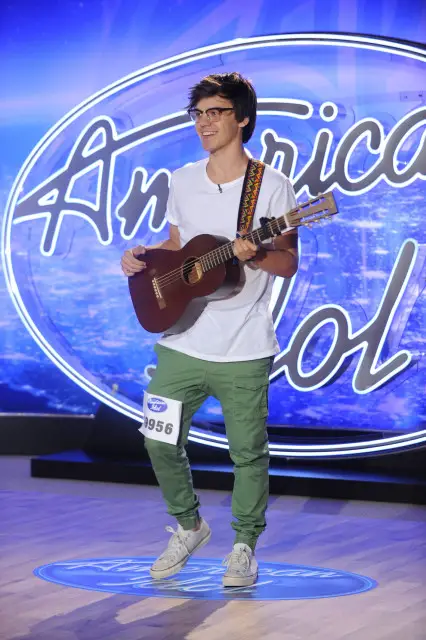 Mackenzie Bourg American Idol 2016 Season 15 Contestant
Mackenzie Bourg
is a 23-year-old singer-songwriter from Lafayette, Louisiana, who is also well known for his run on
The Voice
. Suffering from a virus that almost killed him a few years back, Mackenzie now looks at life with a new perspective and hopes to inspire people with his music. Additionally, according to his biography, Mackenzie enjoys basketball and video-games.
Click to see the FULL LIST of American Idol 15 Top 24 Contestants!
American Idol 15 Top 24 Video Sneak Peek
Singing Pumped Up Kicks, by Foster The People, on The Voice, Mackenzie found himself on Team Cee Lo, and advanced to subsequent rounds. He sang Good Time and Call Me Maybe for his battle and knockout rounds, and emerged victorious in both. At the live show, he sang What Makes You Beautiful, by One Direction, but since he was not in his teams top 2 or the recipient of Cee Lo's save, MacKenzie was eliminated from The Voice.
Over this past summer Mackenzie auditioned for the farewell season of American Idol. Performing a medley of judges songs, MacKenzie impressed the judges and earned his golden ticket. In Hollywood Week, Mackenzie survived elimination and advanced to the Showcase Round, where he sang "Can't Help Falling In Love," by Elvis. Giving a strong enough performance, Mackenzie was then admitted into the top 24.
Instruments Mackenzie Plays: Guitar
Links:
Overall Thoughts: Mackenzie is my personal favorite guy this season. With a strong fanbase from The Voice, I think should he make it to the voting rounds he will be in this for the long haul. Many are criticizing Mackenzie for being a little bit try-hard and hipster, but personally I find it effortless. Moving forward, my advice is keep bringing the creativity, but don't do to much because if you do people will hop off your train quickly; try to find a balance there. Aside from that Mackenzie should be golden.
Song Suggestions:
All The Way, by Timeflies
Every Breath You Take, by The Police (slow version)
Pumped Up Kicks, by Foster The People. His fans will go nuts if he does this on the Idol stage. This is the song that many people fell in love with him over, so bringing it back out would be genius.
Mackenzie Bourg sang a medley of songs by the judges at his Atlanta audition. Click to check out his FULL AUDITION
More American Idol Performances:
Showcase Round – Can't Help Falling in Love by Elvis Presley – Click to Watch VIDEO
Hollywood Round Last Solo – Click to Watch VIDEO
Semifinal Round – Say Something – Click to Watch VIDEO
Idol Star Duet Round with Lauren Alaina – I Hope You Dance – Click to Watch VIDEO