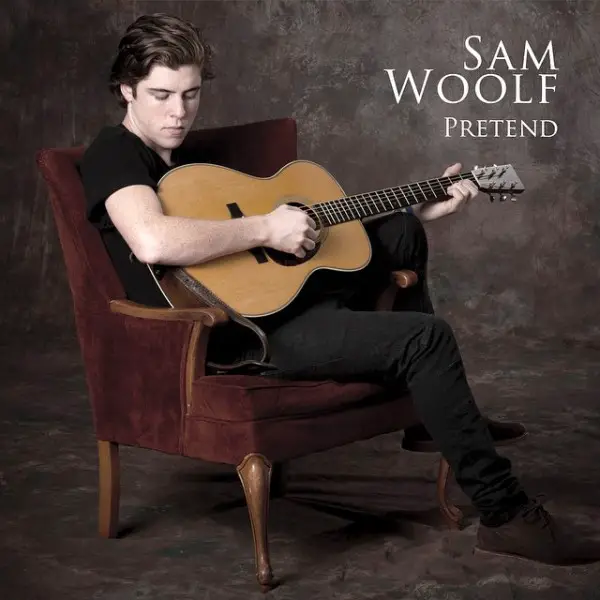 The new EP from American Idol season 13 alum, Sam Woolf, is out now and available on CD Baby. The five song set, titled Pretend will be available for download on iTunes soon.
Click on CD Baby for extensive credits and FULL STREAMS of each song.
"Singer-songwriter Sam Woolf's debut EP features his acclaimed vocals and organic style," reads the liner notes, "with lyrics reflecting emotions held close to him as he navigated through turbulent periods of his youth."
The record, partly crowdfunded by Sam's fans, is produced, engineered and mixed by Danny Blume (Jill Sobule, Kid Creole). All 5 songs were co-written by Sam and Danny Blume, except for "The Same," which Sam wrote solo.
Musicians who played on the album include Jerry Marotta on drums (Paul McCartney, Indigo Girls, John Mayer, Sarah McLachlan, Peter Gabriel), David Baron on keys (Meghan Trainor) and backup vocals by Cindy Mizelle and Curtis King, currently with Bruce Springsteen.
Liner notes for each track:
Sam wrote "Pretend" about an unattainable romantic interest. The song opens with Sam's falsetto, reminiscent of a wind instrument, and features backing vocals by Cindy Mizelle.

At age 15, Sam wrote "What More Can I Say." It was revised with Danny Blume for this EP. The acoustic version was selected for a featured performance at the Berklee College of Music in Boston. The strings were arranged by Guggenheim Fellowship Recipient Randy Woolf.

"An Old New Home" draws inspiration from Sam's move to his grandparent's home as a high school junior in order to secure a stable home life. The song also reflects his aspirations for the future. The song builds to an internal conflict in the bridge and then resolves into a positive conclusion.

"The Same" was originally written in 2013 as Sam grappled with a romantic interest in a girl who just wanted to be friends. The acoustic version generated positive comments from fans worldwide. Sam performed the acoustic version at the Berklee College of Music's "Winners Showcase" in Boston.

"Close to Me" focuses on how people and events from Sam's past are linked to his hopes for the future. It features backing vocals by Kurtis King and Cindy Mizelle that build subtly from the middle of the piece to the climatic finale.
A solid first effort, Sam's beautiful vocal tone is on full display, the songs melodic and well-structured. There's potential here, for sure. Now Sam needs to work on his stiff and closed off stage presence.  Hopefully, he hits the road and stays there for awhile.
In any case, good luck to Sam. He seems to have supportive family and a solid team behind him. He's doing the indie artist thing right.
Track List
1. Pretend by Sam Woolf, Danny Blume
2. What More Can I Say by Sam Woolf, Danny Blume
3. An Old New Home by Sam Woolf, Danny Blume
4. The Same by Sam Woolf
5. Close To Me by Sam Woolf, Danny Blume