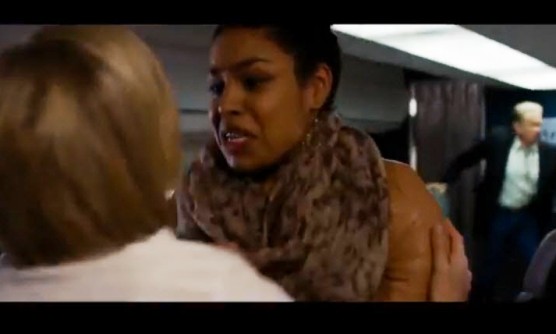 The Left Behind trailer, featuring American Idol season 6 winner, Jordin Sparks is here. But really, she's in it only for a second. The film is a remake of the 2000 original, starring Grown Pains star and evangelist, Kirk Cameron. It's based on the first installment of the super-popular 16 part series of Christian novels about the rapture.
It's got Nicholas Cage, over-acting up a storm. What more do you need, really? The chaotic end times is a perfect setting for an apocalyptic action film. Before you laugh, consider this movie will probably do really well in its target market. Apparently, Christian based movies are a total thing.
Jordin's character is named Shasta, but that's all we know about her now. She's a passenger on the plane that Cage's character is piloting. By the look on her face in this screen grab, I kinda doubt she's a member of the group of passengers that disappeared off the plane, apparently "raptured" up to heaven.
The co-author of the Left Behind series, Tim LaHaye, has read the script for the new movie and is not a fan, "It's probably the worst script I've ever read," LaHaye told the Christian Post. "And I've read scores of them." He added, "The plot line is nothing like the book. The only thing they retain are the names of the people, and maybe places."
Watch the trailer here: