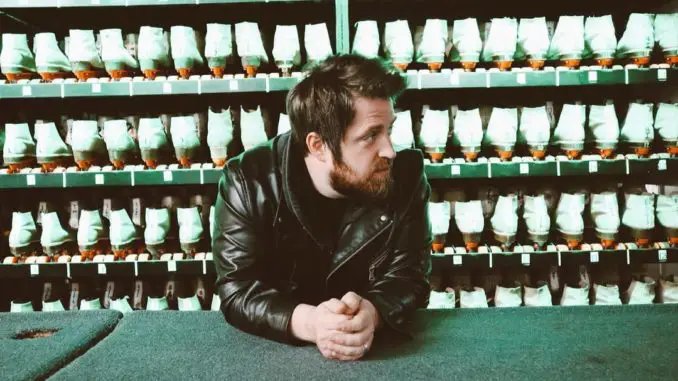 Lee DeWyze dropped his seventh full studio album Ghost Stories on Friday (August 13) ahead of kicking of his "Ghost Stories" concert tour.
The 10 song set includes three tracks from his Castles EP. "Night and Day," "Castles" and the album closer "We Were Alive" which were all written and released in 2019 before the COVID-19 pandemic kept everybody at home. 
"I got five of the songs recorded before the pandemic. And then I was working with my producer—we co-produce—we're sitting down, everything was feeling really good, and then the pandemic hit," The American Idol season 9 winner explained in a recent interview with The Young Folks. "I had several other songs we were gonna roll into and those actually didn't make the record."
Lee continued: "During the pandemic…there was a year where I just couldn't write anything. And then, I don't know, it was out of nowhere, the music just started flowing again and I wrote the new songs and it just kind of worked. There was this weird gap. It was like two puzzle pieces that just clicked. Putting them together was just a complete piece. So, silver lining, I got these awesome songs out of it. I know for a fact that about three of these newer songs would not have come about had I not been home."
The singer-songwriter described how the 10 songs on Ghost Stories fit together.
"I think the whole thing is very fluid throughout the whole thing, like one to the next. I think emotional vulnerability is the thing that connects all of these," Lee told The Young Folks. " I'm not gonna say the stages of grief because that sounds daunting, but it's almost like there's these moments where the person is angry, the person is grieving, the person is accepting, and it works in that order when you listen to it."
"You go through the stages of the emotion, and you end up at "We Were Alive," which is this song that, to boil it down, is all of this, but at least we can say we were there, at least we can say we lived it," Lee continued. "And right before that, "Waking Up" which is this very introspective song—I never like to say what songs are about, too much, for me, because I feel like it takes away what it means to someone else—but the order of the album is very intentional. I do think it is a front-to-back listen and I'm excited for people to hear it that way."
Lee is on tour NOW. Click this link for ticket information.
Listen to Lee DeWyze  Ghost Stories (video playlist)
Lee DeWyze Ghost Stories Tracklist
1. Ghost Stories
2. Night And Day
3. Parade
4. Castles
5. Quicksand
6. Weeds
7. Everybody
8. Victims of The Night
9. Waking Up
10. We Were Alive