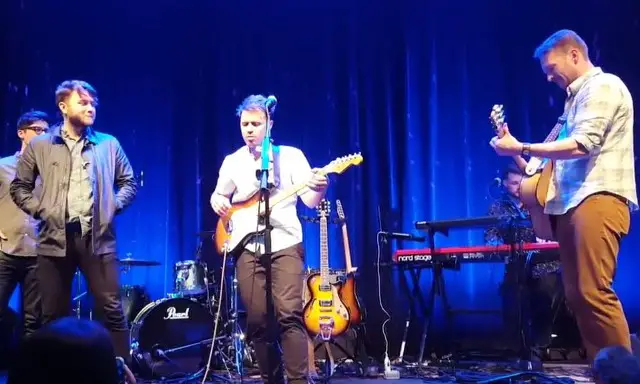 During the Bentonville Film Festival in Arkansas Thursday night (4/4), a trio of reality stars got together for a casual jam.
After American Idol 8 winner Kris Allen and The Voice 7 singer, Luke Wade finished their sets at Meteor Guitar Gallery, The Voice 9 finalist and country singer, Barrett Baber, joined them to perform a medley of "Stand By Me" and "Purple Rain." Barrett had performed a set earlier at the Walmart AMP, along with The Voice 3 winner, Cassadee Pope.
The trio took turns on the leads and sang harmony. At one point, Kris picked up an electric guitar and played some leads. Band members came out on stage eventually to join them on the Prince classic.
Barrett competed in The Voice season 9 finale last fall on Team Blake Shelton, coming in 3rd place. Luke was a member of Team Pharrell Williams on season 7 fall 2014. Kris won American Idol in 2009.  Kris and Luke are currently touring together in the south.
One of my favorite things is when reality stars from different seasons/different singing shows join forces to perform. The idea that singers who have competed on American Idol, The Voice and X Factor like one big giant fraternity. I want to be invited to those parties.
Watch the performance right here.
https://youtu.be/Vnmou0rPHBA
BONUS: Barrett and Kris both hail from Arkansas. In fact, Kris' entire family attended the show at the Guitar Gallery, including his adorable son Oliver, who was allowed to stay up late to watch daddy play. Kris' wife Katy posted an adorable Instagram post of the boy dancing away as his father played.