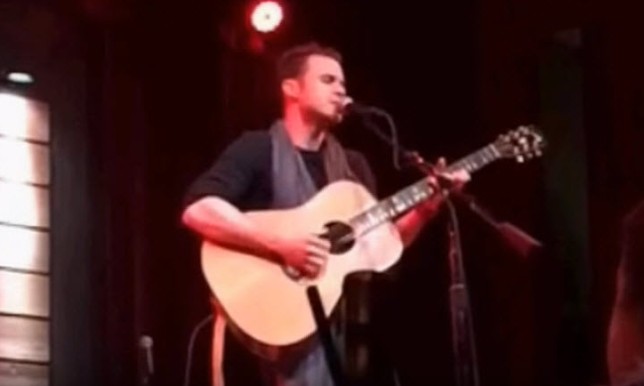 Friday night (2/5), stars from the competition reality shows American Idol and The Voice and the ABC musical drama Nashville, (among other artists) came together to pay tribute to Taylor Swift's massive hit album, 1989.
The concert, which took place at the City Winery in Nashville, benefited the nonprofit, Musician's Corner.
Artists taking part in the tribute could either choose a song from Taylor's album 1989, or a song released during that seminal year. Kris Allen chose to cover Chris Isaak's  1989 hit, "Wicked Game," a song the American Idol season 8 winner has covered in the past.
One of the night's highlights, it was the only performance that received a standing ovation from Taylor's mom, Andrea Swift, who was  in attendance (and probably making more than a few of the singers a little nervous!). In fact, a reviewer from Billboard reports it was the only standing ovation of the evening. Maybe it was Kris' attempt to give the song a Swiftian spin, as he told the audience, that did the trick.
Unfortunately I can't find videos, but American Idol 9 runner-up, Crystal Bowersox covered "This Love" from 1989, admitting to the audience she hadn't heard the entire album all the way through. Reportedly she had to stop several times to be reminded of the lyrics. Also, Jeffery Austin, an alum of  the recently completed The Voice season 9, performed 1989's emotional ballad "Clean." Again, no video, sadly.
However, fellow The Voice alum, Caroline Glaser a season 4 competitor, sang a tender rendition of "Wildest Dreams" which you can watch right here.
The Nashville stars represented included Aubrey Peeples, who covered 1989's "All You Had to Do Was Stay" and Sam Palladio who jumped behind a drum kit to pay homage to Phil Collins and his 1989 hit, "Another Day in Paradise." Both actors came straight to the club from the Nashville set.
Aubrey Peeples – All You Had to Do Was Stay
Sam Palladio – Another Day in Paradise
Check out the full setlist below and a review of the entire concert at Billboard.
Set List:
Personal Jesus (Depeche Mode) — The Railers
Blank Space — The Railers
Style — Alanna Royale
Love Song (the Cure) — Zeke Duhon
Out of the Woods — Jill Andrews
Here Comes Your Man (the Pixies) — Matthew Perryman Jones
I Wish You Would — Heather Morgan
Right Here Waiting (Richard Marx) — Marc Martel
Bad Blood — Korby Lenker=
Straight Up (Paula Abdul) — Elise Davis
Wildest Dreams — Caroline Glaser
King of Wishful Thinking (Go West) — Angel Snow
How You Get the Girl/(S)He Drives Me Crazy (Fine Young Cannibals) — Olivia Lane
This Love — Crystal Bowersox
Clean — Jeffrey Austin
Wicked Game (Chris Isaak) — Kris Allen
You Got It (Roy Orbison) — Griffin House
Blank Space/Style — Louisa Wendorff and Devin Dawson
All You Had to Do Was Stay — Aubrey Peeples
I Know Places — John and Jacob
Another Day in Paradise (Phil Collins) — Sam Palladio
Shake It Off — ensemble