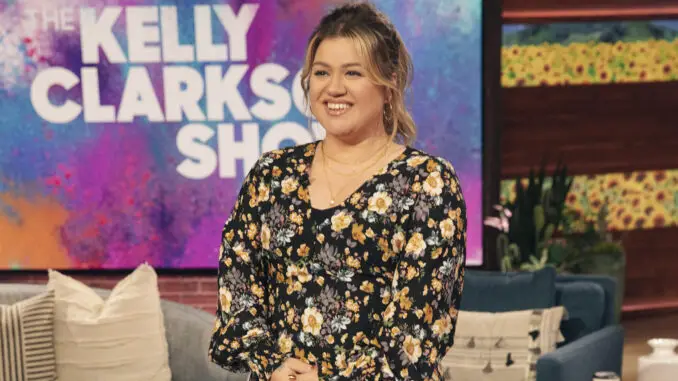 Last Saturday (June 18), The Kelly Clarkson Show won five technical awards at the 49th Annual Creative Arts & Lifestyle Emmy Awards. That was out of the seven awards in which the show was nominated.
On Friday, the remaining Daytime Emmy Awards were handed out live on CBS and Kelly won both Outstanding Entertainment Talk Show and Outstanding Entertainment Talk Show Host, a repeat of last year. See tonight's winners HERE.
The Kelly Clarkson Show won the most Daytime Emmy Awards of any program in 2022.
Entertainment Tonight anchors, Kevin Frazier and Nischelle Turner hosted the two hour telecast from the Pasadena Civic Center (where America's Got Talent is filmed) in Pasadena, California. 
Kelly skipped the ceremony to be with her kids
Kelly was not in the house to pick up her awards. When she says she's not working this summer in order to spend more time with her kids, she means it. Instead, her executive producer spoke on Kelly's behalf.
"Kelly couldn't be here tonight," the EP said, "she's spending the whole summer with her children because family is the most important thing to her and we, as her show family, applaud that."
Kelly Clarkson is a connector and a mood shifter, her executive producer said
With a group of folks who put the show together behind her, the EP explained, "We tried to be a show about connection. That's what we started off being, because our host is a connector."
"She is also a mood shifter," the producer described Kelly. "If you go into a room and you're in a funky mood, she will turn it around with just a conversation."
The group gathered back on stage after Kelly won Outstanding Host. Describing Kelly's likely response, the producer said she'd "probably say how awesome it is to get an award for the same thing she got in trouble for in school. Talking." Additionally, the producer said, the reason Kelly wanted to do a talk show was to "shine a light on people and organizations that bring good." 
Here is the full list of awards The Kelly Clarkson show won. 
OUTSTANDING ENTERTAINMENT TALK SHOW
The Drew Barrymore Show (SYNDICATED)
Hot Ones (Complex Networks)
The Kelly Clarkson Show (SYNDICATED) – WINNER
Live with Kelly and Ryan (SYNDICATED)
Today Show with Hoda & Jenna (NBC)
OUTSTANDING ENTERTAINMENT TALK SHOW HOST
Drew Barrymore – The Drew Barrymore Show (SYNDICATED)
Kelly Clarkson – The Kelly Clarkson Show (SYNDICATED) – WINNER
Hoda Kotb, Jenna Bush-Hager – Today Show with Hoda & Jenna (NBC)
Kelly Ripa, Ryan Seacrest – Live with Kelly and Ryan (SYNDICATED)
OUTSTANDING LIGHTING DIRECTION
Jeopardy! SYNDICATED
The Kelly Clarkson Show SYNDICATED – WINNER
Red Table Talk Facebook Watch
The View ABC
Wheel of Fortune SYNDICATED
The Young and the Restless CBS
OUTSTANDING TECHNICAL TEAM,
CAMERA WORK, VIDEO
Disney Parks Magical Christmas Day Parade ABC
Jeopardy! SYNDICATED
The Kelly Clarkson Show SYNDICATED – WINNER
OUTSTANDING MULTIPLE CAMERA EDITING
Articulate with Jim Cotter PBS
The Bold and the Beautiful CBS
The Good Road PBS
The Kelly Clarkson Show SYNDICATED – WINNER
Today's Homeowner with Danny Lipford SYNDICATED
OUTSTANDING LIVE SOUND MIXING
AND SOUND EDITING
Days of Our Lives NBC
Family Feud SYNDICATED
General Hospital ABC
The Kelly Clarkson Show SYNDICATED – WINNER
The Price Is Right CBS
OUTSTANDING ART DIRECTION/SET
DECORATION/SCENIC DESIGN
The Ellen DeGeneres Show SYNDICATED
The Kelly Clarkson Show SYNDICATED – WINNER
Tamron Hall SYNDICATED
The View ABC
The Young and the Restless CBS