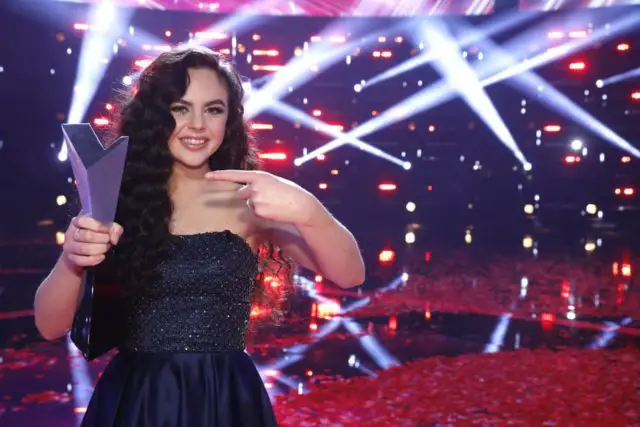 When Kelly Clarkson won The Voice season 14 with her team member 15 year old Brynn Cartelli last spring, she stayed involved with her career after the confetti flew. Brynn signed a management deal with Kelly's husband, Brandon Blackstock, is now an artist on Kelly's record label, Atlantic and will go out on tour with the OG American Idol's Meaning of Life tour next year.
And it looks like Kelly will also help guide the music career of the newest Voice winner, 16 year old Chevel Shepherd. Kelly won the show two years in a row and coached the first country music to win the show who was not a member of Team Blake Shelton.
In an interview with AOL, Chevel said: "I'm definitely working on an album with Kelly. It's going to be a country classics album, so I'm super excited for that." She added, "I want to just travel the world and share my passion for country music with everyone. I can't wait for what the future brings."
When asked what kind of music we can expect from her, she namechecked her original song, "Broken Hearts," as an example of the types of songs she'll put out.
"I really love to tell stories, so I really liked my original. I love relating to lyrics and putting myself in the lyrics and making people feel them, too," she said.
Chevel had a whirlwind of interviews after winning the show Tuesday night (Dec 18). She told Access Live that originally, she wanted to choose Team Blake. "I was going to choose Blake, that's what my heart was set on since I've been watching the show," She continued, "Three turns and something inside was telling me to go with Kelly. Just my gut was telling me to go with her. I had to choose her!"
And as far as what she'll do with the $100,000 dollars she won, along with a Republic Records contract, Chevel wants to buy a car! Not a surprise, considering that building classic cars is a thing she and her father do together. "I love cars," Chevel said, "I'm named after a car, so I definitely want to buy a car with the money. That would be really cool." She would buy the car that she's named after, "I would definitely like to buy a Chevelle or a VW bug or mini-cooper because they are small and cute like me."
(A car WOULD have been part of her prize package if she had competed in prior season. But the has to have a solid car sponsorship for that to happen…)
Chevel loves knowing that she's "an inspiration to little girls and even women." The country singers who inspire her include Loretta Lynn. "I sang her song on the show and she reached out to me," Chevel gushed about Loretta's reaction to her rendition of "You're Looking at Country." She also "really loves" American Idol season 4 winner Carrie Underwood and Dolly Parton, of course.
 "It's crazy to think as a country artist I beat out Blake Shelton's team," Chevel said in an interview with Goldderby about being the first country winner not on Blake Shelton's team.
What makes Kelly a good coach? "She's herself. She really works hard to make sure that we're loving what we're doing and we're having fun." Also, as the inaugural winner of American Idol, Kelly brings special experience to her job as coach. "She's been in the same shoes that we're in now," said Chevel. "It's just awesome having someone in your life that has gone through the same thing you have and is there to support you."
Chevel's immediate plans are to head back to her hometown, Farmington, New Mexico. "I'm going to go back and thank everyone and hang out with everyone while I can." The town is planning a big welcome home parade for Chevel. A welcome home rally will happen in the Scorpion Arena at Farmington High School, where Chevel is currently a Junior.
Doors to the rally at the high school will open at 1 PM, and seating is on a first-come, first-served basis. Chevel is not expected at the event until 2 p.m. Click this link for more information.