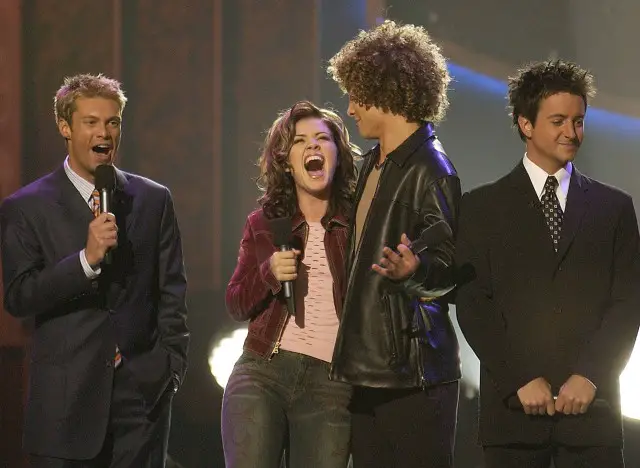 Eighteen years ago, in 2002, Kelly Clarkson, a 20 year old struggling singer, competed on and WON the inaugural season of American Idol.  At that time, broke and looking toward an uncertain future, she could not have imagined how far that journey would take her: From hit records, to sold out tours, to coaching The Voice and hosting her own talk show.
In the below clip from The Kelly Clarkson Show, the singer reminisces about her time on American Idol.
"I just remember the time," Kelly says, recalling some of her fondest moments "We were the first season. Nobody knew anything that was going to happen. We all were just trying to pay our bills, or getting somebody to see us and maybe sign us. Nobody knew the outcome even if you won."
Watch: American Idol Reunion on The Kelly Clarkson Show (VIDEO)
Kelly continued: "It really was just like kids at camp and although there were people that got on each other's nerves here and there, for the most part we were pretty bonded group. We were all kind of stuck together in this house living together for a lot of it."
Kelly speaks fondly of the camaraderie between contestants. "I think that's what I loved about it," she said. "You're going through this big huge thing that was on television,  and then realizing how big of a moment it was…finding that out together."
"It was nice to not have to do that alone," Kelly said of her fellow season one Top 10 contestants. "I think that was probably the coolest part. We had a really cool group."
Justin Guarini came in second to Kelly, while single mom Nikki McKibbin came in third (her son Tristen auditioned years later!). Fan favorite Tamyra Gray finished in fourth place.